Post by Erik Rupp on Feb 20, 2012 18:28:48 GMT -5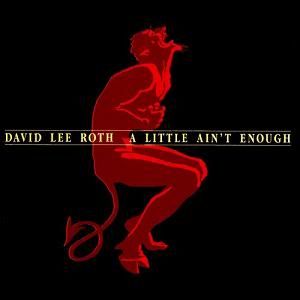 Despite being a commercial disappointment David Lee Roth's A Little Ain't Enough was the album that he should have released a couple years earlier when he released his more experimental and much poppier Skyscraper.
Rooted firmly in the kind of material he did with Van Halen over a six album span, A Little Ain't Enough also showed a commercial sensibility that took the songs from being as purely riff oriented as the classic Van Halen material was to a more vocal melody oriented type of songcraft. Fret not, though, as there are some really good riffs on display on the album. Ironically, Van Halen also became a little less riff oriented after Roth's split with the band, and it was Roth who actually kept more of the classic Van Halen spirit alive in the post split era than his former bandmates did.
While the album is built on the classic Van Halen foundation, there are some departures. "Shoot It," is a 70's Rock/Early 70's R&B hybrid complete with a brass section that is closer to the tongue-in-cheek style of Roth's first solo outing, the Crazy From The Heat EP. "Hammerhead Shark," is a high energy good old Rock and Roll song rooted firmly in 1957 with an update for 1991. "Tell The Truth," is an R&B/Pop/Rock hybrid that would have fit right in on Skyscraper. "Sensible Shoes," is a song that was born on the Bayou with some nice guitar courtesy of Steve Hunter. It's a laid back, CCR influenced song. And it is another parallel with post-split Van Halen as they did an acoustic based song that was fairly similar just a few years earlier in, "Finish What Ya Started."
All of those songs are extremely well crafted songs co-written by professionals (Steve Hunter, Robbie Nevil, etc) with a lot of experience. All of them work well as intended, but an album filled with nothing but those styles would not exactly appeal to fans of early Van Halen, so the rest of the album finds Roth and company in touch with his work from 1976-1984.
The album opens with the obvious lead single, "A Lil' Ain't Enough." Obvious because it is catchy, hooky, and rocks with a style that is a comfortable companion to the 1984 era Van Halen songs. It is a darned song, and should have been a huge radio & MTV hit. Should have been, but MTV banned it (despite playing similar videos by Roth in previous years, and playing videos with similar bikini-clad young women by other artists at the time), and Top 40 radio largely ignored it. Even FM Rock radio was only lukewarm to the song at the time. Don't let that fool you, though, this really is a very, very good song - one of Roth's better solo offerings.
"Lady Luck," was co-written by former Rough Cutt, Giuffria, and DIO guitar player Craig Goldy, and his style is all over the music. Roth turns what could have been a Dio song into something that fits in with what was (and is) expected from Diamond Dave. This is a great mid-tempo hard rock track loaded with melody and class.
"Baby's On Fire," is an upper mid tempo track (not real fast, but high energy all the same). It's got a fantastic groove and some really good riffs to go along with some top notch DLR vocal melodies and hooks. The album could have used another one like this - this is definitely one of the best songs on the album.
"40 Below," is something like a faster, "Top Jimmy," again showing Roth going back to 1984 for inspiration. It's a solid track, and a bundle of energy.
Van Halen meets Toys In The Attic era Aerosmith (at least stylistically) on, "Last Call." This is another of the album's highlights. It's loaded with both attitude and fortitude. This song is big, beefy, and hits like a sledgehammer. Good stuff, indeed.
"The Dogtown Shuffle," is a middling track. It's somewhat laid back with it's mid tempo beat, but rocks a bit, too. Just a bit. It's OK, but isn't anthing special and kind of makes you wonder, "Didn't he have anthing else ready to go that was better than this one?" The parp-parp-parp keyboards don't help much. There's nothing terribly wrong with this song, but there isn't anthing terribly right with it, either. It's fair. It's middling. It's OK. And that's about it.
And then things go fully Van Halen for the last two tracks. Interestingly, those were the only two tracks written by Roth's brand new guitarist Jason Becker. One can only wonder how brilliant an album the two of them could have written together if given the chance. Unfortunately, that was never going to happen as Becker was diagnosed with ALS (Lou Gherig's disease) early on in the recording of the album. He has, however, beaten the odds and is still alive today (few ALS patients live more than five or six years after diagnosis), even if he is completely paralyzed like Stephen Hawking (another ALS sufferer).
"It's Showtime," is the natural successor to, "Hot For Teacher," and while cynics might view this as a blatant attempt to recreate the Van Halen classic there is actually enough on display here to allow the song to stand on it's own. This is another of the album's highlights, and an example of how the album may have been a little too diverse for it's own good. This is a total burst of energy - enough to power a small city! Energy and melody in large quantities are what you find with this song. This song sounds more like Van Halen than anything Van Halen did after the split.
"Drop In The Bucket," starts off with a Van Halen-esque riff played on an acoustic guitar before settling in with a good mid tempo riff and halfway bouncy beat. This one is a little less blatantly Van Halen-y than it's predecessor, but it's another top notch track and with these two songs the album definitely closes with a bang.
While Eat 'Em And Smile was an explosive album with all the musical fireworks you'd expect from Roth with Steve Vai and Billy Sheehan backing him up, Skyscraper was a big letdown for most fans. It's experimental foray into poppier stylings turned of a lot of the Van Halen fans that liked Eat 'Em And Smile. Had A Little Ain't Enough been the album to follow up Eat 'Em And Smile those fans would likely have been a lot happier. A Little Ain't Enough is really out of place as it's the album right in between the first two DLR solo albums style-wise.
Roth backtracked a bit with A Little Ain't Enough, but that was actually a good thing. Unfortunately, by then his star was fading, and a lot of the fans who turned away from Diamond Dave after Skyscraper never came back. Many of them missed out on a very, very good album that they likely would have enjoyed quite a bit.
While it isn't without flaws (not as focused as it could have been, and one or two more high energy songs would have helped), it is still an album worthy of his musical history up to that point. Good stuff, indeed.
4/5