Post by Erik Rupp on Mar 7, 2012 0:23:50 GMT -5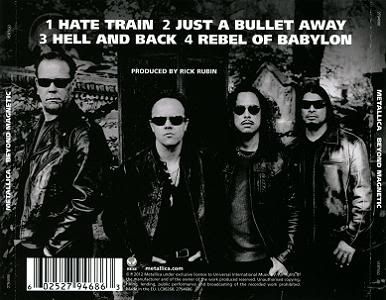 Four leftover songs.
Normally that wouldn't be all that big of a deal. A CD release comprised only of four songs that didn't make the cut for a given band's most recent album - a nice treat, to be sure, but a big deal? Usually not.
Then again, this is Metallica we're talking about, and the album was a solid return to form (Death Magnetic), so following the huge disappointment that was their collaboration with Lou Reed (LuLu) this becomes a mich bigger deal.
And listening to the songs in question it becomes clear that these songs didn't miss the cut by much. They're good. Really good for the most part, making this release a, "Must have," for most Metallica fans.
Stylistically, this is a hybrid of the And Justice For All period and the Load/Reload era. The melodies and moods are closer to Load and Reload, while the complexity and riff styles are fairly close to the Justice material. It's heavier than the Load/Reload songs, that's for sure. The result is a bit of a timeless Metallica sound that wouldn't be easy to figure out as to when it was written and recorded if you didn't already know.
The mix is unpolished and raw, which fits the music perfectly. The drum sound is very similar to how the drums were mixed on the Justice album, but the guitars sound something in between the Load and Black Album in tone. It all sounds good. It's a shame that St. Anger didn't sound like this. It still wouldn't have been a great album, but it would have been more listenable...
Beyond Magnetic, despite it's mere four songs, is almost a full album in length (well, by 1970's standards it would have been a short album, but a full album nonetheless). Three songs clocking in at seven minutes, and the fourth clocking in at 8 minutes puts the album just barely over the 29 minute mark. There are a couple Van Halen albums around that total length.
"Hate Train," is a great song to start off with. It chugs along at a great pace and features a ton of cool Metalli-riffs that fit in nicely with their 1980's peak. It's got a good sense of dynamics with it's tempo changes, going from fast paced to grooving with the greatest of ease. The mellow section that is repeated a couple times is very Load-esque, but it doesn't overstay it's welcome and works well in giving the song some light and shade. This song could easily have worked on Death Magnetic, although it might have been just
slightly
out of pace with some of the Load style melodies in the mellower bits. This is a very, very good song that borders on greatness.
"Just A Bullet Away," is a disturbing song lyrically. Musically, it's just a half notch below, "Hate Train," but lyrically it is dark and disturbing. Something Metallica hasn't always been known for. "Staring down the barrel of a .45. Suck on the barrel until it's dry, just a bullet away from leaving you," etc. I'm not quite sure what brought this lyrically disturbing track on, but James Hetfield clearly tapped into something unpleasant here. As a song it works well, but
man
is it disturbing to listen to (and really get into) that cool musical groove and hear those lyrics. Despite the unpleasant nature of the lyrics this song is still really good. Two for two.
Then we get to, "Hell and Back." This one combines elements of the Black Album and Load. The riffs are very Black Album, while the vocal melodies are right in line with the Load/Reload writing style that James morphed into in the mid '90s. If Load and Reload sounded more like this their older fans from the '80s might not have had such a problem with those albums. The central riff has a ton of the cool factor working for it, and the song really kicks into high gear (and more of a Justice type thing) about four minutes in. Yeah, it's another winner making Metallica three for three. It also belies the, "Leftover song," tag that it comes with. Good stuff, for sure.
The weak link on the album is, "Rebel of Babylon," which is still stronger than most of the songs on Load and Reload. The tempo is all over the place here, and the song works well within the concept of the CD as a whole. On Master or Justice this might have been considered a near miss, but on their later albums it would have hit the nail on the head.
For a CD of leftovers this is remarkably good. Even the unpolished mix is still exceptional. This is the kind of release that restores some faith in the Metallica name and shows that there is still a lot of life left in this legendary outfit.
Definitely recommended.
4.25/5