Post by spykid on Mar 25, 2012 11:18:27 GMT -5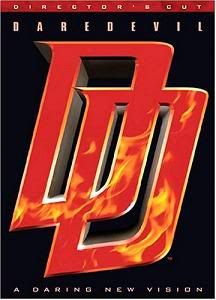 For a movie with a questionable reputation, Daredevil is pretty good.
There are two versions of the movie. The original theatrical version (which is the one with the questionable reputation), and the director's cut (which is really good), so we will focus on the director's cut.
The first thing that stands out about Daredevil is that it is dark. This is closer to Batman Begins or The Dark Knight than Iron Man or The Fantastic Four movies. That doesn't mean that it isn't fun and doesn't have funny moments, but it isn't all lighthearted fun and games.
What makes this a good movie is that it has a good story and good characters. Ben Affleck is better than you might expect as Matt Murdock/Daredevil. He is very good in the role. Jennifer Garner is even better as Elektra Natchios, the daughter of a billionaire who is involved with the villian of the movie, Wilson Fisk (aka The Kingpin). Michael Clarke Duncan is good as The Kingpin, even if he was a little over the top at times. Also in the movie is Bullseye, played by Colin Farrell. Farrell is a little one-dimensional in the part, only showing that he gets mad when he misses (his character is a hitman who has amazing accuracy when throwing anything - including a syringe which he uses to spear a fly against a wall while it's flying).
The story is good. It takes place in Hell's Kitchen in New York, and focuses on Matt Murdock from the time he is a child. His story is sad. His father is a boxer who is killed for not throwing a fight. Matt had been blinded earlier by chemicals in an accident, but that also enhanced his other senses - including giving him something of a, "Radar sense," that is based on sound. He can almost see what he hears. His agility and reflexes are improved as well due to his improved sense of touch. He develops his skills and eventually becomes Daredevil, the man without fear.
Matt becomes a lawyer and only takes on clients that he knows are innocent (because he can hear their heartbeats he can tell if they are lying or not). He also takes on clients who cannot afford to pay him (much to the annoyance of his law partner, Franklin 'Foggy' Nelson - played by Iron Man director Jon Favreau).
In the movie Matt meets Elektra Natchios at a coffee shop and is fascinated by the woman who won't tell him her name. This leads to a fight on a children's playground, with some of the cool fight action taking place on a pair of teeter-totters. This is a cool scene, and sets up a friendship (and more) between the two of them.
Sadly, Elektra's father, billionaire Nicholas Natchios, is killed by Bullseye, but she thinks that Daredevil did it. Nicholas Natchios had been mixed up in business affairs with The Kingpin and wanted out. As punishment for disloyalty The Kingpin hired Bullseye to kill Natchios.
From there Elektra seeks revenge, using her fighting skills (she had been trained since a child in multiple martial arts) to go after the man she believes killed her father. That man also happens to be Elektra's close friend (a boyfriend of sorts), Matt Murdock, but she doesn't know it.
The movie doesn't hold back on the violence, and that makes it good. The director's cut is rated 'R' due to the added violence over the theatrical cut. This isn't a family friendly movie, this is a dark drama with a lot of action and violence. Sure, there are fun, lighthearted parts, but that isn't what the movie is all about.
Daredevil is entertaining and more grown up that some superhero movies. It really is good. Buy a copy today and see for yourself.
The DVD looks good, but the blu ray looks even better. If you have a blu ray player, definitely spend the extra few dollars to get it on blu ray. If you don't have a blu ray player then the DVD will be just fine.
85 out of 100