Post by Erik Rupp on Jul 21, 2012 18:46:36 GMT -5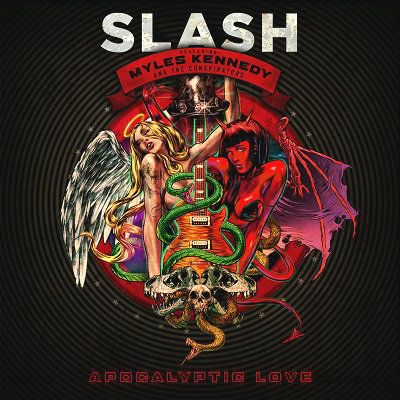 To be more accurate, this album is billed as
SLASH Featuring Myles Kennedy and the Conspirators
. Myles Kennedy handles all the lead vocals on this album (unlike Slash's last album which featured a number of guest vocalists), and as Kennedy also co-writes all the songs on the album this really is a true collaboration.
Fans of Guns 'N' Roses have wanted a return of Slash to that band for years, but with each passing year that seems less and less likely. In the meantime, Slash has been putting out solo albums as well as albums with the other GNR alumni under the name Velvet Revolver. This time out Slash decided to put out a straightforward, unpretentious Hard Rock album that fans of Guns 'N' Roses could really sink their teeth into.
Apocalyptic Love is a slightly modern take on 70's and 80's Hard Rock. Big FAT riffs abound, and strong vocal melodies (along with strong vocal performances) are all over this thing, making for a pleasing album for fans of Classic Rock and good, straight ahead Hard Rock. This album is closer to the Apetite For Destruction sound than Axl's take on Chinese Democracy, but while it may be a little closer to that sound it doesn't copy it. This isn't a case of trying to write a GNR album and putting it out under Slash's name. It isn't all that far off from that kind of thing, but it's also got some new melodic twists in there as well.
This is a more melodic album while being heavier and harder overall than Apetite was. Not a lot heavier, but just a tad. So what does that mean for GNR fans? Well, most likely a majority of them would geniunely like Apocalyptic Love. A lot. It is an album put together by seasoned Rock veterans, but it doesn't sound tired or recycled. It may not be particularly original, but it doesn't sound rehashed. Slash and Kennedy really delivered the goods on this one, and they should be proud of the album.
Kennedy was first known for his work with Alter Bridge, the band that most of the members of Creed put together when they needed a break from Scott Stapp. Alter Bridge's albums were fairly well received, even if the band didn't hit it as big as the previous band did. Kennedy had made a name for himself, and almost replaced Robert Plant when Jimmy Page, John Paul Jones, and Jason Bonham got tired of Robert Plant's heistiation to reform the legendary group. That project didn't quite work out, and Kennedy began working with Slash, and that partnership has continued to this day.
Apocalyptic Love ranges from flat out ass-kicking Hard Rock bordering on Metal (some with a punky attitude) to melodic near ballads (and one legitimate 70's style moody Rock ballad). Most of the album falls somewhere in the middle, with some classy melodic Hard Rock. Kennedy has one foot firmly planted in 2012, with another firmly in 1976. His vocals are strong, and his sense of melody and rhythm in his songwriting helps the album rise above just another solo album from a, "Guitar player from..."
The audio production is pretty darned good as well. While it is compressed a little too much, the guitar, bass, and drum tones are all good, and the mix gets a near perfect balance between them. Eric Valentine does a good job of wearing both the producer's and engineer's hats. Sometimes that works, sometimes it doesn't. Here it did.
Mention should be made of drummer Brent Fitz (from Union and Bruce Kulick's solo albums) and bass player Todd Kerns. Why? Because this sounds like a BAND, not a solo project (beyond the collaboration between Slash and Kennedy, the musicians have a chemistry that binds this thing like super glue). Hopefully Slash keeps this unit together, because they fit together as well or better than Velvet Revolver did.
Bottom line? Damned good Hard Rock album from a Rock and Roll veteran who was a big part of one of the most iconic Hard Rock albums of all time.
4.25/5