Post by Erik Rupp on Mar 13, 2013 16:31:32 GMT -5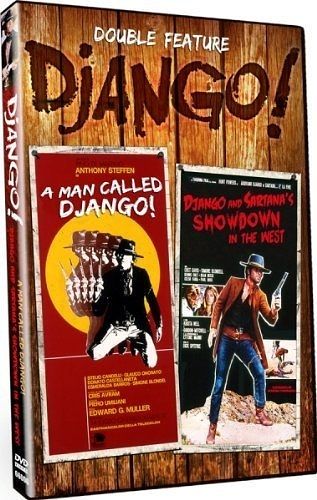 In the wake of Quentin Tarantino's recent movie, Django Unchained, it was inevitable that the late 60's and early 70's Spaghetti Westerns that inspired Django Unchained would be re-released on DVD. This particular double feature includes two movies with no real ties to the original 1966 Sergio Corbucci classic (indeed, there were no official sequels until 1987's Django Strikes Again, which again featured Franco Nero as Django as in the original).
The first movie up is actually pretty good.
A Man Called Django
(1971) featuers Anthony Steffen in the title role, and it is a fairly well written and competently directed movie. The story is solid, this time Django is out for revenge a year after the murder of his wife. He teams up with a convicted killer who was part of the outlaw gang that killed his wife, and one by one they hunt down the men responsible.
This isn't a classic movie of the caliber of a Leone Spaghetti Western, nor is it even of the caliber of Sergio Corbucci, but what this is is a good, solid, entertaining Spaghetti Western. The gunfights are fairly well staged and the movie moves along at a good pace. Steffen is passable as Django, but he's no Franco Nero. He's fairly stoic and unemotive, but that works for this movie as Django is supposed to be both hurt and angry - and totally focused on his objective.
A Man Called Django is pretty good. Definitely worth watching if you're a Spaghetti Western fan.
The 2nd feature in this set isn't so lucky.
Django And Sartana's Showdown In The West
not only has a misleading title (the original title of Django and Sartana Are Coming... It's the End would have been much more appropriate), but it's also not nearly as good as the first movie in this set.
It's never a good sign when more than one person is credited for directing a movie, and even though the American credits show only a, 'Dick Spitfire,' as director, it was actually directed by Demofilo Fidani (who co-wrote the movie) and Diego Spataro. The fact that two men directed this movie (whether they took turns or did it together is not reported) makes it all the more disappointing.
This is a truly amateurish movie. The script is bad (with a lot of scenes that do little to push the movie forward, and two lead characters that don't even meet until the very end of the movie). The dialogue is bad, the story is disjointed at best, and the plot is so simplistic that because the execution of the script was so poor the movie seems to take about an hour longer than it's 83 minute running time.
To add insult to injury the editing is amateurish, too. The whole thing seems like the first project a group of UCLA film students might have done.
The acting is bad as well. Franco Borelli doesn't look the part as a clean shaven Django. The producers & directors apparently thought he'd have to be clean shaven to stand apart from the scruffy Sartana, played by Jack Betts (under the name Hunt Powers). Neither Borelli or Betts/Powers are particularly bad, but they're given nothing to work with and no direction worth a damn.
Even the action scenes (gunfights & fistfights) look amateurish and fake, and that's the death knell for any Western if you don't have a top notch script. A mediocre Western can still be entertaining if you've got good action scenes, but this one doesn't.
This isn't a movie that goes well with either, "Franchise," (Sartana or Django), and is a movie that probably would have been better left to the dustbin of history.
Timeless Media Group's presentation of these two movies, however, is pretty good. Anamorphic widescreen prints, solid color, fairly sharp picture - the movies look better than they have any right to. (OK, the first one deserves to look this good, but not Django and Sartana...) At least the quality of the DVD presentation is good (although one gripe would be an inability to see the running time or where you are on the disc during said running time).
Still, given the price and the quality of the first movie this doesn't make for a bad purchase for die hard Spaghetti Western fans.
A Man Called Django -
3.5/5
Django and Sartana's Showdown in the West -
1.5/5