Post by Erik Rupp on Oct 4, 2009 13:35:11 GMT -5
Asassin
- Assassin (1984/2009)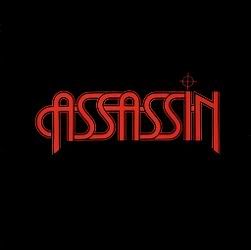 What is the statute of limitations on the release of a debut album, anyway?
Because whatever it may be, Assassin likely passed it 10 or 15 years ago. But you know what? It doesn't matter - this is a good album, regardless of what year it was released.
Assassin was San Diego's leading Hard Rock and Heavy Metal band in the mid 1980's. They found a style that clicked with audiences not just locally (although they had a rather large local following), but internationally as their 7" vinyl single was sold to fans in Europe and Japan as well as in Southern California. The band seemed destined to achieve great success on a large scale as they played on bills with both national and international acts, and more than held their own in doing so.
And then a funny thing happened on the way to the, "Big time." Questionable managment decisions and the departure of lead singer Pete Papps led to the bands eventual demise in 1986. Destiny, it seemed, would not be satisfied.
Something else happened, though, as their debut album sat on the shelf, unreleased. Fans never forgot the band. Nor did Michael Reed, the teenage fan who became one of the band's key associates. While they were active he ran their fan club, ran lights at their live gigs, and did whatever else he could that needed to be done. A decade and a half later, as the key player at independent Deep Shag Records, he found himself in a position to do something about that unreleased debut album that was recorded in 1984. The problem then became finding all the tapes, and restoring them to CD quality for a release.
After some relentless searching and hard work, the Assassin album, along with five live bonus tracks, was finally ready for release in 2009.
So how does the album hold up a quarter century after it was recorded?
Very well, thank you. In fact, Assassin's self titled debut album holds up better after twenty-five years than it has any right to. Sure, there are a couple near cheesy moments here and there that just
scream
1984! But those moments are relatively few and far between, and on the whole this album sounds a lot fresher than you would expect for something of this vintage.
With a musical style that could be best described as Dio-era Black Sabbath meets Dokken, Assassin found a middle ground between Hard Rock and Heavy Metal that still sounds good today.
The opening track, "Treason," sets the tone. With it's thick, almost sludgy production (in a good way - think Sabbath's Mob Rules album), this uptempo song really gets the album going in a big way. Not unlike both Sabbath's, "Turn Up the Night," and Dokken's, "Kiss Of Death," "Treason," is a killer opening song. While the song is definitely a Heavy Metal track it also has a strong sense of melody and accessiblity that almost makes it radio friendly. Lead singer Pete Papps has a voice not unlike that of Don Dokken's, which he uses to full effect on this song (and most of the album, for that matter). This was one of the two songs on their legendary 1984 7" single, and with good reason. It's a great song.
As if to completely obliterate expectations and fans' impressions of what the band was all about they move from a killer melodic Heavy Metal song to something that could almost be called Power Pop in, "Angel." Bands like Trixter and Firehouse would do songs like this five years later, but less effectively, and in a more contrived way than Assassin did here. Some nice acoustic guitar strumming gives the song nice texture, as does some almost Countrified guitar flourishes during the second and third verses. The only significant drawback of the song is that it could have been shortened by a chorus repetition as it
almost
becomes too repetitive, but other than that this song is one that Metal fans may not want to like, but most of them won't be able to help themselves by their third or fourth listen.
Killer uptempo Melodic Metal opening track? Check. Accessible Hard Rock (almost Power Pop) follow up track (the kind of thing that would have made for a great single)? Check.
So what's next on the agenda? How about some more Melodic Metal, only this time something pushing near Progressive Metal territory? That's just what Assassin comes up with for the third track, "Nuance Le Dancer." In fact, "Nuance," actually has a guitar part very similar to the main/intro riff for Iron Maiden's, "Brighter Than a Thousand Suns," from their 2006 album, A Matter of Life and Death. "Nuance Le Dancer," would feel right at home on that Maiden album. Maybe not as heavy as most of those songs, but stylistically it would fit in with only some minor Maiden tweaking. This is another great song. Written by the band's two guitarists, Vinnie Cavarra and Thom Beebe, along with singer Papps, this is a seven and a half minute epic that showed the potential this band had for growth had they been given the chance.
The Black Sabbath thing returns on the next song, "Backstabber," as Assassin slows down the tempo while getting heavier at the same time. A big, Sabbath-esque riff is the centerpiece of the song, while vocally Pete Papps uses his melodic vocals to great effect. Nice harmony vocals in the chorus also work exceptionally well as do Pete's occasional accents of aggression in his voice. This isn't all that far removed from Rough Cutt's, "Take Her," from their debut album, and both are excellent songs.
"The Tower," brings yet another variation on the Assassin style, as this one has that Maiden, "Gallop," only here it's slower and has a strong sense of groove. Hints of Progressive Metal are present in the song, but it is a mostly straightforward slice of 80's Heavy Metal, not all that far removed from some Armored Saint songs, only with a stronger sense of melody (again, not all that far removed from Dokken as far as the vocal parts go). Definitely not filler, this is a very strong album cut that gets more enjoyable with repeated listens.
The one misstep on the album comes in the form of, "Triangle." The song is a bit schizophrenic as it starts out with some Megadeth-y (circa the 1990's) thunderous intro chords and riffs, before turning into something of a heavier Survivor meets Journey meets Bon Jovi sounding song in the verses. With different lyrics and more aggressive vocals in the verses this could have been a killer song as there are some really good, heavy musical passages in here. This is a song that reminds the listener that this was a self-produced, independently recorded album. A strong producer might have told the band to make the changes needed to turn this into one of the album's highlights rather than the one song that didn't quite work.
The album gets back on track with, "Set Back," a song with something of a Heavy Metal Boogie/Shuffle beat. It's another strong album cut, as is, "No Way," which sounds like Black Sabbath via Armored Saint with vocal parts written by Don Dokken - in other words, a great 80's Metal song.
They closed out the original album with, "All Your Love," which either sounds like Iron Maiden trying to write a Dokken song, or Dokken trying to write an Iron Maiden song. Either way, it ends up sounding like something different from both of those bands - it sounds like Assassin. This is a brilliant Melodic Metal song. A fantastic main riff, outstanding vocal melodies and harmonies, and some great solos from Cavarra and Beebe along with an excellent performance from drummer Leroy Vega make this one of the album's highlights - and a damned good reason that they chose it to be the other song on their 7" single in 1984! This is a remixed, extended version of the song, and the added instrumental part near the end is very nice to hear. 80's Heavy Metal just didn't get better than this.
The audio production on the studio tracks was as good as the songs themselves. This is a near major label quality album sonically, which was unusual for independent, low budget recordings in the 80's. Dan Milner did the engineering when the album was recorded, and guitarist Vinnie Cavarra remixed the album this year (but having heard the original 7" single myself I can tell you that it sounded great back then with the original mix as well). As noted before, there is a bit of the Black Sabbath Mob Rules album mix sound here, but while this album has that thick sound, it is also crisper and punchier.
Special mention should also be made of the band's performances throughout the album. This sounds like a band with several years of gigging under their belts, not just one year. Bass player John Osmon and drummer Leroy Vega were locked in on these recordings, giving the album a great foundation. This really was an album that could have gotten a major label release.
But, instead, it sat on the shelf for twenty-five years. As did some live recordings of the band playing their main club home - Straita Head Sound. Those live recordings were rescued (literally, as the tapes were decomposing and had to be baked in order to be copied to newer tapes for mastering), and some are included here.
Only one of these live songs is a duplicate of any of the studio songs, and one of them is good enough that it also could have been a single for the band.
By the time of the live recordings the band had lost drummer Vega and replaced him with Dave Bundy. Bundy turned out to be a fine replacement as the band continued to be a great live act.
"Feel You Out," and, "The Right Stuff," come across well live, and would have made for solid album cuts, but it is, "Street Kid," where the band shows that they came up with a lot of great songs in a relatively short amount of time. "Street Kid," features another great, funky riff that is played with flair (and some nice double bass flourishes from Bundy), and the chorus hook is infectiously memorable. It's just a shame that the song was never recorded in the studio.
"The Assassin," is another of the mid-tempo songs that Assassin did so well. Heavy with a Metal edge, but also featuring a strong sense of both groove and melody, this is what was good about the 1980's Hard Rock and Heavy Metal scene.
The live tracks, and the CD close out with the bands singature song - "Treason." A little faster, more frantic, and featuring a rougher vocal from Papps than the studio recording (it's at the end of their set, after all), it's not hard to visualize just how energetic and commanding this band was live when listening to this version.
The live recordings are simply two track soundboard recordings, so there isn't a Live After Death quality to them, but there is an immediacy and honesty about them that makes up for the lack of major label live album quality. The sound quality isn't bad at all, but it isn't major label live album quality. It is more than listenable, and in the end that's why they were included on the CD release.
Bottom line for the Assassin CD release?
Long overdue and well deserved.
4.25/5