Post by Erik Rupp on Oct 6, 2009 15:57:40 GMT -5
Soundtrack -
That Thing You Do
(1996)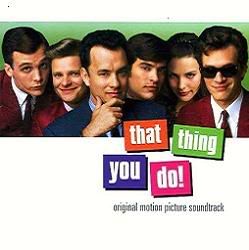 Tom Hanks made his directorial debut in 1996 with a little film about a 1960's Rock group. It wasn't a big hit, but it quickly devloped a large cult following as the movie was well written, acted, and directed, and was just a lot of fun.
What Hanks was able to do was recreate 1964 with stunning accuracy. It was a more innocent time, just before the Viet Nam war expanded for the U.S. - when life moved at a slower pace and people didn't have quite so much to worry about.
Part of what Hanks got right was the music in the movie. None of the artists on the soundtrack are, "Real." They are all fictional, but represent the types of groups and musical artists that actually existed at the time. As part of creating these fictional groups new songs had to be written and recorded that sounded like the kind of music you would have heard in 1964, and Hanks and the songwriters he brought in did a fantastic job on that count.
The central group in the movie is The Wonders (updated from The One-ders), a group of young guys from Erie, Pennsylvania who find that they've written and recording a smash sensation hit single almost as a fluke. They guys are all talented, but totally inexperienced and naive, and it makes for a fun and funny story that Hanks wrote and directed.
The music that they came up with for the Wonders is nothing short of brilliantly crafted 1960's style Pop-Rock. The central song is the title track, "That Thing You Do," which was written by Adam Schlesinger of Fountains of Wayne and Tinted Windows. It is a catchy, peppy, uptempo guitar driven proto Power Pop song that perfectly captures the early Beatlemania album when a lot of groups adopted much of the Fab Four's sound. But that wasn't the only song written for the Wonders. "Dance With Me Tonight," is arguably a better Rock song than the title track. Again, an uptempo, peppy, snappy mid 60's Rock track, "Dance," is infectious and energetic, this time featuring a hint of the California surf sound (and a great bass line). Other Wonders tracks include, "Little Wild One," a slightly slower, and less peppy song than, "Dance," or, "That Thing," but still a good song, the slow lover's lament ballad, "All My Only Dreams," and, "I Need You (That Thing You Do)," which is perhaps the only song that doesn't sound like it came striaght out of the 60's.
But that's just the beginning. That Thing You Do is populated by those fictional musical acts mentioned previously, which include The Heardsmen (the post Wonders group for their singer Jimmy Mattingly), whose song is supposed to have been from about 1966 or so (and sounds it). It is an Americanized version of a peppy Beatles song, and a darned good song that, like many songs on the soundtrack, could have been a hit back then.
Other fictional groups or artists include Freddy Fredrickson, who supposedly had a hit with his version of the theme for the TV show, "Mr. Downtown," which has a reverse Peter Gunn theme riff at it's core. The song is infectious, and has a great arrangement featuring a nice jazzy mid-section. The Supremes get a makeover as The Chantrellines, and their song, "Hold My Hand, Hold My Heart," is completely worthy of the safe pre-R&B three member singing acts like The Supremes.
Surf music is represented by the Saturn V, and their instrumental, "Voyage Around the Moon." (Are you getting the tie-ins to Hank's movie, Apollo 13, yet?) This is a completely credible mid 60's surf song and is, again, catchy, as is another surf band, The Vicksburgs, and their snappy, Jan & Dean meet the Beach Boys meet the Rolling Stones song, "Drive Faster," which has a chorus that you would swear could have been on a lost 1960's surf album.
The safe, adult friendly acts of the era are represented by character Diane Dane and her comeback hit, "My World Is Over," which is another very well written, completely believable song for that era.
And as seriously as Hanks and his musical staff took this movie that didn't stop them from having some fun with a couple tongue-in-cheek songs. Album opener, "Lovin You Lots and Lots," is the kind of pre-muzak safe music for adults that sold millions of records back in the day. It is basically borrowing from the Ray Conniff and Mitch Miller playbook. It's goofy, but fun. As is the instrumental from the movie that The Wonders appear in. The band appeared in a beach movie as Cap'n Geech and the Shrimp Shack Shooters, and the song is simply called, "Shrimp Shack."
Then there's the really cool Jazz track by the fictitous legend, Del Paxton, entitled, "Time To Blow." It's good enough that Jazz purists would approve wholeheartedly.
The album closes with a, "Live," version of, "That Thing You Do," from The Wonders only major television appearance. It's not really live, but with the crowd noise mixed in and a different audio mix for the music it could almost pass for a live recording. Almost.
In the end, the soundtrack for That Thing You Do is just as much fun as the movie itself. And that says a lot.
4.5/5