Post by Erik Rupp on Oct 15, 2009 13:00:21 GMT -5
Black Sabbath
- The Eternal Idol (1987)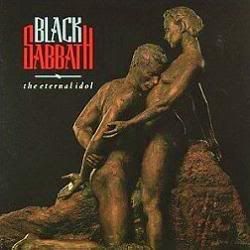 The Eternal Idol marked the lowpoint for Black Sabbath when considering lineup stability. Ironically, it was also a high water mark for Tony Iommi's songwriting.
After failed lineups with Ian Gillan (and then Glenn Hughes) as Sabbath's singer, Iommi knew that he had to come back with a classic Heaven and Hell style album. That's exactly what he delivered.
Recruiting Tony Martin (after future Badlands singer Ray Gillen didn't work out), Iommi proceeded to record what is considered by some fans to be one of Black Sabbath's finest albums. An all-star lineup of musicians including drummer Eric Singer (KISS, Badlands, Alice Cooper), bassist Bob Daisley (Ozzy, Rainbow), and long-time Sabbath keyboard player Geoff Nichols all give solid performances. Everyone involved seemed to know that anything less than great would be viewed negatively by skeptical fans and critics alike in view of the then constant personnel shifts.
While album opener, "The Shining," gets most of the attention from fans, it isn't necessarily one of the stronger songs on the album. It is an outstanding track, but songs like, "Hard Life To Love," "Glory Ride," and, "Born To Lose," are even better. Simply put, Idol is a consistently good album from top to bottom.
Tony Martin has been called both, "The best singer ever in Sabbath," and, "A second-rate Dio clone." The truth is that he is neither. His vocals are reminiscent of Dio, true, but they also bring to mind the voice of David Coverdale. His performance on The Eternal Idol is very strong, despite the fact that most of the vocal parts were written by another singer (Ray Gillen). He was also a much better fit in Sabbath than either Ian Gillan or Glenn Hughes.
If Ronnie James Dio had been the singer on this album, it is entirely possible that many Black Sabbath fans would consider this to be among their best albums, or at least worthy to the legacy of Heaven and Hell and Mob Rules. That is a moot point, though, as Tony Martin and Tony Iommi made one hell of a great album without Dio.
The Eternal Idol is an album that is more than worthy of the Black Sabbath name, especially for those who are Dio-era Sabbath fans.
4.75/5