Post by Erik Rupp on Oct 28, 2009 23:06:58 GMT -5
KISS Meets the Phantom of the Park (1978)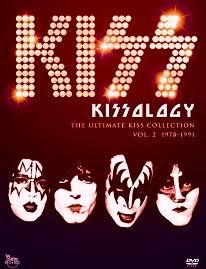 Considered by many to be one of the worst, cheesiest Rock Movies ever made, KISS Meets the Phantom of the Park is certainly no Emmy Award winner. Even the band makes fun of it.
But is it really that bad? Well, yes, but...
Consider this: In 1978 Wonder Woman was a fairly decent sized hit TV series. Cheese and camp were in. KISS Meets the Phantom of the Park was originally planned (and scripted) as, "Star Wars meets A Hard Day's Night." Unfortunately, the network censors decided that it was too violent and too serious for all the kids that would likely be watching, so the script was toned down. After 3 or 4 re-writes the script hardly resembled that which the band and their management agreed to, but they had already signed their contracts, so...
KISS Meets the Phantom of the Park was broadcast to TV screens by NBC in the Fall of 1978. It was bad, unintentionally funny in spots, and yet - it was still kind of cool if you "got it." The idea of KISS as superheroes was a natural, and, in fact, it followed the two Marvel Comics KISS special issues from 1977 & 1978 - including the idea of where they got their powers. There are some ideas in the story that if fleshed out and better written could have made for a good TV movie. Unfortunately Hanna Barbera was running the show, and turned it into a live action cartoon - with the approval (and outright urging) of NBC. The band so hated the script that even Paul Stanley and Gene Simmons - the guys in the band with good work ethic and aspirations of becoming serious Hollywood actors someday - didn't bother to study their lines. They just had their lines barked out to them and then repeated them for each take. Peter Criss, as has been noted many times, didn't even bother to show up for the "looping," or overdubbing of his voice to fix the spots where the audio recording wasn't up to par (and had his voice replaced by a cartoon voice actor throughout the film as a result). Ace Frehley also seems disinterested for most of the movie (and as he was, and still is, a big Science Fiction fan that shows just how unhappy he was with the script - and the film-making process in general).
Anthony Zerbe and Carmine Caridi, however, do their best to salvage something out of this mess. They give solid, fairly believable performances despite dialog that is often cheesy. And they did so despite their characters being written as cardboard cut-outs rather than 3 dimensional people. Kudos to them, they clearly were (and still are) professionals.
The highlights of the movie end up being the music and the cheesy fight scenes - and maybe the interplay between Zerbe's Abner Deveraux and Caridi's Calvin Richards. KISS Meets the Phantom of the Park can be fun to watch IF you go into it expecting a cheesy 70's superhero camp movie. If that's all you expect, then it meets and exceeds those expectations. Beyond that, it's also a great bit of nostalgia.
KISS survived this movie, but just barely. A year later they had a huge hit with their Dynasty album, but then saw Peter Criss leave the band. Ace Frehley followed suit a couple of years later. KISS saw their fortunes fade for a few years (despite the introduction of the late, great Eric Carr on drums in 1980) before their career revival minus the make-up with albums like Lick It Up, Animalize, Asylum, and Revenge. In 1996 the original group got back together for a wildly successful reunion that lasted for 5 years. Once again, Peter Criss and Ace Frehley became unhappy in the band, and were too erratic to continue with the group, and they each ended up leaving KISS (or being asked to leave) for a second time. KISS still continues today, and they still hate this movie. But like a veteran telling war stories, they still tell the tale of making this movie, and of how a potentially great idea was turned into something profoundly stupid yet still strangely compelling.
The original VHS and LaserDisc version of the movie is the version seen on NBC in 1978. It does have cropping issues as the image is scrolled down just a bit, occasionally cutting off some important images at the very top of the screen. Not much care was put into that transfer.
The version available on the KISSology 2 DVD is the European theatrical version, Attack of the Phantoms. This version is an anamorphically enhanced widescreen edition of the movie, and it looks great. The picture and sound quality are as good as could be expected from a TV movie from 1978. The catch here is that it is a different edit of the movie, and while it adds some previously unseen (or extended) scenes, it also changes the order of events, and in some cases drops details that explain things. In other words, this version is even more confusing than the original version shown a year earlier on NBC. The Scooby Doo style music used in the fight scenes is replaced by haphazardly chosen songs from the KISS members' 1978 solo albums. Some of the selections work, others are horribly mismatched to the scene they appear in. In the end, the Scooby Doo music works better overall.
This is a movie that is best viewed with the understanding that it is pure camp. On that level, the movie is a success. As a dramatic action/adventure sci fi movie, however, it is a Colossal failure.
For KISS fans -
3.5/5
For everyone else -
1.5/5