Post by Erik Rupp on Jan 1, 2010 19:44:46 GMT -5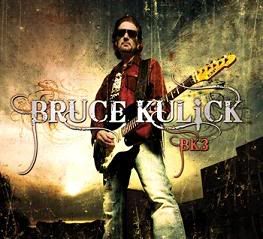 Meat Loaf, Blackjack (featuring Michael Bolton), Billy Squier, KISS, Union (with ex-Motley Crue singer John Corabi), and Grand Funk Railroad. Those are some of the noteworthy credits that Bruce Kulick has under his belt.
Also to his credit are three solo albums - AudioDog in 2001, Transformer in 2003, and now in 2010 his new album, BK3 - which may be the best of the bunch.
Bruce has shown some excellent songwriting skills over the years, and on BK3 he proves that he can write songs that can both flat out rock
and
have some substance to them. His lead playing, which has been well respected for years, is also on wide display on BK3.
The production of the album is without question the best of any of Bruce's solo albums. Produced by Jeremy Rubolino, BK3 is a great
sounding
album, which showcases the strong songs and excellent performances. It isn't without some flaws, but, overall, BK3 is a big success for Bruce.
It opens with a burst of frenetic energy on, "Fate." "Fate," features a near scat-like burst of loosely connected words, in almost spoken word style in the verse, leading to a catchy chorus. The song has some killer riffs and a nasty attitude and is a great way to start the album.
Former KISS mate Gene Simmons appears on the dynamic, "Never Gonna Die," which is one of the album's highlights. It's not dissimilar to Kulick's work with his band Union, and it also has some similarities to KISS', "Within," from their Psycho Circus album (only this song is much better). Simmons' vocal is inspired (and even somewhat emotional) and helps to take the song over the top. Kulick's solo is pretty darned impressive as well. He really knows how to use that wah-wah pedal!
On, "No Friend Of Mine," former Union singer John Corabi makes an appearance taking the lead vocals. Again, the song would sound right at home on a third Union album, but there's also something else there - something that's hard to put your finger on, but it's just a little more Kulick than Union. This is another great, dynamic song with some top notch riffs and a particularly nice, melodic solo from Bruce.
A seemingly unlikely guest vocalist appears on the next song, "The Hand of the King." While the Gene Simmons connection makes it happen, Nick Simmons' lack of studio experience would have seemingly precluded him from participating in an album that Bruce wanted to be, "Big time," from start to finish. Once you hear his vocal, however, it's clear that Nick does have some singing ability, and the song has a more dynamic Black Sabbath kind of feel to it. Black Union, maybe? Union Sabbath? No matter how you describe it, this song is dark, brooding, dynamic, and heavy. And catchy as hell. The main riff is catchy and the vocal hook in the chorus is catchy. Bruce again provides a nice solo on this one.
Bringing things back down in intensity, Bruce gets very personal with, "I'll Survive," a song about the time that Bruce was shot in Hollywood in October of 2003. It was a random shooting that had nothing to do with Kulick, but one that could easily have ended with tragic results. One bullet hit him in the leg, another grazed his head above his ear. The song is strong, and features an emotional vocal from Bruce. There is even a nice riff before the solo, giving the song some nice dynamics.
Anyone remember The Knack? Well, if you were over the age of 8 or 9 in 1979 it's hard to forget them. Their hit, "My Sharona," is still considered to be a Power Pop classic. And Knack singer Doug Fieger takes the lead vocal on a song that, musically, would be comfortable on a later Thin Lizzy album, and vocally would fit right in with The Knack. Fieger's vocal fits the song to a, "T," and Kulick's music and solo is, once again, top notch. This is a great, catchy hard edged Power Pop song and could easily work as a single.
"The Final Mile," sees Bruce taking lead vocals once again, and the song is slower and less rowdy than it's predecessor, but is still fairly good. Bruce's vocal in the verse is adequate, while his vocal in the chorus is stronger. The solo is melodic and fairly catchy - and very classy. On it's own this is a pretty good song, but in context of an album like this it's actually one of the weaker tracks.
The closest Bruce gets to his 80's KISS roots on BK3 is the next song, "I'm The Animal," which features Edguy and Avantasia lead vocalist Tobias Sammet and KISS drummer Eric Singer. The riffs on this grooving mid-tempo song are nasty (in a good way) and the vocals are fantastic. The vocal melodies are all outstanding and the chorus is as strong as anything from the 80's from any Hard Rock band. This is a great track, no matter what decade it was written or recorded in.
Bruce returns to the Power Pop-ish material with, "And I Know," which again features Mr. Kulick on lead vocals. Again Bruce comes through with a great, catchy, hard edged Rock song that has those classic Power Pop melodies. Bruce's vocal is better than most of what he's done in the past, and shows his continued growth as a singer. While no one's going to confuse him with any of the great Rock singers of the last 30 or 40 years, he's getting better with each successive release, and this song is just one example.
The lone instrumental on the album is, "Between the Lines," which features Bruce trading solos with Toto guitarist Steve Lukather. This is a classy, bouncy, song that walks the line between Rocking and Melodic (in a mellow-ish sense). The leads are (as expected) excellent, and the music behind the soloing lays down a solid foundation.
The album closes out with Bruce's nod to one of his musical heroes, George Harrison. Unfortunately, despite the attempt to do something a little less expected of him, and attempting to broaden his horizons, the execution of, "Life," isn't up to the standards of the rest of the album. Points can be given for the attempt and the ambitious nature of the song, but the vocal melody in the chorus is just about as mediocre as Ace Frehley's, "Change the World," from his latest album. In some respects these songs are fairly similar. Both attempt to do something that the artist isn't known for, and both just miss the mark. Don't misunderstand - "Life," isn't bad, but it isn't the grand finale that the album deserved. (Although the coda of the song with all the various instruments thrown in, including flute and violin, is
really
nice.)
In the end, BK3 is a very, very strong album overall, and it may just be the best, "Post KISS Solo Album," released to date. Actually, merely calling it a, "Post KISS Solo Album," does the album a grave disservice as it really shows a lot more of what Bruce Kulick is all about than just his eleven years with KISS. His tastes and horizons are a lot broader than his best known gig would lead most people to believe.
4.25/5