Post by Erik Rupp on Jan 5, 2010 23:02:08 GMT -5
For our first interview at Vista Records we decided to interview Grand Funk Railroad's lead guitarist, Bruce Kulick.
Kulick has had a long and noteworthy career, inlcuding 11 years in KISS, his own band Union (with former Motley Crue singer John Corabi), and several albums that he's played on including Billy Squier, Blackjack (with a
rocking
Michael Bolton), among others, and now he has three solo albums to his credit. His third solo album, BK3, will be released on February 2nd, 2010.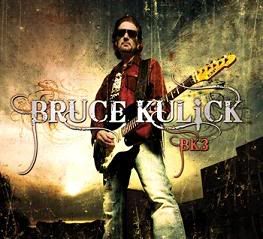 Interview by Erik Rupp.
Hi Bruce, thanks for doing the interview today.
No problem!
It's been six years since the release of Transformer. When did you start work on BK3? (Songwriting, and then recording.)
I starting writing songs late in 2003. Just after the shooting incident on Sunset Blvd. The song "I'll Survive" came from that immediately. Then I hooked up with Jeremy Rubolino my producer and we started to play with other ideas I had. Like the song "Life" and then some heavier riffs I had. So over the course of the next few years we were always writing material for BK3. Then started the demo process and finally the actually recordings.
Did you always have guest performers in mind for BK3, or did that idea come about later (and how did that idea come about)? And whose idea was it to use the guests? Was it just a matter of a particular song fit that guest's style and you asked if they would do it?
I did not really know that I would have as many featured guests as I wound up with. As the songs developed I knew a few I wouldn't sing, but getting Gene Simmons to commit and then offer Nick to join for a song as well, really got the recipe for the CD up to a different level, and Jeremy and I went for others. Like Steve Lukather on my instrumental track. I could have done the song myself, but it was bigger to have a true guitar monster to trade off with me. The song had to fit of course with who we asked to appear. All of them were great, and I am grateful to feature them on my CD.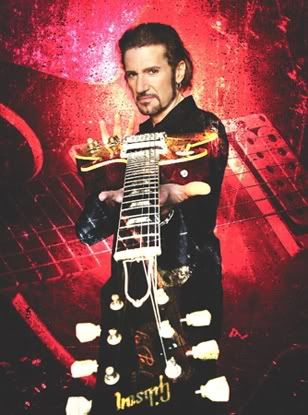 What are your favorite songs on BK3, and why? (Is there a track that you're particularly proud of on BK3?)
I always feel that the song with Gene is very special, and the one called "I'll Survive". The sound of the Survive track is wonderful, as it is hard to have something created like what you hear in your brain.

Gene's track "Ain't Gonna Die" was a great collaboration and it made me of course think of all the KISS years in the studio etc. The tunes with both John Corabi and Nick Simmons are huge guitar rock glory in my mind, but as usual, cause I worked on this CD so long, I do love all 11 songs!
Over the last 13 years were there times that you missed being in KISS, or has your work with Union, Grand Funk Railroad, and as a solo artist been satisfying enough that you haven't missed being in KISS?
I will always go on record saying that I miss being in KISS. Even though I wasn't in charge, the opportunity of what that band accomplishes is always a thrill to be involved with.

UNION proved to me that I could have a band, and make quality music. GFR is a great live gig for me, and I am very lucky to have been jamming with them for 9 years now! Doing the solo
artist thing, is actually the hardest thing to do... but I take on the challenge of course and BK3 is proof of what I can do, once I am really challenged to reach the highest goals.
With all the, "Veteran" rock bands that have put out new albums over the last couple of years (Bob Seger, KISS, Journey, AC/DC, Foreigner, etc), has Grand Funk considered (or reconsidered) doing a new studio album? And if so, will you have a hand in the songwriting? (You're one heck of an asset as a songwriter...)
We do some song written by the new version of the band live, and they go over very well. Don and Mel are in charge of Grand Funk, and for now they have not really desired to record. They know they can count on me for some writing if they decide to go down that path, even though Max Carl our singer is quite an amazing writer of his own. Tim Cashion the keyboard player is a great songwriter as well.

And lets not forget that Don wrote the classic "We're An American Band" all by himself! He was stuck by lightning for sure! Love that song!
What is your favorite GFR song to play live, and why?
For me since "Inside Looking Out" features me, I do love jamming out on that. But "Closer To Home" (I'm Your Captain") is such a killer song! I dig all the tunes in the set.
What 2 or 3 albums that you have appeared on are you the most proud of, and why?
REVENGE by KISS comes to mind right away. KISS at its best for sure and the production and performances are wonderful. I also love my solo for FOREVER from Hot In The Shade.

Post KISS I would say that both UNION discs, have some good BK guitar playing for sure. One last thing but not well known would be "Save Me" from a Queen tribute CD from years ago.
Jeff Scott Soto sings it and that song and my playing I was very happy with.
Was there ever any consideration given to having Mel Schacher or Don Brewer make guest appearances on BK3?
I did think about that, but I really didn't see what or where that would work. I leaned on my KISS connections for sure, but Don and Mel appearing is something to consider for the future.
How comfortable are you now doing lead vocals? (I remember quotes from you going back over 20 years where you said you didn't think anyone would want to hear you sing.) And are there one or two songs that you are particularly happy with your lead vocal performances? (Not necessarily just from BK3 - I've always thought that your vocal on, "Change Is Coming," was really good, for example.)
I will never really be as comfortable singing as playing guitar. I am a perfectionist. I sing okay. I have worked with some of the best in the biz, so it is a challenge for me, but I trusted Jeremy to help me and I feel he did a great job guiding me to be the best I could. Some songs are much easier for me than others... and what I write sometimes is not always easy for me. So there is that challenge etc. I think "I'll Survive" and "Fate" are strong vocals from me from BK3, and "And I Know" is up there as well.
Will there be more solo albums in the future? (Would you like to do more?)
I hope so... though not sure if I can call it BK4! LOL.

I think about acoustic style solo music sometimes, and you never know what the future brings.
Last question. Will you do any touring in the U.S. in support of BK3? And if so, how many dates would you like to play, and how many do you think would be feasable?
I am looking at any and all possibilities for getting out there with BK3. No idea yet when or how etc. The CD is special no matter if I get out live with it.
Well, Bruce - thanks for your time. I really appreciate it. And good luck with BK3 - it's a very, very good album. You should be proud of it.
Thanks!
Bruce
kulick.net