Post by Erik Rupp on Feb 6, 2010 15:03:02 GMT -5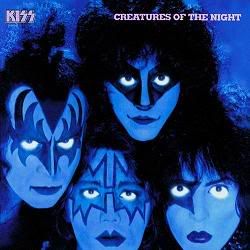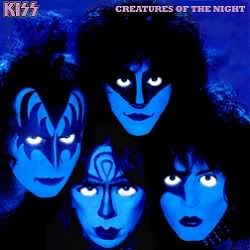 Having spiraled downward over their previous three albums, KISS (by now Gene Simmons, Paul Stanley, and Eric Carr - with a lead guitar player to be named later) decided it was time to get serious about the Rock side of things. No more experimentation with Pop or Progressive/Concept leanings - it was time to reconnect with their core fanbase. If they could.
Those fans were, in large numbers, turned off to one degree or another by Dynasty, Unmasked, and The Elder, and many of them had given up on the band. It was going to take something monumental to win them back.
Creatures of the Night certainly had some monumental songs, but the album wasn't
quite
enough to win more than a small percentage of those core fans back (although it did begin the process of winning over new fans for a new decade).
The band worked with Michael James Jackson, a producer who was not a musician and couldn't do much more than tell the band when something sounded good or not. His production work on Creatures was actually quite good all things considered. The album definitely sounded
big
, and stylistically it sounded more modern than their last true Hard Rock album (Love Gun), so from that standpoint the partnership was a success.
The opening track ("Creatures of the Night") is arguably the best song on the album. A sleek, but heavy slice of the (then) new Heavy Metal style, "Creatures," let the listeners know that KISS was back - and they meant business! Eric Carr's thunderous drums and Paul Stanley's soaring vocals led this song into new, but still somewhat familiar territory for KISS. The guitar parts would have sounded right at home on a Judas Priest album, which was a big plus considering Priest's huge success that year with Screaming For Vengeance. This is a great track, and it would be a highlight of that decade for KISS.
Gene Simmons' first song on the album was the mid tempo, "Saint and Sinner," and it had more than a passing resemblance to his harder edged material from the 70's - only with a more modern, Metal edge. It's another album highlight, even if not as good as the previous song.
"Keep Me Comin," is a good song. It has a bit of a KISS meets Led Zeppelin meets Van Halen sound to it. It's not a great song, but it is very good, and, again, Eric Carr's drums are just thunderous, propelling this somewhat funky song forward.
Gene Simmons collaborated (sort of) with Bryan Adams and Jim Vallance on two songs, and the first was, "Rock and Roll Hell." This song, in a
very
different form, was originally recorded by BTO around 1979 or so. That version pales in comparison to this one. Vallance and Adams slowed the tempo down and ratcheted up the bombast. Gene added a few lines of lyrics and gave the song a further bit of bombast to make it sound like a proper KISS song. The song has some nice dynamics, and is a dark, moody, but very melodic track that is another album highlight.
To close out what was side one of the album, Paul Stanley brought the side full circle, with another more modern Heavy Metal song in, "Danger." This one isn't quite as good as, "Creatures," but it's in the ballpark, and it adds to the flow of the album as it picks up the pace from the previous three songs.
"I Love It Loud," has become one of KISS' signature anthems. Some fans love the song, while others dislike the song in it's simple sing along, and somewhat plodding, style. It
is
catchy, and features one of the biggest drum sounds ever recorded, but it isn't up to the level of the rest of the album, musically. The bottom line with this song? When it comes to keeping it simple, KISS does it better than anyone else, and with, "I Love It Loud," Gene and co-writer (and shortly thereafter, new KISS guitarist) Vinnie Vincent kept it
really
simple with this one.
Paul Stanley wrote one of the best, and darkest, proto power ballads of the decade for this album (along with Vinnie Vincent), and, "I Still Love You," still sounds good today. Eric Carr's drumming fits the song just right, and he even played bass on the track when it became clear he had the right feel for the part. This song is dynamic, dark, and very melodic. It's another great song from Paul.
Gene Simmons would get the last two songs on the album, "Killer," and, "War Machine." "Killer," is filler, sort of. Lyrically it's a
stoopid
track from Gene and Vinnie (foreshadowing some of the lyrical blunders that Gene would make in the 80's), and musically it's nothing particularly special (not bad, just not all that good, either - standard order high energy Hard Rock/Metal). "War Machine," on the other hand, was (and still is) a great Hard Rock song that borders on Heavy Metal. It's got a Black Sabbath kind of feel to it, only with bigger, heavier drumming. The second of the two songs co-written with Bryan Adams and Jim Vallance, this one had more of Gene's stamp on it, and it would stay in the band's set list for over a decade.
While the album could have used just a little more guitar in the mix (and the guitars could have used just a tad more of the high mids to cut through a little better), the album's mix sounds good. It fits the music, and makes for a very effective album overall.
KISS needed something monumental in 1982 to win back old fans and win over new fans. What they delivered was something very, very good that showed that they understood what those fans wanted from them.
A true comeback was just a year (and a complete change of image) away.
4.25/5