Post by Erik Rupp on Mar 1, 2010 0:18:24 GMT -5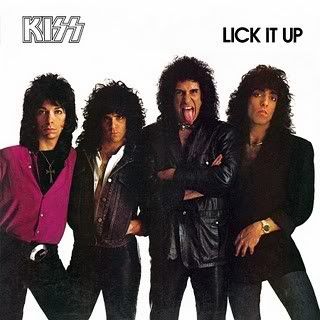 In 1982 Creatures of the Night had re-established KISS as a legitimate Hard Rock (and Heavy Metal, in an early 80's kind of way) force. Unfortunately, neither that album or it's subsequent tour set sales records. The album, while a better seller than the previous
Elder
fiasco, was a commercial disappointment. And while the tour featured one of their most creative (and coolest) stage sets to date, ticket sales were only half of what the band had seen at their 1977-78 peak. Something had to give.
And give it did. The image, that is.
The band gave up on their trademark black and white face make-up, costumes, and platform boots. They stripped it all down, and came clean. On a Sunday night on MTV, no less.
And they put out a solid album that put them back on the map commercially. Lick It Up re-energized the band
and
their fan base. While it wasn't a
huge
success (it didn't achieve Platinum status until the next album came out), it was their first Gold album in over 3 years.
Paul Stanley has stated that while Lick It Up was a bigger hit, he believes that Creatures of the Night is actually the better album. I tend to agree with him. Both critics
and
fans seemed to be listening with their eyes in 1982, so in 1983 KISS dropped the make-up and revived their career. That revival, however, would not have been possible if the album hadn't been good.
Lick It Up is good, but
how good
?
It opens with a flash worthy of their old image as, "Exciter," is the clear follow up to the previous album's title track. Upbeat, energetic, but still melodic - this Paul Stanley song was a slice of 1983 Heavy Metal done KISS style. It's a great song, and a great way to open one of KISS' most important albums.
To follow that up they went to Gene Simmons and his dark, brooding, "Not for the Innocent." It is a track that clearly followed the style of some of his previous songs, namely, "God of Thunder" (actually written by Paul Stanley, but sung by Gene and became his signature song anyway), "She," "Almost Human," and, "War Machine." A slow-ish mid-tempo stomper, "Not for the Innocent," is one of the better songs on the album.
Then they switch it up completely with the simple, melodic, but still rocking title track. It's become one of their trademark songs, and they still play it in their live set as of 2009. It's a little goofy, it's not particularly witty, but it is catchy and works fairly well. It's the first real slice of 80's Pop Metal fluff from KISS. There's a good reason it was the lead single from the album - it is
very
radio friendly.
"Young and Wasted," is near filler from Gene, but it stays on the good side of that line as it features a pumping, upbeat riff over Eric Carr's driving drum beat. It's a song dripping with attitude, and features none of the previous song's pop sensibilities when it comes to melody. This is down and dirty Rock and Roll with a metallic edge. While this one isn't
great
it is pretty good.
Paul's, "Gimme More," could have been one of their better songs of this era for the band if not for the sophomoric lyrics. The music is very energetic and upbeat. The riffs are strong, and the vocal melodies are good. But the oh so naughty lyrics just come off being juvenile instead of edgy. They're the kind of lyrics that junior high/middle school kids might come up with
if
they knew they wouldn't get caught by their parents. Lyrics don't usually ruin songs for me, but this is an exception. As it is it's an OK song overall, but with wittier, more clever (read: better) lyrics it could have been a much stronger song.
Eric Carr supplied the riff for the album's 2nd single, "All Hell's Breaking Loose," and Paul Stanley added the spoken, "Rap," part. While that wasn't the direction in which Carr wanted to take the song, it worked out well as the, "Rap," part is very, very effective. The chorus is catchy, and the song has a clear KISS sound. "All Hell's Breaking Loose," is another highlight on Lick It Up.
"A Million to One," is a gem. Paul Stanley and then lead guitarist Vinnie Vincent collaborated on this Def Leppard-ish song that should have been the third single from the album. If there had been a third single, that is. This mid-tempo, near balladic track remains one of the better songs in their catalog, and is certainly one of the highlights of the decade for KISS. Surprisingly, it was never played live until Paul Stanley's 2006 solo tour in support of his Live to Win album, and it sounded great live.
So instead of, "A Million to One," finding it's way into the KISS live set, they had, "Fits Like A Glove," show up in their live set all the way through their 1990 tour. Why? Well, it
is
a fun track (somewhat) with a lot of energy and some great riffing, but it's also a near-filler song that's just barely this side of being a throwaway track. If this had been the weakest track on Lick It Up the album might be worthy of it's reputation today. Unfortunately, it's not.
"Dance All Over Your Face," is filler. Good filler, but filler all the same. This is when Gene Simmons was starting his songwriting decline that he suffered through all the way to the end of the decade. "Dance," isn't a bad song, really. It's even fairly enjoyable if you're in the right mood. This is Gene's attempt at writing something similar to an AC/DC song, and on that level it isn't all that bad. It just isn't all that good, either.
And neither is album closer, "And On The 8th Day," which isn't even as good as, "Dance." Again, this isn't a horrible song, just a horribly mediocre one. Gene attempts to channel the Beatles on this one, only pumping that kind of thing full of steroids (and using some of Vinnie Vincent's riffs). Gotta give him points for the ambitious attempt, but the execution is far less than it should have been. This is a song that should not have been included on the album. There had to be something else that they could have used. (Hell, they did have, "It's My Life," lying around. That was far better than either of the last two tracks on the album.)
Still, Lick It Up was a good album. Good enough to get KISS back to Gold status. Good enough to win over a new generation of fans. And good enough that it (combined with the dropping of the make-up) gave the band a new lease on life.
It's not as good as it could have been, but it was just good enough.
3.75/5