Post by Erik Rupp on Mar 13, 2010 3:25:07 GMT -5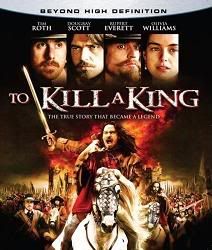 To Kill A King is a British film about a relatively brief, but highly significant, period in English history.
Even with the usual filmmakers' artistic distortions of true life events To Kill A King still gives a look into some fascinating events that over a century later had an impact of political revolutions in both the U.S. (or what became the U.S.) and France.
Tim Roth plays Oliver Cromwell, a man obsessed with justice and freedom - so much so that he uses brutal tactics to bring it to the people. Dougray Scott is Thomas Fairfax, a Lord and General who is both Cromwell's friend and conscience. And, for a time, his superior in the revolution against King Charles I (played by Rupert Everett).
They succeed in overthrowing the King, imprisoning him, but as time goes on Cromwell isn't satisfied with the slower, gradual approach that Fairfax is content with. Cromwell's adoption of the very tactics that he rebelled against isn't lost on Fairfax (or Fairfax's wife, who is still somewhat loyal to the King). Slowly, this creates a rift between the two, until they find themselves at odds.
The script features some intelligent dialogue and dramatic takes on real life events. It's a good script, even if the movie is just a tad slow. But the movie being a tad slow could be the result of the director's vision, or the editor's artistic choices. Either way, it doesn't negatively impact the movie much at all. It just moves it into more of a dramatic film than a historic military political thriller. And when it comes to the direction Mike Barker did a fantastic job. The film just looks gorgeous. The scenery, the costumes, the look of the locations - it is a beautiful film to watch. Barker also got some great performances out of Roth, Dougray, Everett, and Olivia Williams (who plays Fairfax's wife). The entire cast, right down to the bit players, is excellent.
While points have to be slightly deducted for historic inaccuracies and a pace that is just a hair slower than it should be, To Kill A King is still a captivating movie.
The Blu Ray is good, singificantly better than DVD, but this isn't a great Blu Ray. It's merely good - often very good, but it isn't among the better Blu Ray releases when it comes to video quality. It's not in the bottom half, either - so it's firmly in the middle of the pack, which isn't bad at all.
For the right price this is a nice disc to pick up for a Friday or Saturday night movie (or one to watch on a rainy day).
4/5