Post by Erik Rupp on Mar 13, 2010 11:28:48 GMT -5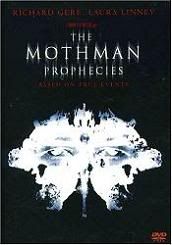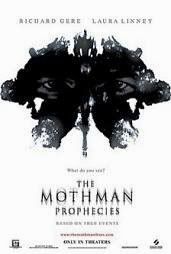 Based on a true story.
Well, how much of it is true, how much of it was the interpretation of the writer of the book (John Keel) that the movie is based on, and how much of it is Hollywood is hard to say.
But it's a darned good movie, regardless.
The Mothman Prophecies is not a horror movie, although it is decidedly creepy and eerie, and it does have some chilling moments. This is more of an eerie supernatural thriller, and a particularly intelligent one at that. Richard Gere plays reporter John Kline, a man whose life it about to be turned upside down. Following the tragic death of his wife Kline goes into a depression that he is still dealing with two years later.
And that's where things get really weird. While driving to Virginia one night Kline finds himself in West Virginia, 400 miles from where he was only 90 minutes earlier. He has no memory of going there, and his car is stalled on the side of the road. To make matters worse, when he goes up to the nearby house to ask for help, the owner comes out with a gun and tells him that he's been there the previous two nights as well. Thus begin some rather strange paranormal events.
The movie is very well written and directed. The eerie atmosphere is aided not only by the script (written by Richard Hatem, based on John Keel's book), and the direction (by Mark Pellington), but also by editor Brian Berdan, who does a great job of adding to the movie by using a wealth of well placed and well timed editing tricks and techniques.
The actors all do a fine job. Richard Gere is more than adequate as the focus of the story, and Laura Linney does an excellent job as the small town cop. The supporting players all give performances that hit the right notes and lend credibility to the story. This is one of those movies where almost everything comes together and works, and works well. It's a pleasant surprise.
The picture and sound quality are both top notch on the DVD, and it looks pretty darned good even on a 1080P HDTV (where the shortcomings of standard def DVD's will usually jump out at you).
Bottom line? It's a good movie. One well worth your time.
4/5