Post by Erik Rupp on Mar 18, 2010 19:14:25 GMT -5
For our second interview we interviewed Joey Vera, bass player and songwriter for Armored Saint. Vera also played bass for Fates Warning, and has worked on several other projects, including solo work.
Armored Saint first came to national attention in 1983 when their self titled debut EP was released by Metal Blade redords. A contract with Chrysalis Records followed before returning to Metal Blade in 1991. The band has had a long and interesting (not to mention sporadic) career. 
The band has just released their seventh full length studio album,
La Raza
on Metal Blade Records. It's their first all new album since Revelation in 2000.
Interview by Erik Rupp.____________________________________________________
Armored Saint has been an off again, on again band for the last 18 or so years. You've been involved in many projects during that time that have given you the opportunity to both keep busy and be creative. When Armored Saint is in those long stretches of inactivity how long does it take for you to get the itch to see if the rest of the Armored Saint guys can get together for some shows or to write songs for an album?
- It all depends on what comes up. Sometimes it's an offer for a show, sometimes an offer to do some recording.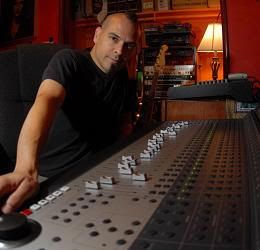 As mentioned, you have been pretty busy since Armored Saint first disbanded in the early 90's. What albums or projects that you worked on outside of Armored Saint are you the most proud of, and why?
- Fates Warning A Pleasant Shade of Grey (great piece and it was a challenge for me).
When John Bush left Armored Saint to join Anthrax was there ever a consideration given to getting a new singer, or was it just accepted that the band had (temporarily) run it's course at that point?
- There's was never a thought to replace John.
Symbol of Salvation is considered by many to be the musical high water mark for Armored Saint (and I consider it to be one of the 10 best Heavy Metal albums of all time), but with the passing of Dave Prichard that must have been an extremely difficult time for the band. How did you get through the making of that album, and did you guys have any idea just how good the album would turn out to be as you were recording and mixing it?
- We felt compelled to see the record through knowing that Dave (and us) had worked so hard on the writing. It was pretty difficult emotionally but we were driven by desire. We knew that we had done something special when it was done.

How did the Armored Saint reunion for Revelation come about? Who first came up with the idea to get the band back together?
- It came through conversations between John and I. We both felt that there was still a lot of fans who wanted to hear from us. So, I wrote a couple of tunes and we demoed them, after that we got the fire.
How happy were you with how Revelation turned out? (And how do you feel about that album 10 years later?)
We were pretty happy with it. We had set out to make an old school metal record and that's pretty much what it is. It has some older material mixed with some newer stuff we wrote. It has some good moments on it.
After Nod to the Old School did you think that Armored Saint would do another album? And if so, did you think it would be another 9 year stretch between albums?
- I had no idea, really. We don't work in the sense that we say, in 2 years we'll do another record. We just let things be. But, honestly looking back, I would not have guessed it would have taken 9 more years.
The new album is called La Raza and will be out shortly. What can you tell us about the progression of this album from the last couple of all new Saint albums (Symbol and Revelation)? Is this more of a progression, or did you take a different approach this time?
- For me, like life, it's all about progression. For me, I hope to think that I become a better songwriter with each year that passes. So, my goal was to really exercise that idea. I think the songwriting on this record is some of the best I've ever written for Saint.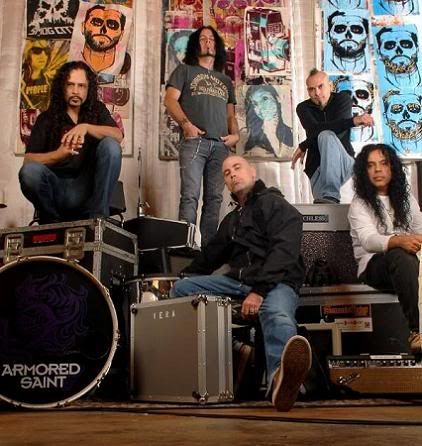 Was La Raza a team effort when it came to songwriting, or were there a couple of guys in the band who contributed the bulk of the songs?
- I wrote all of the music and John wrote all of the lyrics.
How did you guys get together to start writing for La Raza, and what was that process like?
- Again it came out of a conversation between John and I around May 2008. I gave him a couple of tunes and he wrote lyrics for them, and we demoed them. We got on a roll and wrote 4 tunes, then we decided to talk to the other guys about making a new Saint record and they all agreed. So John and I continued to write for the next 9 months, writing when we found time to do so. We had a great time working on this because we were pretty much writing from a place where we had no time table or obligations.
Will there be live dates (or even a full tour) in support of La Raza? If so, how many of the new songs can we expect to hear live?
- I don't know what we're going to do about playing live right now. Most likely it will not be any sort of long tour but rather a few shows here and there. I don't know about new songs but I'd like to play at least 3 or so.
I've always said that Armored Saint is one of the best live bands of any genre, and you don't need big staging to put on a great show. Who did you open for back in the 80's? How well did you guys go over in an arena setting as an opening band?
- We've opened for Priest, Aerosmith, Nugent, Alice Cooper, Metallica, Quiet Riot, Scorpions etc. We usually do really good because we're pretty active onstage, we were good at adapting to an arena stage.
Having seen the Saint in 1986 (or was it '87?) as the special guests for that Dio show at Irvine Meadows I got to witness firsthand just how big the band was in Orange County back in the 80's. You had everyone on their feet - if someone had walked in to that show at that moment they would have thought that you guys were headlining. The reaction of the fans to Armored Saint was that good. What are your memories of that show?
- I don't have much. I just remember doing well.
(That's an understatement.) 
 
Chrysalis didn't seem to do you guys any favors.  They didn't do particularly well with UFO, Michael Schenker, or Vinnie Vincent, either.  Were there any other labels that showed serious interest in Armored Saint after your debut Metal Blade EP?
- Before we signed to Chrysalis we were also getting in bed with Polygram.
Was there a point prior to Raising Fear where you guys had concerns that Chrysalis might not be the best label for Armored Saint?
- Yeah about 2 weeks after we signed our record deal in 1984. We were approached by Cliff Burnstein (manager for Q Prime) and we were about to sign with him. And his first words were "I hate Chrysalis records."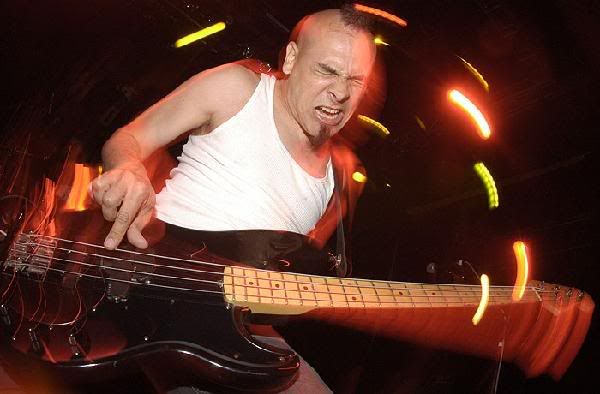 You worked with Michael James Jackson on March of the Saint. What did you think of him as a producer, and what was it like working with him?
- He was going through some personal issues during the whole time. Maybe getting divorced or something so he was constantly on the phone. We did not connect with him at all and in hindsight, we should have not worked with him. But the label really wanted it. It was not really a fun record to make, but what did we know? It was our first.
After that you worked with Max Norman on Delirious Nomad. What was it like working with him, and how was that different from working with Jackson?
- More like it. Max understood metal and he is British. We connected and made a really good record. He was way more on the same page as us. He was a bit of a task master and in some cases a little challenging but in the end we made a good record.
Chris Minto got the producer's job for Raising Fear, but he was mostly known as an engineer at that point. Was he ready to produce, or did you guys handle a lot of the, "Producing," yourselves?
- Chris is a great guy and great engineer. He's not as much of a music guy as some producers but we felt like between us, we made up for that. But were we ready to produce ourselves? Probably not.
Then there's Symbol of Salvation, which you co-produced with Dave Jerden. What was it like working with Jerden?
- Working with Dave was great. He's such a vibe guy, he know when to make a band be their best without making anything his own. And when it came time for him to let someone in the band run the show, he would leave the studio and come back later. I took production credit because there was a lot of times that I was amking decisions that he felt like I know better, so he left. But I knew that he was overseeing the big picture so it was a good chemistry.
I thought the production job that you did on Revelation was fantastic. You actually did a lot of the engineering yourself, and Bill Metoyer (who did a lot of stuff for Metal Blade in the 80's) did the mix. What was it like working without a net and handling the production chores on an Armored Saint album all by yourself?
- Like flying by the seat of your pants. I knew that I had to deliver something good but I just wanted it to be like listening to Iron Maiden Killers. Just raw and in your face.
And now there's La Raza, which you again produced. Back from Symbol of Salvation was Bryan Calstrom, who engineered both. How was the recording and mixing process different this time (as opposed to Symbol or Revelation, or even the earlier albums)?
- Very different. We used the demos as templates for each song and Gonzo played along with the demos. Then we went back and replaced the bass, guitars, vocals etc. And in the end we kept a few things from the demos such as vocal tracks and guitar overdubs. Also, we made this record with all analog outboard gear which added to the vibe. It was like working how we did during the 80's. But we had to work fast. 5 ½ weeks total.
Any final thoughts on La Raza?
- We're really proud of this record. We are also glad we have a large group of die hard fans who are willing to wait 10 years to hear music from us. We thank you all!
Thanks again for your time, it is very much appreciated. And good luck with La Raza.