Post by Erik Rupp on Apr 3, 2010 16:47:04 GMT -5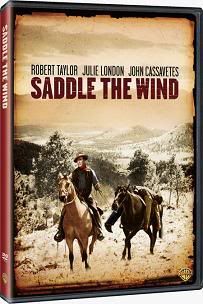 Rod Serling writing the screenplay for a Western? Yup. You got that right, pilgrim.
Saddle the Wind features a screenplay by Twilight Zone legend Rod Serling (from a story by Thomas Thompson), and has a top notch cast including Robert Taylor (representing the old school of Hollywood acting), John Cassavetes (representing the
then
new school, "Method," acting), Julie London (representing a beautiful, confident female lead), and Charles McGraw (representing the tough, nasty bad guy which he was always so good at playing). It was a real cross section of acting styles that in the wrong hands could have resulted in a disjointed mess. Director Robert Parrish, however, managed to get performances out of his actors that worked well together. Instead of competing styles what ended up on the screen were individual characters that played off of each other extremely well.
Taylor plays Steve Sinclair, ranch owner and former gunman. His kid brother, Tony (played by Cassavetes), is brash, arrogant, and impetuous - not to mention reckless. After a cattle drive, Tony brings home not just the profits, but a girl he picked up in a saloon - Joan Blake, the featured singer in the saloon. His intention to marry the girl before even really getting to know her - and before the ranch is really on solid ground - rubs his older brother the wrong way. This creates conflict between not only the brothers (who already didn't see eye to eye on gunslinging), but between Steve and Joan as well. In a rather shocking speech (by 1958 standards) Joan tells Steve, "I'm no slut, Mr. Sinclair. He didn't buy me like he bought that gun."
Along the way Tony confronts a gunman set to kill Steve over an old grudge and starts down a path that would have the Sinclair brothers even further at odds. The end result of their conflict is surprising and not at all part of the standard issue Hollywood playbook.
Saddle the Wind is solid all around - with a good script, good direction (aside from the obvious use of rear projection for some close-ups), and good acting. Robert Taylor, who has sometimes been described as, "Wooden," gives a good performance here - the slight woodenness of his acting fits his character perfectly. Cassavetes is a great contrast to Taylor, showing the differences between the brothers. He's almost out of control with his performance, almost going over the top. Almost, but not quite.
This is one of those titles that may have been largely forgotten if not for the release on DVD. That would have been unfortunate, as Western fans will find a lot to like about Saddle the Wind.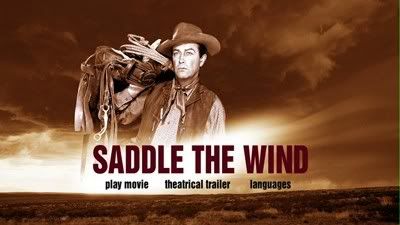 Warner Brothers' DVD of Saddle the Wind features a clean, sharp print with good sound (for a 1958 film). The one negative about the DVD transfer would the the aspect ratio. While the 2.35:1 ratio does match the original theatrical release, there is an odd top to bottom squeezing of the picture. It's not a huge squeeze, but if you look you can see that everybody is a little shorter and wider than they should be. It's almost as if everyone in the movie put on weight and lost an inch in height.
At first I thought it was a mistake in the mastering of the DVD, but then I watched the original trailer (which is included on the DVD) and noticed that even the non-anamorphic trailer showed the same odd compression of the image from the top and bottom. It may have been done when the movie was first released to get the full 2.35:1 widescreen image (a problem with the film or anamorphic lens, maybe?), but it's clearly there from the very beginning. It's only a slight amount of image distortion, but it is there. The movie is still very watchable, however, as the picture quality is rather good otherwise.
Rod Serling's script and the performances of Cassavetes and Taylor really make Saddle the Wind an above average 1950's Western. It may not be among the elite Westerns of that era, but it is quite good.
Movie - 4/5
DVD - 3.75/5