Post by Erik Rupp on Apr 11, 2010 20:04:55 GMT -5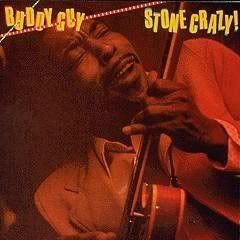 When it comes to Blues guitar players there are few who have a more legendary status than Buddy Guy. Guy has been at it seemingly forever, and the fact that he can still draw a crowd in 2010 at the age of 74 after a 50 year career in music says a lot. His credentials as one of the finest blues guitar players and singers are unquestioned. Buddy Guy
is
the blues.
This 1981 release of his 1979 recording session is monumental. Why it took two years for that album to be released in the U.S. is still something of a minor mystery. The album is a Blues fan's dream. It is raw, honest, and powerful. It's also full of great guitar playing and features a great rhythm section of J.W. WIlliams on bass and Ray Allison on drums, not to mention 2nd guitar player Phil Guy. Listening to the album is like going to the best Blues club in the world and catching a hot band on their best night.
The guitar playing on Stone Crazy is frenetic but still melodic. Guy really lets it rip on this album, showing just how electric he could be when he strapped on a guitar. But that doesn't mean that he didn't show some finesse as well, because on the quieter, more laid back songs he shows a nice sense of feeling to go along with the fireworks on the rest of the album.
While Buddy's guitar playing may get most of the attention, he's also a very, very good Blues singer. His voice is the perfect complement to the blistering guitar work, and fits the songs absolutely perfectly. From the opener, the traditional Blues track, "I Smell a Rat," to the funky, Hendrix influenced, "You've Been Gone Too Long," to the mellow Blues of, "Are You Losing Your Mind," to the Blues shuffle of, "She's Out There Somewhere," there isn't a single misstep on the album.
The most interesting factoid about Stone Crazy is that it was recorded in France. Produced by Didier Tricard, the album sounds like it was recorded in Chicago or New Orleans or somewhere in Texas, which is a testament to how well Tricard handled the recordings. The album's vibe is amazing, and in the end it didn't matter where it was recorded, Guy and his band were just
on
.
Stone Crazy is a, "Must have," album for any Blues fan. It's a timeless example of what the Blues is supposed to sound like when done really well.
4.5/5