Post by Erik Rupp on Apr 24, 2010 12:24:49 GMT -5
Maynard Ferguson & Big Bop Nouveau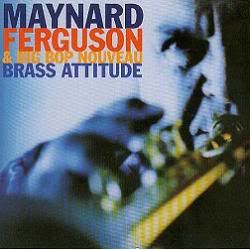 There have been many legendary figures in Jazz music over the last 80 years. Glenn Miller, Tommy and Jimmy Dorsey, Benny Goodman, John Coltrane, Buddy Rich, Miles Davis, Woody Herman, Stan Kenton - the list could go on for quite a while.
Stan Kenton first hired Maynard Ferguson to play trumpet in his band in the early 1950's. Ferguson played a key role in Kenton's band for several years and won Down Beat magazine's, "Best Trumpeter," award in their annual readers poll three years in a row (1950-1952). Ferguson was a great talent, and one that would not be a sideman for long. He spent three years working for Paramount Pictures, playing on several soundtracks including The Ten Commandments, but he wasn't happy with his limited time to play Jazz, so he left Paramount in 1956. From there he formed his own band and started out on a long and fairly successful career.
One of his better albums is the appropriately titled Brass Attitude which was released in 1998. It was recorded with his Big Bop Nouveau band, which was a nine to eleven piece group (depending on the year and the venue or album). On Brass Attitude Ferguson is joined by his ten band members and a special alumnus guest (Denis DiBlasio). It was a mid sized group that could play big, bold, brassy songs with great power and dynamics, but could also play softer, quieter songs with the finesse of a quintet.
Brass Attitude is loaded with brass. There were only two reed players in the group for this album (Matt Wallace and Sal Giorgianni, both alternating between tenor and alto sax), and their presence gave the album just enough woodwind flavor to round out the sound.
From the swinging, "Just Friends," (a great song), to the slight Latin flavor of Cole Porter's, "I Love You," (another great song), to the laid back Jazz style of, "Milk of the Moon," and, "Erica and Sandra," (good songs), to the dynamic, epic, (and almost avant-garde) fifteen minute, "Misra-Dhenuka," Brass Attitude is a solid album from start to finish.
"Knee Deep in Rio," is one of the standout tracks on the album. It has dynamics and sophistication while retaining a listenability that is enjoyable to listen to at home, in the car, or anywhere else. It is a timeless song that crosses generations and eras. It could have been written and recorded in the 70's, 80's, 90's - and it still sounds fresh enough to be a brand new track now.
Ferguson band alumnus DiBlasio appears on vocals for, "The Lip," a song with a bit of a swing and a bit of a bop and a bit of a scat in the vocal performance. While the vocals are just ok, they are still fairly effective and on the whole the song is very entertaining and a lot of fun.
While not the best album in Ferguson's large catalog of album releases, Brass Attitude
is
one of the
better
albums that he recorded in his 50+ year career. For fans of Jazz this one is definitely a recommended title.
4/5