Post by Erik Rupp on Apr 24, 2010 13:01:09 GMT -5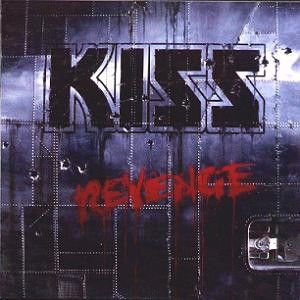 Following one of their most successful tours since the 1970's KISS found themselves in an intersting situation. Their 1990 tour was a success, and they had their first legitimate U.S. hit single in over a decade ("Forever"), but the album they were touring to support was a commercial disappointment (despite the hit single).
To make matters worse, as the band was preparing to start writing songs for their next album their long time drummer, Eric Carr, was diagnosed with a rare and deadly form of cancer. Carr would eventually die due to complications from the cancer while the band was preparing to record the album with a new drummer (Eric Singer, from Black Sabbath, Alice Cooper, and Badlands).
It was not a happy time for KISS.
But out of that pain and struggle came an album that recaptured what the band was all about in the first place. Aided in a big way by producer Bob Ezrin (who had guided both the hugely successful Destroyer and the hugely
UN
successful Music From The Elder for them), Revenge ended up being the album they should have released in 1989.
By the time Revenge was released in May of 1992 Soundgarden, Pearl Jam, and this little band called Nirvana had all hit the music scene, causing a major shift in the musical tastes of Rock fans throughout the world. Alternative Hard Rock, or Grunge, was, "In," and old school Hard Rock and Heavy Metal were quickly on their way, "Out."
Revenge, however, was as good as it gets when it comes to straightforward Hard Rock with some occaisional Heavy Metal overtones. Ezrin came to the project with a clear head and good judgment. He cracked the whip and demanded the best out of the band. Good wasn't good enough. In light of that the band brought back one of their former lead guitarists, Vinnie Vincent, to co-write some songs for the album. Ezrin, too, co-wrote some of the songs on the album, but there was no mistaking the musical style on the album. This was
KISS
, big and bold with a sense of style and groove that sounded like their first three albums updated for 1991.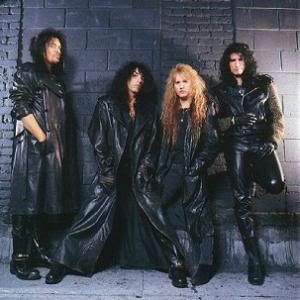 All involved certainly left no doubt as to their musical intentions for Revenge with the album opener, "Unholy." "Unholy," broke the string of KISS albums that opened with a Paul Stanley song, and it's easy to hear why. This is a mean, nasty, heavy song from Gene Simmons in the, "God of Thunder," tradition. Co-written by Vinnie Vincent, the song is led by a wicked riff and a snarling vocal from Gene. The vocal melodies in the song perfectly complement the guitar riffs, and the chorus hook is one that digs it's claws into your brain and just won't let go. Eric Singer lays down a strong beat with a good sense of groove, and Bruce Kulick adds a ferocious solo to the mix. It was clear from the start - KISS meant business with Revenge.
With the next song we get the best and worst of KISS all in one song. On the plus side you've got some good riffing, a great grooving beat, and some really catchy vocal melodies. On the minus side you've got some of the most juvenile lyrics that have ever appeared on a KISS album. "Take It Off," is Paul Stanley's ode to strip clubs, and while that kind of thing worked for Motley Crue, KISS is a different kind of animal. First off, by this point the guys in KISS were older (Gene was 42, Paul was 40), and secondly, KISS' best songs from the 70's that were about getting personal with girls were always filled with (halfway) clever double entendres. It wasn't blatant and in your face. This is. Sophomorically so. It is, however, a good song if you can get past the lyrics. For some that's a pretty big, "If," but for others it's no big deal at all.
Paul's next song gets the album back closer to the tone that Gene laid down with the opener. "Tough Love," is dark, moving along with a slow-ish mid tempo groove. Eric Singer's presence is again felt as there had never been a KISS song with this kind of groove previously. Bruce Kulick had a hand in writing this one, and his solo is the diametric opposite of the kind of solos he played on albums like Asylum and Crazy Nights. Relying more on sustain, feeling, and a handy-dandy wah-wah pedal, Bruce lays down another nasty solo filled with the kind of attitude Ace Frehley brought to the band in the 70's. "Tough Love," is an excellent album cut and keeps the album on track.
The tongue-in-cheek attitude of past albums shows up in the next song, "Spit." The first thing that jumps out about the song is the monstrous Blues Metal riff that the song is based around. It's a killer riff - big, bold, and just really, really cool. The second thing that jumps out are the tongue-in-cheek, goofy lyrics. This is Gene's love song for plus sized women. Taken literally and without humor this song would appear to be fairly stupid, but taken with the intented humor in mind it's a fairly funny bit of lyric writing. Then there are the vocal melodies and chorus hook. They're all perfect for the song, absolutely perfect. As is Bruce's solo, which may be one of the best of his career. The humor extends all the way into his solo with bits of, "The Star Spangled Banner," showing up. It's all good on, "Spit."
"God Gave Rock and Roll To You II," had previously appeared on the Bill and Ted's Bogus Journey soundtrack, and this version is slightly remixed to better fit on the album. Originally written and recorded by Argent this is a majestic song that, on first listen, doesn't sound like something that would work for KISS. But when you hear how they modified the song it becomes clear - KISS has made the song their own. This was also the first time in many years that Paul Stanley and Gene Simmons traded off vocals on a KISS song, and their sharing of the vocals works beautifully.
Gene gets the next track with, "Domino," a song not unlike a slower, more groove filled version of, "Deuce." Gene based the song around a riff written by the band Black 'N' Blue (accidentally or unconsciously, I'm sure), and in doing so he turned that riff into something different. The attitude, the feeling of the song - it becomes pure KISS. Eric Singer again brings some new stylish playing to KISS on this one, especially in the bridge/pre-chorus sections. "Domino," is one of the strongest songs on the album, and one of the stronger songs in the entire KISS catalog.
Not to be outdone, Paul comes back with, "Heart of Chrome," another of the songs co-written by Vinnie Vincent. This one, however, has a distinct Rock and Roll vibe underneath the Heavy Metal facade. "Heart of Chrome," features some of the coolest sounding rhythm guitar parts in KISStory, and Paul's vocals are a perfect match for them. This is another flawless song on a great album - this
is
KISS. This is what they're all about. (Or what they
should
be all about more often, anyway.)
Gene keeps up the quality level with, "Thou Shalt Not," a Guns 'N' Roses kind of thing, only with a better groove than the Guns would employ. Gene again lays down a snarling, nasty vocal filled with attitude, singing some fantastic vocal melodies. The chorus is big and catchy - and just damned cool. This is a 70's KISS song re-imagined for the (very) early 90's. Bruce Kulick again delivers the goods with a great solo that again utilizes his wah pedal. This one has just a bit of the flash that he was known for just a few years earlier while adding a bluesy touch that was missing from his playing in the mid 80's. In fact, the soloing over the last few choruses is
very
Stevie Ray Vaughan-like. His playing on Revenge is a revelation for those who thought he didn't have the feeling that someone like an Ace Frehley had.
But all good things must come to an end, and the string of great songs does, indeed, come to an end by the time we get to track number nine, "Every Time I Look At You." It's not a bad song, but it is a very flawed one, and one that doesn't fit in with the rest of the album. This is a Power Ballad, but one with less power than their previous power ballad ("Forever," from Hot in the Shade) had. It also features an annoyingly raspy vocal from Paul. The raspy vocal doesn't fit the song well at all, and that really hurts what is otherwise a fairly well written song. It's not a great song, but it is a good one (outside of Paul's vocal). The biggest problem is that the song doesn't fit the mood of the album. Revenge is a hard and heavy album filled with attitude. "Every Time I Look At You," is a wistful love song. It's also the biggest misstep on the album. (Interesting side note about this song - the solo was played by former Alice Cooper guitarist Dick Wagner, who had played some lead guitar on Destroyer.)
It was wise, then, to bring things back to the proper tone when the band and producer Bob Ezrin worked up the track listing for the album. "Paralyzed," is a mid-tempo song with a fairly funky beat. It rocks hard, but has groove. It may not be as good as many of the other songs on the album, but it is a good song all the same.
The last, "Real," song on the album is, "I Just Wanna." If Paul's attempt at humor fell flat on, "Take It Off," it's a little more successful here. The last song co-written with Vinnie Vincent, "I Just Wanna," became the second single and video for Revenge. It is infectiously catchy, and intentionally borrows the vocal melody from, "Sumertime Blues." Some people have called it a rip-off, but others have called it a tip of the hat. I fall into the latter camp - there wasn't an attempt to hide the vocal melody at all. In fact, Paul seems to celebrate the recycling of a vocal melody that he enjoyed in his youth. The rest of the song is completely original, and is a lot of fun as well. It would have been a great way to end the album.
If Eric Carr hadn't passed away just months earlier.
Carr, a very popular and personable member of the band, was often the most accessible member of KISS for the fans to contact. To honor him Gene and Paul (along with Bob Ezrin) decided to dig up a demo that he had recorded for his first KISS album, 1981's (Music From) The Elder. It was a song that was later reworked by Ace Frehley as the song, "Breakout," for the first Frehley's Comet album. That's a great song. This version, listed as, "Carr Jam '81," centers around the riffs, with some new lead guitar parts by Bruce Kulick, and a drum solo by Carr. It was the only drum solo Carr ever recorded in a studio setting, and that's a shame. It's not bad, but his solo continued to grow and develop over the years, and the version that can be seen and heard on the Animalize Live Uncensored video is a much better, and fully realized, version of his drum solo work. Still, it is a fairly good solo, and it was a
very
nice touch to include it on the album. Closing with, "Carr Jam '81," was the perfect way to end Revenge.
Revenge isn't without flaws, but it is far better than any of KISS' albums since Creatures of the night, and is arguably among their very best studio work.
A large part of that artistic success should be attributed to producer Bob Ezrin, who had a clear vision as to what KISS needed to do at that point in their career. This was the version of Bob Ezrin that was a huge asset to the band (unlike the Bob Ezrin that produced The Elder). His help in writing a few of the songs, as well as his judgment on which songs were good enough for inclusion on the album and his help in coming up with arrangements for some of the songs, was invaluable.
Sonically, Revenge is outstanding as well. The drums are mixed just right - not too big and boomy, but big enough to sound right with these songs. The snare drum has a snap to it to go along with the depth and presence that gives each song a firecracker-like energy. The guitar tones are not super distorted, and they aren't as up front in the mix as on an album like, say, Asylum, but when the complementary rhythm parts are played together they sound big and bold anyway. They cut through. And the bass sounds both fuller and punchier than on any previous KISS album. Ezrin and mixing engineer Mick Guzauski did a fantastic job of coming up with the final mix for Revenge.
After a couple of disappointing releases Revenge came as a breath of fresh air. It was KISS being KISS - undiluted and uninhibited, which, considering how good the songs are on Revenge, was a very good thing, indeed.
4.5/5