Post by Erik Rupp on Apr 25, 2010 20:16:05 GMT -5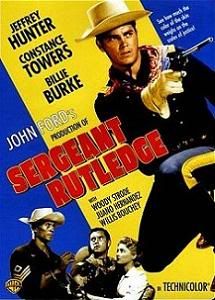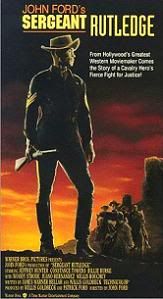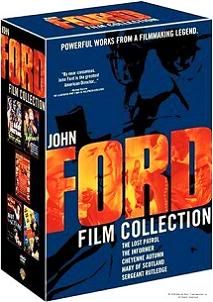 This isn't your typical John Ford Western. Then again, it is.
Sergeant Rutledge is a very good movie, and it has a lot of the John Ford style all over it. It also takes some new angles on the storytelling technique for John Ford.
Instead of a straight Western, what we get is a military courtroom procedural, with the bulk of the story told in flashback from the witnesses. Ford uses an interesting, and very simple, technique to introduce the flashback sequences. The lighting in the courtroom dims until almost nothing can be seen except the witness who is bathed in a fairly soft spotlight. This segway into the flashback scenes is very effective, and shows how a great director can find interesting ways to tell a story with even the simplest of ideas.
Sergeant Rutledge is also a little different from some of Ford's previous Westerns in that race/ethnicity becomes a key issue. On trial is First Sergeant Brax Rutledge (Woody Strode), a black cavalryman who has earned a great deal of respect both from the men under him
and
his commanding officer, Lieutenant Tom Cantrell (Jeffrey Hunter). It is his high standing that creates much of the conflict when he is accused of rape and murder. The circumstantial evidence is fairly strong, and back in 1881 that was more than enough to get a defendant hung.
Cantrell is the officer acting as his defense attorney, despite the fact that he was the one who arrested Rutledge and brought him in for trial. Cantrell is a by the book kind of officer, but he's also fiercely loyal to his men, and Rutledge is clearly his favorite among the men in his command. The conflicted feelings that Cantrell has is well written by James Warner Bellah and Willis Goldbeck, and very well played by Jeffrey Hunter (who, just four years earlier, had co-starred in the classic John Ford Western, The Searchers). Woody Strode plays Rutledge to near perfection. Strode was extremely good at playing the noble and honorable character in a film, and Sergeant Rutledge is no exception. He may not have been an actor of great range or depth, but when he got the right role - like this one - he was the perfect man for the part.
In the courtroom it seems at first as if Cantrell has everything well in hand. He has a confidence about him that occasionally gives way to outbursts against the prosecutor, but it's always based on information that he knows will win the day. But near the end Cantrell finds that his theory of what really happened may not be correct, and that could leave Rutledge in a precariously close position to being hung.
The cast is particularly strong, and character actors such as Willis Bouchey and Billie Burke (Glinda from The Wizard of Oz, in her final role) give excellent peformances. Constance Towers, the female lead, gives a strong performance - one that under different circumstances (like a big hit movie) might have led her to greater stardom. But it's Jeffrey Hunter that is the greatest revelation in Sergeant Rutledge.
Hunter had been acting in movies for several years by the time he got the part as Lieutenant Cantrell, but his performances were lacking in strength more often than not (although he did show some strength in The True Story of Jesse James in 1957). He typically came across as young, inexperienced, and lacking in confidence. This occasionally worked in his favor, as that was what the part needed to be effective. He was particularly good in The Searchers, but next to John Wayne he didn't seem like the kind of actor that had the presence to carry a film. For those whose first exposure to Hunter came from his role as Captain Christopher Pike in the original Star Trek pilot, The Cage, that comes as quite a surprise.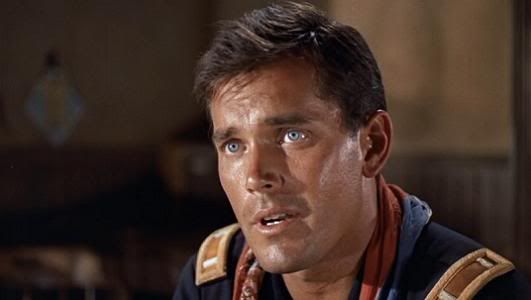 In The Cage Hunter has a strength and a presence that commands a film. He is utterly believable as the charismatic and strong Captain of the Enterprise. In Sergeant Rutledge we first see elements that would go into that performance just five or six years later. He is strong, charismatic, and does have the presence of a commanding officer. It's a role that he couldn't have pulled off as well a few years earlier, but by the time he make this film he was ready for it. John Ford wouldn't have cast him otherwise.
Sergeant Rutledge is a very well paced film, and again shows off the beauty of Monument Valley. The film has a strong sense of suspense, as well as having some good dramatic moments and some good action sequences. The only major flaw in the movie is a rather Perry Mason like turn of events in the courtroom, but even that can't bring the movie down. It's still a top notch film. The film's only other major flaw is that it could be, at times, a little preachy, but not so much so that it wasn't somewhat warranted given the storyline. There was quite a bit of injustice back in the 1800's, and one of the most glaring examples of that was how blacks were treated in the United States - even in the military. Ford does a good job of pointing that out without completely beating the audience over the head with what he's trying to say.
And despite the graphic and downbeat nature of the plot details Sergeant Rutledge is still a very entertaining movie. One well worth viewing for classic movie fans, and especially for fans of classic Westerns.
Warner Brothers' DVD is quite good as well. The print is clean, and the colors are strong. There is a crispness to the picture that looks 15 or 20 years newer than it is, and the sound is strong as well. The only extra may be the original theatrical trailer for Sergeant Rutledge (in pan & scan/fullscreen, unfortunately), but the movie is strong enough on it's own to warrant viewing.
It is worth noting that the movie (at the time of writing this review) is only available in the John Ford Film Collection box set. That may change in the future, but for now that's the only place to find Sergeant Rutledge.
4/5