Post by Erik Rupp on May 15, 2010 11:01:13 GMT -5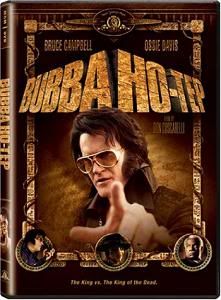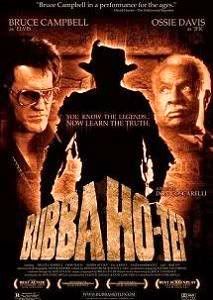 Elvis is alive and well!
Well, alive anyway. Maybe. And so is JFK. Only with a much darker tan. Maybe.
And they face off with an Egyptian mummy who is living off the souls of the near dead at a Texas nursing home. That is, in a nutshell, the plot of Bubba Ho-Tep, a low budget independent movie that is extremely quirky, fairly weird, and often crude. But is it any good?
That's the real question. Like the movie itself, answering that one isn't quite as simple as it seems like it should be.
Is it really Elvis? Or like his nurse says, does he just think he's The King? He certainly paints the story of how he switched places with a very convincing Elvis impersonator in detailed brush strokes, and it is a somewhat believable tale. But is he delusional, or did that really happen? And that brings up the other main character in the story. Is that really JFK, or just another delusional, senile old man? Certainly the idea of JFK being turned black by Lyndon Johnson to hide his true identity seems outlandish, but in the context of this movie it somehow seems plausible. Consider this - "JFK's" room is plush, with wall to wall carpet and a luxurious king sized bed with an ornate hardwood frame. He has the red, "Hotline," phone in his room, and seems to have the kind of amenities that would go with being a former President. All of that in a run down, low rent nursing home.
He also has JFK's apetite for reading, and has read up on mummies, the supernatural aspects of the sould, and many other related topics. Thus, "JFK," goes to Elvis to get assistance in taking on a mummy that has invaded their nursing home and is killing the patients for their souls (in order to keep himself, "Alive").
It's an appealingly quirky story, and one hell of a concept. But is the movie any good?
Well, Bruce Campbell and Ossie Davis (as Elvis and JFK, respectively) are excellent. And former Roc co-star Ella Joyce is quite good as well as Elvis' nurse.
But is the
movie
any good? Well, sort of. The script is hit or miss. Some of the crude details in the script (like a particular growth that Elvis is dealing with, and the manner in which the mummy drains the souls from the helpless seniors) really detract from what is otherwise a very clever idea. On the other hand, outside of the crudities the script is very well written. Elvis has some rather poignant, insightful thoughts on life and aging, and JFK has some wisdom to share as well. Unfortunately, the pace of the movie really hurts the experience.
Bubba Ho-Tep is slow. Too slow. The story could have been told in 70 minutes and made for a tight, entertaining movie (of course, that would be an unacceptable length for a movie these days for most indie movie fans). Instead of a tight 70 minute movie, Bubba Ho-Tep is a dragged out, padded 92 minutes that occasionally does get pretty slow. It feels like a two-hour movie. There are stretches where nothing much happens, and that's unfortunate. More of the, "Elvis," backstory would have been better. The few flashback scenes we see are fantastic, and more of them would have been welcomed.
Now, the slow parts of the movie could be said to fit with the slow moving senior citizen nursing home residents. Sure, that's true - but it doesn't make the movie any better or more entertaining. It just drags it down.
Still, even with it's flaws, Bubba Ho-Tep is a
fairly
entertaining movie (not as much as it could have been, but still somewhat entertaining), and it has one of the most original plots in the last 30 years.
If you like movies that are somewhat quirky, a little bit weird, and don't mind it being a bit slow then Bubba Ho-Tep is definitely a must-see movie for you. Even if you aren't big on quirky movies you still might find Bubba Ho-Tep somewhat amusing. And Bruce Campbell's performance as Elvis (and his thoughts on life) really is worth the price of admission (or the price of the DVD) alone.
The picture quality on the DVD is more than acceptable. This is a low budget film, so don't expect a slick looking movie. But for what it is the DVD presents the picture fairly well. There are also quite a few extras on the disc, so this is a very nice package, overall.
3/5