Post by Erik Rupp on May 15, 2010 12:41:30 GMT -5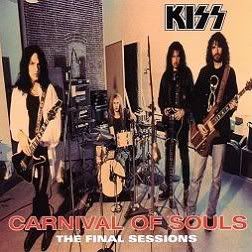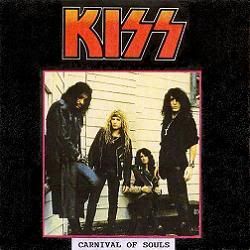 If nothing else, KISS' Carnival of Souls album is certainly a topic that can create strong responses.
For some, Carnival of Souls is a high water mark in KISS' recording career, a mature, serious album with strong music and more adult level lyrics. For others, it is the nadir (or next to it) of their catalog. Very few music fans (particularly KISS fans) fall in the middle. Maybe that's as it should be.
KISS' music had a dark side from the very beginning. Songs like, "Black Diamond," and, "100,000 Years," from their first album certainly hinted at it. Songs from their second album, Hotter Than Hell, got even darker ("Goin' Blind," "Strange Ways"). Subsequent albums had dark songs like, "She," "God of Thunder," "Almost Human," "War Machine," "Rock and Roll Hell," and, "Not for the Innocent."
So in the early 1990's when it became clear that traditional, old school Hard Rock and Heavy Metal were, "Out," and Grunge (or Alternative Hard Rock) was, "In," KISS realized (particularly Gene Simmons and Bruce Kulick) that they had to embrace their dark side to fit in. And they certainly embraced that dark side on Carnival of Souls.
Aided by co-producer and engineer Toby Wright, KISS took the songs that they had been working on for the previous two years and recorded an album that fit right in with the grungy 1990's. There was a KISS spin on the style, without a doubt, but this was an album clearly designed to attract fans of Alice in Chains, Stone Temple Pilots, and Soundgarden (bands that had members who themselves were influenced by KISS). The album was dark, and not just the songs. The audio production was very dark, with a fairly muddy guitar tone and a dry, snappy drum sound. The mastering of the album was not particularly well done, as the muddiness of the album was accentuated by a low end heavy eq job (lots of low mids on the guitars without the high mids to give the chords much clarity). The sound of the album didn't go over well with a large group of KISS fans who preferred their band to Rock and Roll All Night in a brighter fashion.
If you take the songs and import them to Sound Forge or some other audio editing software and add high mids to the eq the album takes on a bit of a new life. The sound is much improved, and fits in much better with the previous album, Revenge. Unfortunately, the CD itself doesn't have the needed high mids, giving the album a unique sound in the KISS catalog (it's closest mix/eq relative being Hotter Than Hell).
Ultimately, however, an album's strengths rise or fall on the quality of the songs themselves, and on that count Carnival of Souls really shines.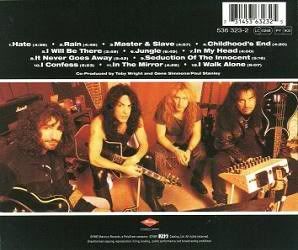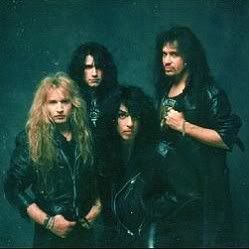 Opening, like Revenge did, with a monster of a Gene Simmons song, Carnival of Souls gets off to one hell of a start. "Hate," is a song built around a fairly busy (but still catchy) riff and a drum pattern that weaves itself in and out of that riff. It is a
very
strong song. Eric Singer really shines on this one, as his drum part is not only creative and somewhat innovative, but it also supports the riff in a way that a straight drum beat could not. The vocal melodies, though delivered in a gruff and angry way, are very strong and more than a bit catchy. Bruce Kulick's lead work on, "Hate," is a harbinger of what is to come from him on the rest of the album - very Hendrix inspired, wah-wah pedal fueled solos that rely more on creativity than technical ability.
"Hate," is heavy - really heavy for KISS, and it sends a clear message: This isn't the KISS you remember from Asylum or Crazy Nights. This is a KISS that can keep up with both the Metallicas and the Soundgardens of the world.
If Gene Simmons fit right in with the sounds of a (then) new decade, Paul Stanley struggled a bit more. His songwriting on Carnival is very strong, but his vocal deliveries range from very good to just acceptable. Clearly, the darker, heavier material was not in his comfort zone. Even so, many of his songs are among the very best on the album, and part of that credit must go to guitarist Bruce Kulick who co-wrote most of the songs on Carnival of Souls.
Paul's first contribution to Carnival is the sludgy, but thundering, "Rain." This one owes a lot to early Black Sabbath, as well as Badmotorfinger era Soundgarden, and it comes across really well. Paul's vocal delivery during the verse is just ok, but his passionate and powerful vocal in the chorus is some of the best singing he's done in his entire career. The riffs in, "Rain," are catchy for that doomy kind of stuff, and the chorus hook is as powerful as Paul's vocal.
"Master and Slave," takes the tempo up a notch from the previous song, and has a phenomenal central riff. The vocal melodies in the song are all top notch as well leading to a chorus hook that is simple, but extremely effective (not to mention
infectious
). Again, Paul's vocal during the verse is just ok (well the first verse and the first half of the second verse), but the chorus is something else altogether. Paul really lets loose in the chorus, and the song is stronger for it. The pre-chorus section is one of the heaviest musical bits KISS has ever recorded, and Bruce plays his wickedly simple solo over the top of the same doomy riff. This song is another monster, making for three musical beasts in a row to open up Carnival of Souls.
Future KISS guitarist Tommy Thayer adds a songwriting contribution to the next song, "Childhood's End," which also had contributions from Bruce Kulick and Gene Simmons. Owing a lot to, "Goin' Blind," from Hotter Than Hell, "Childhood's End," sounds like something not too far removed from what the Beatles might have done if they had gone in a heavier direction in the late 60's (like Cream, Hendrix, and Led Zeppelin). This one is moody, but still fairly heavy, and has some really good, late 60's type melodies and progressions. Bruce plays another outstanding solo here. Again, it's fairly simple but fits the song perfectly. Four for four so far.
And then things get really interesting. For an album as heavy as Carnival of Souls a song like Paul's, "I Will Be There," does sound a little out of place, but not as much as you might think. The song is powerful and emotive, and has bombast of a different kind. The ironic thing about the song is that on an album recorded for sonic warmth and earthy tones this one with all it's acoustic guitars sounds a little tinny. The eq on the acoustic guitars makes them sound a little harsh and lacking in warmth. And that's a shame, because this is a really good song, but the sonics of the thing drag it down a bit. The bass sounds good, and Paul's vocal is good (although that, too, is mixed a little too midrangey and lacking in warmth), but the guitars just don't sound good. You win some, you lose some.
But they win another one with, "Jungle," one of the strongest songs in their entire catalog. This was an FM radio hit when the album was finally released (a year and a half after it was completed), and with good reason. The song is based around a riff that Bruce came up with, and one that he plays both on guitar and bass. The song has a sense of funk and groove that few songs in the KISS catalog have, and drummer Eric Singer can take a big part of the credit for that. Here we have some great music, great vocals, and a fantastic chorus that is world class. "Jungle," is a big time song showing that KISS can write and perform serious music without sacrificing catchiness.
Next up is the musical return of Mr. Blackwell in, "In My Head." This one owes a lot to the style of that track from KISS' 1981 concept album, minus that song's AC/DC-isms. In place of the AC/DC type riffing is some really odd, nasty, syncopated rhythm guitar parts, and over the top of that is the, "Mr. Blackwell," type vocal stuff. For some this song really works, while for others the song is a disaster. Count me in with the group that likes the quirky heaviness of this one.
As mentioned earlier, Paul Stanley seems to be out of his comfort zone on much of Carnival, and that is true. So bonus points have to be given for his efforts on, "It Never Ends." This song is clearly influenced by the song, "Black Sabbath," (along with a few of their other slow, doomy numbers), but there are a few nice touches that have some Hendrix-ian stuff going on, as well as some, "Black Hole Sun," era Soundgarden touches. The main riff is another monster, and the vocal melodies are all above average. The song is played with musical conviction, and Paul's vocals are fairly strong in the verse, with his vocal in the chorus again taking his performance up a notch from there. Good stuff.
"Seduction of the Innocent," is a good song. Even so, for some (including me) it is a tad annoying with its pretentious Middle Eastern touches exposing Gene's desire to show that he can be like his musical heroes in the Beatles. This is one of the weaker tracks on the album, but it does show KISS
really
trying to stretch out and experiment. And Bruce's solo is really good, with two distinctive parts (first a melodic slide guitar thing, then a nasty Metal shred influenced bit).
Gene shows his love of gothic horror movies with the melodies and atmosphere in, "I Confess," a dynamic, moody song with some amazing melodies. The verse is devoid of drums, with what sounds like a cello (and maybe a viola - certainly some low strings) and Gene's bass, before breaking into a heavy chorus with a powerful hook and strong vocal. This is an excellent, mature song that in other circumstances might have silenced a critic or three. Again, Beatles influences reign supreme with Gene, and a lot of his songs start from that musical springboard - this song being no exception. Another good one.
Perhaps the most, "KISS-Like," song on the album is Paul's, "In the Mirror." This one comes out of the early 70's stylistically, with bits of Hendrix and Robin Trower thrown into the musical mix. Paul gives his most consistent vocal performance on the album here, with both the verse and the chorus showing fantastic performances from Mr. Stanley. The riffs in the song are all great, and the performance from drummer Eric Singer is fantastic. He lays down a groove heavy on early 70's Funk Rock, and then plays a really nice drum break leading into another one of Bruce's excellent solos. Bruce combines bits of the shred he was known for in the 80's with the Hendrix inspired style he had been leaning towards on Revenge and throughout Carnival. This is another career highlight for KISS, and one that shows that they can play music that is a little more serious than they are known to write most of the time.
Bruce Kulick gets his first lead vocal on the album closer, "I Walk Alone," which has an ironically prophetic title (as Bruce would be forced out of the band just a few months later). This one has shades of Queen thrown into the mix along with bits of the Beatles, Led Zeppelin, and Jimi Hendrix. It's another moody, dynamic song with strong melodies and a good chorus hook. Bruce's vocal is what it is - a vocal from a guy who is not a natural singer and who does not have a great voice. He makes the most of what he can do, though, and his vocal is passable and fairly effective. This is a good way to end the album, especially as the song gets ratcheted up a notch from the solo to the end helping the song build up from beginning to end.
There is no concensus on Carnival of Souls, and it's unlikely that there will come a time when there is a clear majority view on the album. Despite it's beginnings as an album showing the band trying to fit in with a specific time and with specific musical styles, it still sounds like KISS throughout - just the parts of the KISS catalog that had always been the shade to the rest of their songs' light. For some there is too much shade, too much darkness on Carnival of Souls, and that is understandable. Even so, this is a well written, well performed album and a creative high point for KISS. They stretched out and tried new things. They wrote more mature and meaningful lyrics. And they played the songs with musical conviction and showed that they could play with both finesse
and
thunderous hammer to the anvil power.
Carnival of Souls is a great album, and one of the best that KISS has released to date.
4.5/5