Post by Erik Rupp on May 17, 2010 21:44:02 GMT -5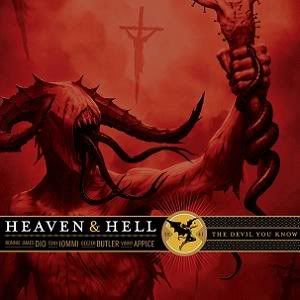 "The world is full of kings and queens who blind your eyes and steal your dreams - it's Heaven and Hell!"
Twenty-nine years after unleashing that musical beast on the world Tony Iommi, Terence 'Geezer' Butler, Vinnie Appice, and Ronnie James Dio returned to show that even in their, "Golden Years," that they still had a lot left in the tank.
Sadly, 2009's The Devil You Know would end up being the final album that this group would ever release as Ronnie James Dio passed away on May 16, 2010 (after a battle with stomach cancer). Dio's voice was the perfect complement to Iommi's signature guitar sound, and nowhere was that more evident than on this album. This album was written and recorded following a highly successful world tour in support of a greatest hits package that had featured three brand new songs of it's own. Black Sabbath/Heaven & Hell were back and firing on all cylinders.
More importantly, the band was in sync. For the first time all friction from the past that tore this line-up apart seemed to be gone, and in it's place was a new found respect for each other.
No outside producer would be hired for The Devil You Know. Dio, Iommi, and Butler were on the same page, and didn't want anyone muddying up the chemistry that the band had rediscovered.
And while the album starts off on what might me seen (or heard) as the wrong foot in, "Atom and Evil," upon further listening it's pretty clear that the song works the way the band intended it to. It is a slow, doomy,
heavy
song with an eerie atmosphere and very strong vocal melodies. It's the kind of song that they might have closed an album out with in the past, but by this point they felt more comfortable having the album build rather than start out in fifth gear. "Atom," is a good song. It may not be a great song, but it is solid, and sets the tone for the album very well.
Benefitting from this set up is, "Fear," a mid tempo song that sounds livelier and more energetic thanks to it's slower, moodier predecessor. "Fear," actually has a fairly complex riff that flirts in Prog territory (make no mistake, just flirts), and Dio's vocal melodies are spot on for what that kind of riffing requires. If the previous song was just good, this one is
very
good. The album builds.
And then it comes back down in intensity for the first minute and a half of, "Bible Black," before erupting into another mid tempo stomper with some great guitar parts and phenomenal vocal melodies worthy of the Black Sabbath name. Dio and Iommi play off of each other perfectly, and Butler and Appice lay down some tremendously solid rhythm parts. Song number one was good, song number two was very good, and now song number three is great. It's clear by this point that this group has lost nothing due to age, and may instead have gained something - greater musical chemistry. They sound like they were born to play together.
"Double the Pain," is one of the album's strongest moments, and it's the first time they really bring the tempo up a bit. Featuring some classic Iommi riffing this one really brings it all home. More great Dio vocals and melodies give, "Double the Pain," a touch of class. This song actually sounds like the missing musical link between Mob Rules and Dehumanizer. This is, arguably, the best song on the album. Arguably.
And while, "Rock and Roll Angel," isn't quite as good as, "Double," it is a first rate song all the same. A little slower than the previous track, "Rock and Roll Angel," is no less powerful, and is actually a little heavier. The chorus hook is just a little heavier on the cheese than it should be, but not so much as to really hurt the song.
Heaven & Hell brings the doom again with, "The Turn of the Screw," another mid tempo song with some dark riffs and strong melodies. It's dynamic, with tempo changes that bring a slightly brighter tone to the verse as opposed to the darker, slower chorus which is fairly dark. This is another really, really good album track that makes the album stronger overall.
Finally we get a legitimate uptempo song in the form of the amusingly titled, "Eating the Cannibals." While the energy and tempo of the song is badly needed on the album, the truth is that this isn't one of the album highlights. Then again, it's no lowlight, but it isn't as strong as some of the other tracks on the album.
"Follow the Tears," brings the album back to a more familiar mood - a dark one. Slow, almost plodding (but not quite), this song prowls like a panther stalking it's prey. It's roots go all the way back to the band's doomiest song, "Black Sabbath." This is the Dio version, though, with a slightly boosted tempo and a more thunderous approach. It's not a great song, but it isn't bad, either. In fact, it's fairly good and well deserving of inclusion on the album.
The uptempo song on the album that really stands strong among the very best songs in their catalog is, "Neverwhere." Again, we're treated to some good Iommi riffing and top notch Dio vocal melodies and chorus hook (if such a thing applies to a song this primal). This song holds up well against just about anything on Heaven and Hell or Mob Rules albums. It's that good.
Sadly, the same cannot be said of, "Breaking Into Heaven." This one has too much of a dirge-like quality as it plods just a little too much. It's not a bad song, either, but it clearly doesn't send the album off with a bang. The song is loaded with melody, and the tempo does get a boost in the solo section, but this song is kind of like that amusement park ride slowly coming to an end. While The Devil You Know has been a fun ride, the last part as it comes to a halt is a disappointment.
But the one thing that struck me the most as I revisited The Devil You Know was just how well it holds up, and how much better it sounds now than when it was first released. It's a grower - it grows on you, and that's a good thing. It's got some real musical substance, and that's another good thing.
The audio production on the album is outstanding as well, Everything
sounds
good on it. The guitar tone is big and fat, but still crunchy. The bass is warm but with just the right amount of punch, and the drums are snappy but full and resonant. The mix takes all these components and puts them together at just the right levels to make this album one of the best sounding albums in the Black Sabbath/Heaven & Hell catalog.
As this was Ronnie James Dio's final album it's fitting musical epitaph. He achieved everything he seemed to set out to achieve with this one, and did so as a member of a group - as part of a team. His legacy was secured long ago, but this album was the icing on the cake. It may not be the best album from this line-up, but it shows that without a doubt that Tony Iommi, Geezer Butler, Vinnie Appice, and especially Ronnie James Dio still had, "It," when it was time to make a new album.
It's just a shame that we'll never get another album from this line-up, but if this was it (and, of course, it was), then it wasn't a bad final chapter for this group at all.
4/5