Post by Erik Rupp on Jun 6, 2010 12:18:29 GMT -5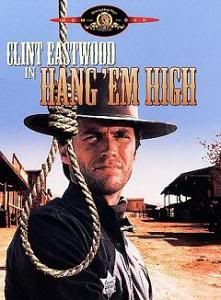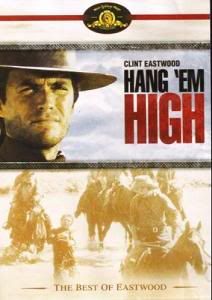 This may be Clint Eastwood's most underrated film.
It's not his best film (there are too many truly great Clint Eastwood movies for this to be in that group), but it is an often overlooked film that is, in fact, a gem.
Hang 'Em High was Clint Eastwood's first Hollywood movie as leading man. He actually passed up a couple different movies to make this one - he liked the script that much. He had good reason to.
Hang 'Em High is a very well written Western, one that bridged the gap between the Hollywood Westerns and the Spaghetti Westerns coming out of Europe. It is clearly a Hollywood movie, but there are aspects of the film that draw obvious influences from Sergio Leone and others.
The score, for one thing - the use of guitar and harmonica echoes many of the Westerns made in Italy or Spain, and the big, bold musical themes are occasionally similar as well. Another similarity is the more graphic violence - while there isn't a lot of it, what violence is shown is more graphic than the typical pre-Wild Bunch Hollywood Western. And Eastwood's character of Jed Cooper, a man quietely, relentlessly out for revenge is similar to some characters in Spaghetti Westerns.
But then there are several aspects of the movie that are from the traditional Hollywood playbook. The overall direction and photographic style is very much in style with Hollywood Westerns. Ted Post had gotten his early experience directing several episodes of Clint's Western TV series, Rawhide, and that experience shows up on screen. Post did a fine job, but his work wasn't as unique or identifiable as Sergio Leone's.
The story may be straight out of a Leone or Corbucci movie, but the script itself is pure Hollywood. It really is a Hollywood take on the Spaghetti style.
The basic premise is fairly simple - former lawman Jed Cooper buys some cattle from a man he believes is a local rancher. While driving his new herd back home to his own ranch he is stopped by a local posse who believes that he is the man who robbed and murdered the cattleman and his wife. Refusing to believe Cooper's story, they string him up and hang him. They leave, assuming he will die (he's half dead already), but when another lawman comes by several minutes later he cuts Cooper down and saves his life. After being cleared of murdering the other rancher, Cooper signs on as a deputy marshal and goes after the men who wrongly lynched him.
Over the course of the movie it is clear that there is an anti-capital punishment bias to the script. But that bias is balanced by the character of Judge Fenton (played extremely well and with a lot of flair by the late Pat Hingle), who explains to Cooper that if the criminals convicted of crimes are not executed by the government that lynch mob violence will escalate. If the people in the Oklahoma territory do not believe that their government is capable of handling justice, then they will take that job on themselves. Fenton is clearly desperately trying to avoid that outcome. His battles with Cooper over hangings and justice are riveting, but short.
The movie may be about ten minutes too long, but that is a minor quibble when looking at the movie as a whole. The supporting cast is tremendous - starting with Hingle, and also including Ben Johnson, Ed Begley (Sr.), Inger Stevens, Charles McGraw, Bruce Dern, Alan Hale Jr, and Dennis Hopper, among others. The only real weak link in the cast is Inger Stevens, whose performance is a little too stiff or wooden (her character has good reason to be stoic, but she takes it just a bit too far), other than that everyone in the cast gives excellent performances.
Hang 'Em High has a great plot, a very good script, great performances, and solid direction. It is a top level Western, and a film that is often (unfairly) overlooked.
When it comes to picture quality the Blu Ray blows the DVD out of the water. While this isn't a Blu Ray to demonstrate the capabilities of your HD home theater, it
is
a solid release. The DVD is acceptable for a major studio release, but the picture is grainy (both the filmstock and the digital transfer), and the colors do tend to bleed a bit (even though they are slightly washed out). The Blu Ray, by comparison, is much crisper and cleaner - showing more fine picture details while showing less digital grain. The only thing left is the natural film grain, which has a pleasing look. The colors on the Blu Ray have more of a, "Pop," to them than on the DVD, and they don't bleed.
Fortunately, MGM has put out a Blu Ray that includes the DVD as a bonus disc, so you can watch it anywhere in the house (not just the one or two TV's that have the Blu Ray players connected).
As for extras, that is the one area where this release is disappointing. No extras at all on the Blu Ray, and only the trailer on the DVD. Why they couldn't put the trailer on the Blu Ray is beyond me, but regardless, the lack of extras is a little disappointing.
Still, this is a near great movie, and as Eastwood's first leading role in a Hollywood film it is very noteworthy. For Eastwood fans or fans of Westerns in general this one is highly recommended.
4.25/5