Post by Erik Rupp on Jun 13, 2010 21:52:25 GMT -5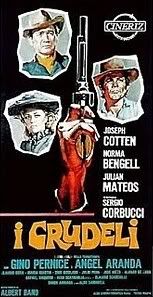 A, "Spaghetti Western," with Joseph Cotton.
To really understand how significant that is consider this: Joseph Cotton was a very well respected actor who had been in such artistic achievements as Citizen Kane, The Magnificent Ambersons, and The Third Man. He was a serious actor. And he ended up in a Spaghetti Western in 1967. That alone makes The Hellbenders noteworthy.
Beyond that, the movie is also noteworthy because it is actually pretty good, and because it was directed by that
other
Sergio - Sergio Corbucci. Corbucci was actually a friend of Sergio Leone's, and had worked with him in the past. Corbucci was actually the first Italian director to make a Western (before Leone did A Fistful of Dollars). He actually commented to Leone when they were making a movie a few years earlier that the landscape in the area they were filming in looked a lot like the American West, and that they could legitimately film a Western there.
Corbucci is best known for the Spaghetti Western, Django, which is a highly stylized film with fairly graphic violence. That style and flair isn't really on display in The Hellbenders, as this movie looks like a hybrid between the Italian/Spanish co-productions and Hollywood Westerns. That may be largely due to the heavy influence of producer Albert Band (aka Alfredo Antonini), who took a very hands on approach with this movie.
The script is fairly well written, and the characters are fairly well fleshed out. The Hellbenders isn't big on gunplay (there is some, but not as much as in most Spaghetti Westerns), but it does have some of the atmosphere that Spaghetti's are known for, and features a great score by the legendary Ennio Morricone, who was well known for his work with Sergio Leone on
Westerns.
The story is fairly simple. A former Confederate officer and his sons hijack a shipment of money set to be destroyed (and replaced by new, undamaged bills). The idea is to rebuild the Confederacy and restart the American Civil War. They successfully hijack the shipment (killing all 30 U.S. Cavalry soldiers in the process), but that is just part of the battle. Getting the money home without getting caught is the really tricky part. To get by all the local law enforcement and U.S. Cavalry that they might (and do) run across they hide the money in a coffin and have a woman play the part of a grieving widow.
There are several complications along the way, most of them fairly logical. Unfortunately, this fairly entertaining Western does lose just a little steam in the second half of the movie, but finishes fairly strong.
Cotton is the only American in the cast, and as is par for the course with Spaghetti Westerns everything in the soundtrack is dubbed. This dubbing job is average at best, as Cotton's voice often is not quite in sync with his mouth. He did what either sounds like a rushed job or he just wasn't all that interested. Either way, the dubbing isn't as good as it could have been (for all involved, although Cotton seems to have been the worst offender).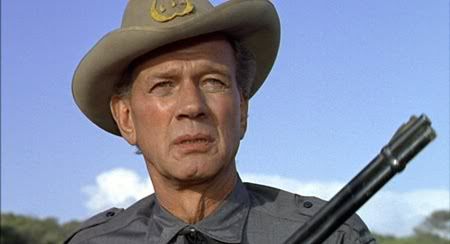 Take the dubbing out of the equation, however, and Cotton's performance is pretty good. He doesn't give one of his best performances, but he does a fairly good job given the material and time allowed. The rest of the cast is solid, but not particularly great. No one is bad, but no one is up to the level of Cotton, either.
The direction is good, but not as good as Corbucci's work on Django, but it is easily as good as the direction on most Hollywood Westerns of that year.
The Hellbenders isn't a great Western, but it is a good one.
Anchor Bay's DVD (released in 2007) is about as good as the movie (interesting how that often happens). There are moments where the picture is strikingly crisp and clean, and others that are ever so slightly out of focus and have heavy film grain. Fortunately, most of it is fairly crisp and clean. The odd thing is that most of the movie seems to have a progressive encoding, but there are a couple scenes where there is clear - and fairly heavy - interlacing. There are just a couple of them, but they are noticeable, and the fact that most of the movie looks progressively encoded makes those moments of interlacing very odd. Still, the DVD overall is very good considering the age of the film and it's relative obscurity. The sound is very good for a film of this age, too.
A very good DVD of a good Spaghetti Western. Not a bad deal.
3.5/5