Post by Erik Rupp on Jun 26, 2010 13:40:57 GMT -5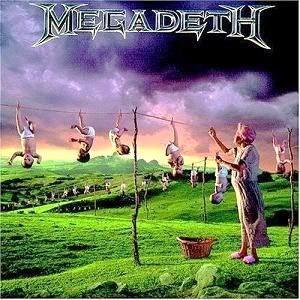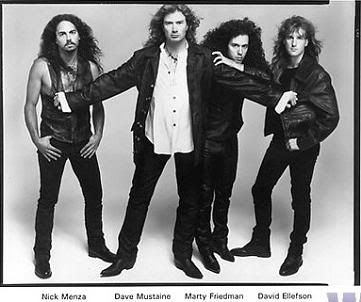 Having made a name for themselves as one of the premier Thrash/Speed Metal bands of the 80's, Megadeth took a turn to the more straightforward, melodic side of Heavy Metal in the 90's with Countdown to Extinction in 1992.
But it was Youthanasia that really captured the band in full on taseteful Heavy Metal mode in 1994.
Exhibiting influences ranging from Judas Priest to UFO to 1970's Scorpions, Youthanasia showed that Dave Mustaine and company could write (and play) songs that not only had a heavy feel, but also very strong melodies. Youthanasia could almost be described as, "Classy Metal," as there is a more sophisticated sense of melody that made these fairly heavy songs very accessible and radio friendly. If this album had come out 3 years earlier it might have done for Megadeth what the, "Black Album," did for Metallica. (In the Grunge era, though, it was merely a moderately successful album, as straightforward melodic Heavy Metal like this was out of vogue.)
Producer Max Norman took the audio side of things in a different direction than he did with Countdown to Extinction. Whereas on Countdown the snare drum sound was fairly dry, snappy, and in your face, on Youthanasia it is lower in the mix, and has much more reverb - almost making the snare blend in with the music a little too much. On Countdown the guitar tones were
abraisive. They were razor sharp and they had a real crunch to them. On Youthanasia the guitars are bigger, beefier, and fatter, as is the bass tone (compared to Countdown).
The songwriting took Countdown to the next level, adding even more melody and groove. Mustaine showed a real ability to write songs that crossed over from his thrashy roots to a more commercially accessible sound withouth completely giving up the band's signature sound.
Vocally, Mustaine sounded more like Stephen Pearcy of Ratt than ever. While many Megadeth fans would bristle at such a suggestion, the similarity in their voices and vocal delivery is obvious. Mustaine used that vocal style to his full advantage on Youthanasia. He
sings
more than ever on Youthanasia, and the songs are stronger for it.
"Reckoning Day," is a great track. It is melodic without being the least big wimpy. It is fairly percussive, and has a fantastic sense of groove (provided in large part by drummer Nick Menza). Marrying fairly heavy riffs with strong melodies just makes the song classier than much of Megadeth's previous material (which was great for the heavier, thrashier style that they did so well on those earlier albums).
The melodic aspect of the album gets ramped up even more with the FM radio hit, "Train of Consequences." Again, the verse is very percussive with it's staccato riffing, but the chorus is just gargantuan with huge melodies that would put Pop Metal acts to shame (again, all without becoming wimpy - not an easy feat). The album is two for two at this point, as both of these songs are absolutely fantastic.
Slowing down the pace a bit (with a strong mid tempo beat) is, "Addicted to Chaos." It's heavier and darker than, "Train," but it isn't much less melodic. It is clear by this point that Mustaine was in the zone when it came to writing the songs for this album. The riffs are top notch - heavy, but melodic - and his vocal melodies are just as good as the riffs (and both work brilliantly together). "Chaos," is really close to being as good as the two previous songs, and it maintains the album's high level.
And then there's, "A Tout Le Monde." Brilliant is a term sometimes overused when describing albums or songs, but that wouldn't be the case here. This song
is
brilliant. A chorus partly in French? Are you kidding me? And it works
this
well? This song is better than any of the heavy ballads from Metallica's Black Album, but because Youthanasia was released in an era where anything not Alternative or Grungy wasn't given much of a chance at radio the song never got it's due. This both is and isn't a ballad. It's heavy, but moody and dynamic - and extremely melodic. It's just a fantastic,
brilliant
song.
But for my money, "Elysian Fields," is even better. Played with a groove that is as strong as anything you'll ever hear from a, "Thrash," band, "Elysian Fields," is the perfect combination of power and melody. Absolutely perfect. Bassist David Ellefson lays down an Ian Hill-esque bass line that is a big part of the song's groove, adding to what is provided by Nick Menza's drumming. The chorus is a great example of just how classy Heavy Metal can be when written with a strong sense of melody - and all without sacrificing power or heaviness. "Elysian Fields," is one of the highlights not only of Youthanasia, but of Megadeth's entire career.
Picking up the pace just a bit, "The Killing Road," wouldn't have been all that out of place on Peace Sells. Sure, it's got a little more melody and a slightly better sense of groove, but it's still heavy and features riffs that are identifiably Megadeth in style. And, again, Mustaine delivers a huge chorus. This is another winner.
"Blood of Heroes," is the first song on the album that is less than great, and it is still a very good song. It's a slower mid tempo track that is a tad darker than some of the other material on the album, but it's not a
lot
heavier. It ends up being a solid album track, but not a standout.
The opening of, "Family Tree," sounds like Ratt, but that quickly morphs into a bass driven verse with some fairly sparse guitar riffing. The tone of the verse is very much in line with Peace Sells or So Far, So Good, So What, but with a stronger melodic sense and not quite as heavy. Like it's predecessor, "Family Tree," is a good song, but isn't a standout on the album.
At first, "Youthanasia," (the song) sounds like the heavier material from Tony Martin era Black Sabbath, before leading into a verse that is slow, sparse, and moody. The chorus (the same part as the intro) comes crashing in following the verse. On this one Mustaine is clearly channeling Tony Iommi - and with good results. There is a nice dynamic change when the tempo shifts in the middle of the song to an upbeat solo section, before returning to the slower, doomier parts. Another good song.
If Youthanasia can be knocked it is for tracks 7 through 10, where the tempo is either slow mid tempo or slow. The album gets into something of a rut. Maybe the best of these tracks is, "I Thought I Knew it All." It has the strongest melodic sense, and the best chorus of that bunch.
"Black Curtains," is, perhaps, the closest Mustaine comes to writing melodies and riffs that echo the Peace Sells era. It's got that slightly quirky sound that Mustaine used so well on Megadeth's early albums - just used here with a slower tempo. This still isn't a great song, but like the last few tracks it is good.
Shamelessly plugging Megadeth's entire back catalog , Mustaine quotes his own songs in, "Victory," which is one of the faster songs on the album - and one of the best (lyrically, it's basically a retrospective of their career up to that point) . Ellefson gets to play a really cool bass part under the verse, and the chorus is catchy as hell. The song is also one of the heavier tracks on the album, and was likely written to appeal to the fans of the bands earlier, heavier material. Even so, this has more melody than most of those early songs. It's a great way to close out a great album.
While the album does lose steam in the second half Youthanasia is still one of Megadeth's stronger albums. Megadeth's most vocal and loyal fans were the ones the most turned off by the album's continued turn into Melodic Metal territory, an issue that Mustaine partly addressed on the band's next album.
Taken on it's own merits, however, Youthanasia is an epic combination of melody and power, and a great example of just how classy Heavy Metal can be.
4.5/5