Post by Erik Rupp on Jul 5, 2010 13:30:56 GMT -5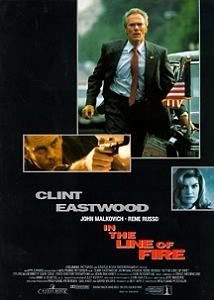 Clint Eastwood has had an amazing career. (Yeah, no kidding...)
From bit player at Universal to second lead on the TV series Rawhide to his Spaghetti Western success with Sergio Leone to a Hollywood film career that has spanned four decades, Clint Eastwood has become an icon.
And thanks to his longevity as a leading man he was given the opportunity to put a close to each phase of his career. He closed out his work in the Western genre with the modern classic, Unforgiven. It scored big time at the Academy Awards, winning Best Picture and Best Director (Eastwood), among others. To follow that film Eastwood decided to go with a movie about an aging (aged) Secret Service agent named Frank Horrigan. It would be one of his last action/thrillers (he did make a few thrillers after that, but the action content was usually low key).
This time out Eastwood was not the director, as that job was given to Wolfgang Petersen (Das Boot, Troy). The film would not be produced by Eastwood's Malpaso production company, which made it the first time in quite a while that Eastwood simply worked as an actor for hire.
In the Line of Fire looks different than an Eastwood directed movie, and the pacing is different. It's not better or worse, just different - and a nice change of pace for a Clint Eastwood film.
Eastwood's performance as agent Horrigan is quite good, as he brings a lifetime of experience to the role. At age 63 it was clear that Eastwood was near the end of his time as an action star, and that fact is reflected in the script. Horrigan had been assigned to the motorcade protecting President Kennedy when he was shot and killed in Dallas in 1963. It was an event that changed his life, and not for the better.
Flash forward to 1993, and Horrigan now protects another President, and stumbles onto a threat that he quickly realizes is very real (unlike hundreds of other threats each year). Convincing his superiors and the President's Chief of Staff turns out to be just the first part of the battle. His adversary, Mitch Leary (played extremely well by John Malkovich), is a former CIA assassin gone rogue. He wants to send a message, and the most direct way he believes will send that message is to kill the president.
Faced with a foe of equal - or even greater - abilities and kills as his own Horrigan finds himself with the toughest assignment of his career.
Along for the ride in this movie are Rene Russo (playing another Secret Service agent, the very capable Lily Raines, and Dylan McDermott as Horrigan's partner, Al D'Andrea. The entire cast is very, very good, and the script for the movie is intelligent, which made Petersen's job that much easier. The direction by Wolfgang Petersen is excellent, and helps elevate the movie to an even higher level. The film moves at a good pace, and doesn't bog down during the character moments that help move the exposition of the plot along.
As noted before, Eastwood's age and the age of his character becomes a central point in the story. When Horrigan requests to be assigned to the President he is clearly not in the same physical condition as his younger counterparts, as he huffs and puffs his way alongside the Presidential motorcade. Eastwood, who had previously portrayed characters of great strength and vitality, now shows a very human side - a side that comes with age and experience. He plays it well.
Ultimately, In the Line of Fire succeeds on every level. It is a good action movie, a good drama, and a good thriller.
Sony's Blu Ray release of In the Line of Fire is very good, without any major flaws. The picture quality throughout most of the film is very sharp and very detailed. There are occasional moments/scenes where the film looks a little soft and/or dark (the opening scene looks underexposed a little), but the vast majority of the film looks extremely good on Blu Ray.
There are some nice extras on the disc as well, including a director's commentary, and some nice featurettes.
This is a Blu Ray release that is well worth owning.
4.25/5