Post by Erik Rupp on Jul 25, 2010 11:15:58 GMT -5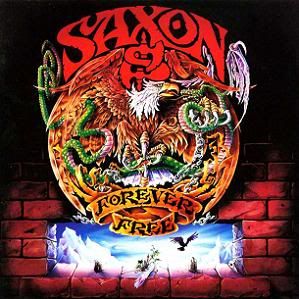 After the return to form that was Solid Ball of Rock, Saxon took it up another notch with Forever Free. Forever Free took the classic Saxon sound and modernized it to 1992. More streamlined, a little heavier, but still
very
melodic, Forever Free is the second in a string of great albums that continues to this day with the release of Into the Labyrinth (2009).
Forever Free opens with the rousing title track - a great uptempo number, that is immediately followed by the fantastic "Hole In the Sky," a song fairly close to No Rest For the Wicked era (early Zakk Wylde era) Ozzy material. Those two songs are a great way to open a Saxon album, as both are fantastic songs. After that strong opening we get a very Saxon sounding cover of "I Just Wanna Make Love To You." It's not the strongest song on the album, but decent all the same.
Up next is "Get Down and Dirty," which sounds like a 1992 take on 1982 era Saxon - it's a solid mid tempo track. "Iron Wheels," is based around some nice acoustic guitar setting a melancholy mood which Biff takes advantage of with some great vocal melodies. Following that respite from the Metal, Saxon comes roaring back with "One Step Away," one of the better tracks they've ever written and recorded. Uptempo and furious, "One Step," features some killer riffs and very strong vocal melodies with a great chorus hook.
Then comes, "Can't Stop Rockin," and apparently Saxon can't (stop rockin, that is)! It's another good, mid tempo rocker with a good groove that almost forces you to do just a little air-headbanging! "Nighthunter" is another uptempo song with absolutely killer riffs, and "Grind" does just that - grind. "Grind" may be a little stuck in the late 80's, but it's still a little better than average and a solid album cut. Forever Free closes with "Cloud Nine," which is very reminiscent of the uptempo, "Boogie Metal," that Saxon specialized in during the early 80's.
Not quite a five star album, Forever Free is still easily a four star, album. Biff, Paul, Nibbs, Graham, and Nigel continued to move forward and would continue to make great albums (albeit minus Graham Oliver and - occasionally - Nigel Glockler) for another 17 years. (And counting!)
4/5