Post by Erik Rupp on Aug 22, 2010 17:01:39 GMT -5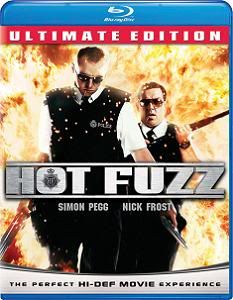 Some movies end up becoming pleasant surprises. They exceed your expectations.
Hot Fuzz is one of those movies.
I expected a good, witty, often funny Action/Comedy from the same team that made Shaun of the Dead. What I got was a very good, very witty, often funny Action/Comedy that was actually well written with a lot of attention paid to detail. Little stuff like throwaway lines aren't always throwaway lines. Things that are mentioned early on in passing actually have a role in the movie later on. The script was actually well thought out. What a concept!
Simon Pegg stars as the exceptional super-cop Nicholas Angel, who is exceptional in just about every field of police work. Angel's problem is that his fellow London officers are jealous of his abilities, and feel that he's making all of them look bad. So his superiors promote him and transfer him at the same time to a sleepy little town called Sandford. Angel protests, but has no choice so it's off to Sandford he goes.
Immediately he takes to cleaning up the town. Arresting a group of minors for drinking alcohol as well as a drunk who tries to drive home. The drunk ends up being his partner in the Sandford police. The chief inspector oddly seems to treat every infraction with kid gloves, "For the greater good," as he explains.
But things aren't exactly what they appear to be in Sandford as murders start piling up and Angel has a hard time convincing the small town police officers that these aren't just random accidents.
There are some very clever twists and turns in the story, and all of them are entertaining. The script is witty, funny, and engaging.
And then there's the cast. Simon Pegg is just fantastic playing Nicholas Angel, and his partner in crime from Shaun of the Dead, Nick Frost is along as his police partner Danny Butterman (the song of the chief inspector). The two of them continue the great chemistry from their previous movie, but they aren't the only ones in the cast that work well together - everyone in the cast works well in the ensemble.
Noteworthy in that ensemble is former James Bond actor Timothy Dalton. While Dalton got a bad rap as a, "Humorless," Bond, he shows an adept sense of humor here. His handling of his lines as the slimy supermarket owner, Simon Skinner, is priceless. He's smug, funny, and slightly menacing all at the same time. His delivery of his lines is pure gold.
Despite the movie's small town setting, it is an homage to the 80's and early 90's buddy cop movies that did so well at the box office. In fact, Frost's character is addicted to them and has a huge library of action movies (which he introduces officer Angel to - Angel had never seen any of those movies as he spent all his time on policework). Edgar Wright's direction walks that fine line between straight action movie and low key, witty comedy. He handles the movie with a deft touch and manages to get all the notes right.
While Hot Fuzz is a long-ish movie for this type of thing (two hours), it never drags all that much and the pacing is almost perfect (trimming a couple minutes might have made it even better, but as it is it works very well).
Hot Fuzz is a clever, witty, exciting movie that pulls no punches - there is some graphic violence shown that pushes the boundaries of being gratuitous without crossing over that line. It is a great action/comedy, and is well worth repeated viewing.
The Blu Ray itself is great. The picture quality is outstanding, and the extras on the disc are comprehensive. There are 22 deleted scenes, outtakes, featurettes documenting the making of the movie, commentaries from director Edgar Wright among others, and more. This is a great package and is easily highly recommended.
4.5/5