Post by Erik Rupp on Sept 15, 2010 15:23:13 GMT -5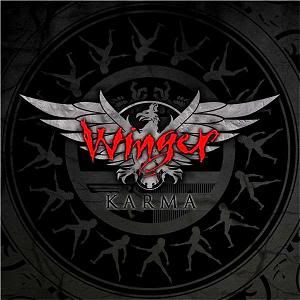 The butt of many jokes in the mid 1990's (thanks in large part to Beavis and Butthead), Winger broke up after the failure of their third (but arguably best) album, Pull.
With business left unfinished, and the old jokes partially forgotten Kip Winger brought guitarist Reb Beach and Rod Morgenstein back together and reformed Winger. Their fist album back together was the middling (near) concept album, IV, which was released in 2006. Late in 2009, Winger has put out their fifth album - Karma.
More focused and edgier than the previous album, Karma starts out very strong with the rocking, "Deal With the Devil," which leads into the equally raucous, "Stone Cold Killer." Both are good songs with the trademark Winger melodies, but both are also strong tracks from a hard edged standpoint as well. Actually, both of those songs would have fit well on their well respected 1993 album, Pull.
The tempo may slow down a bit on the next track, "Big World Away," but the song is arguably heavier than the previous two. This song isn't all that far removed from the gargantuan down-tuned track from Pull, "Junkyard Dog." Both songs are heavy and darker than Winger had been known to be on their first two albums, but both are also still very accessible and melodic. Three songs in and Winger really seems to be on to something good.
Things get a little more modern (slightly more electronic, and continuing to be tuned down) with the next track, "Come a Little Closer," which almost evokes Alice Cooper in mood, as if interpreted by Alice In Chains. This is a great track, one that blows expectations of what is expected from Winger right out of the water. It still sounds like Winger. Well, sort of - just mutated.
After a couple slow mid-tempo, dark songs they crank the tempo back up with the energetic and melodic, "Pull Me Under," another song that in vibe and style would be a great fit for Pull. Stylistically it really is a blending of Pull and the first Winger album. It's another very good song that keeps the winning count on the album going at five in a row.
And that's when the focus on the album starts to get just a little fuzzy.
"Supernova," is a good song, with some good musical ideas and solid vocal melodies, but it's a little too long for a track with a slow-ish tempo. It's a moody song with a great chorus, but it's just a minute and a half or so too long.
The popster in Kip Winger comes out on the next track, which is a solid ballad, "Always Within Me." Musically, this one is very interesting and even has some slight Progressive touches here and there (subtle, but they're there). It's got a heavy enough chorus to fit in well on the album, and the creativity in the music elevates this one above the standard Power Ballad fare.
The stomping, marching beat and riff of, "Feeding Frenzy," sounds like something that could have come from one of Ozzy's last three albums, but when the bridge/pre-chorus kicks in it's clearly a Winger song. The chorus reverts to the Ozzy-like qualities. This actually would be a good song for the Ozz-man to cover (it would have been a highlight on his latest album). Not bad - pretty good, actually, so we're eight songs in and still no real clunkers for Winger.
CLUNK!
That clunking sound you hear is the misplaced, "After All This Time." This is a mellow, bluesy ballad that is very out of place on Karma. It would fit well on Winger's second album, In the Heart of the Young (which was their weakest album). It's not a
bad
song, per se, but it seems so standard issue for this mellow blues ballad kind of thing that you have to wonder why it was included on the album in the first place.
Should Winger be doing seven minute long songs? Sure, if they're really good and can hold the listener's interest for that full seven minutes. "Witness," can't and doesn't. This is another track that would have been a perfect fit for In the Heart of the Young. It's kind of like an epic, "Miles Away," kind of thing, just with an extended solo section towards the end, followed by a mellow, melodic harmony vocal outro. Again, this isn't a bad song, just very standard issue (especially for Winger). And to close out the album with two songs in a row like this is a real shame, because Karma was so darned good prior to these tracks.
The album, however, doesn't end there. There is a bit of a coda to the album - a short instrumental piece featuring drummer Rod Morgenstein on piano and Reb Beach on acoustic guitar. This Rock/Classical hybrid is called, "First Ending," and despite it's departure from the sound of the rest of the album this is a good way to end the album. It is a very, very well written song and
almost
takes the bad aftertaste of the previous two songs away.
The band sounds young and energetic up until tracks nine and ten, and there is an edge and a conviction to the music that helps dispel the musical image of Winger that they themselves helped to create with their second album. Each individual member is still at the top of his game as a musician, and relative newcomer to the band, John Roth (guitar/backing vocals) helps fill out the sound nicely.
For eight songs or so Karma really was a great (or near great) album, but, "After All This Time," and, "Witness," really throw cold water on the album at the end. Still, as a whole, Karma is a good album. It's just not as good as it could have been had there been one less ballad at the end.
4.25/5
For the first 8 songs.
2/5
For tracks 9 and 10.
4.5/5
For the short closing instrumental.
4/5
Overall.
(3.86/5 if you just do the math, but I'm rounding up due to the quality of the first 8 songs.)