Post by Erik Rupp on Sept 25, 2010 14:55:16 GMT -5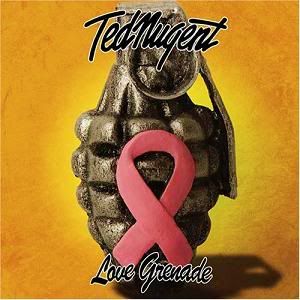 Ted Nugent's career dates back to the late 60's as part of The Amboy Dukes, whose one hit, "Journey to the Center of the Mind," first brought the guitarist to fame.
Ted spent the next 5 or 6 years constantly changing the Amboy Dukes line-up, until 1975 when he ditched the band name (which had been changed to Ted Nugent's Amboy Dukes or Ted Nugent and the Amboy Dukes, depending on the album), and just went under his own name. His 1975 self-titled album is a Rock and Roll classic. One of the best ever recorded.
Over the years the quality of his albums slowly diminished, and while his albums of the late 70's and through the 80's all had some really good songs on them, it was clear that his best material was behind him.
Or so it seemed.
Until 2002 when Ted released a rather good, rather inspired album (that only had a couple lapses into mediocrity) in the form of Craveman. Ted was back in top form for the first time since 1978 or so.
Following that album up took him five years, and Love Grenade clearly comes from the same mold as it's predecessor.
Unfortunately, it lapses into medocrity a little more than said predecessor. Don't get me wrong - it's a good album, and for Ted Nugent fans it is well worth owning - but it isn't as good as the mammoth album that was Craveman.
The line-up is similar to Craveman (the great Tommy Clufetos is again on drums, but this time it's Barry Sparks and Jack Blades on bass in place of Marco Mendoza). The spirit is similar to Craveman (the album has a furious energy that cannot be contained). The songwriting just isn't quite as good as Craveman.
There are some very good songs here, though. Very good.
The first two tracks are classic Ted Nugent on 11. The title track and, "Still Raising Hell," are great Nugent songs with a ton of energy and power. Ted being Ted at his best.
While, "Funk U," continues the barrage of high energy Gonzo Rock, it also deteriorates lyrically into the sophomoric lyrics that Ted has resorted to writing far more often than is necessary over the last 5 or 6 of his albums. Tommy Clufetos gets a chance to go to town on this one with his double bass drumming, and there are some cool riffs to be heard here, but the stop-start staccato post-chorus bit only works once or twice before it gets old, and Ted's, "F You," chorus is just childish and really detracts from what could have been a good song.
"Girl Scout Cookies." Who besides Ted would come up with a song with a title like that? Musically this one is really good, with it's slow grooving grind, but lyrically Ted's trying to be a little too cute with the double-entendres and it ends up once again detracting from the song. Sure, it's all tongue-in-cheek, but it's also more than a little silly and more than a little too close to Weird Al territory for comfort on a Nugent album. When the soulful female backing singers come in, you can hear some really good melodies and the basis for a great song. Unfortunately, Ted's lyrics bring this one back down to earth. This one's really, really close to being a great song, and if you can get over the lyrics it's actually there. It should also be noted that Ted plays some really nice, melodic licks in the solo and afterward on "GSC."
Then, for the 39th anniversary of the Amboy Dukes first (and only) hit Ted re-records that hit - "Journey to the Center of the Mind." It's a little heavier, but otherwise it's fairly faithful to the original. As this was a great song from the beginning it is a welcomed addition to the album, especially given the fact that Ted didn't sing the original and now it is available with Ted's vocal.
Things get back to full Ted mode on, "Geronimo and Me," as Ted continues his lyrical fascination with Native Americans and the buffalo. Musically, this one is a boogie with some good riffing and a great chorus. "Geronimo," could actually fit in on Ted's Tooth Fang & Claw album from '74 (just prior to his solo breakout album).
Ted continues the Native American theme with a two-parter, the instrumental, "Eagle Brother," (which is basically one bass riff for four minutes with Ted playing some noisy licks over it - it goes on twice as long as it should), and, "Spirit of the Buffalo." "Spirit," is actually a good song, with some very nice dynamics. It's the kind of thing that Ted did a bit on his 1995 album, Spirit of the Wild. It's one of those history lesson songs with a message that Ted writes every now and then. Musically, it isn't all that far removed from, "Fred Bear," from Spirit of the Wild. The song loses steam, however, at the end when Ted's playing some mellow-ish licks and just naming off a ton of Native Ameirican tribes and historical locations and events. Like, "Eagle Brother," this one goes on a couple minutes longer than it should.
Ted gets back to the kind of music you'd expect from him on the next track, "Aborigine." This is a fun, infectious track with the kind of energy Ted is known for. Not bad for a guy who was pushing 60 at the time.
"Stand," is another great track (and an album highlight with it's strong riffing, vocal melodies, and great chorus hook), but it's closer in style to Ted's 1989 album, If You Can't Lick 'Em - Lick 'Em than his classic 70's work. It would have fit well on Craveman as well. This is an good example of how Ted can be one of the best at what he does.
"Broadside," opens exceptionally well with an arpeggiated bit of riffing and a great sense of melody to go along with the power and energy. This one sounds like an updated version of the music from Ted's heyday 30 years earlier. The lyrics are OK, but he does lapse into that sophomoric style here and there. Overall, this one is another winner.
Then Ted tries to get cute again with, "Bridge Over Troubled Daughters." Cute, huh? What, that title is just goofy? Well, it's hard to argue against that point. This is Ted being Ted, and for some that works exceptionally well, while for others it leads to a lot of rolled eyes. As a Ted Nugent song it's pretty good - if you, "Get," it. (Musically it is pretty good either way, but with Ted it's always the lyrics and the presentation that tend to divide people into two camps - the pro Nugent camp and the stridently anti-Nugent camp.)
Ted chose to close this album with a slow Blues Rock grind called, "Lay With Me," which is OK, but lacks any real energy and isn't all that special as a Blues track. Sure, Ted plays some really nice licks in there, and this really is just a showcase for Ted's Blues Rock lead playing, but as an actual
song
this one is below average.
Sonically, Love Grenade is great. The guitar tones are big, fat, and heavy without losing Ted's signature tone. The drums and bass are also recorded and mixed exceptionally well, so on a sonic level Love Grenade is a huge success. Interestinly enough, the album was produced by Ted along with his Damn Yankees bandmate Jack Blades (who also plays bass on a couple tracks). I don't know if Jack was too intimidated by Ted to let him know when things should be changed, or if he really bought into everything on the album, but he doesn't seem to have brought a lot to the table here.
Overall, Love Grenade is a good Ted Nugent album. It's not a great one (as Craveman was), but it is good.
3.75/5