Post by Erik Rupp on Oct 9, 2010 18:16:29 GMT -5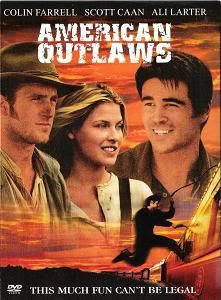 The Jesse and Frank James story has been told dozens of times on the silver screen. Some of those movies have been accurate, others have been mostly fictional stories only loosely based on the lives of the James brothers.
American Outlaws falls somewhere in between. The tone of the movie is a little lighter than that of most other James Gang movies, but there are several accurate details in the movie. The closest Western in tone to American Outlaws may be Young Guns II, and that's not a bad thing.
Unfortunately, American Outlaws is no Young Guns II. Make no mistake, it isn't a bad movie at all, it's just not as good as the movie that seems to be it's template.
Director Les Mayfield chose to go with a more lighthearted approach than the story warrants, but not so much so as to really hurt the film. The script by Roderick Taylor and John Rogers is fair, but nothing exceptional. Mayfield is truly a, "B List," director, with movies like Encino Man and Code Name: The Cleaner to his credit. American Outlaws may very well be one of his best efforts to date.
The claim to fame for this movie is that it was one of the early movies in the career of Colin Farrell. Farrell plays Jesse James, and does so fairly well. His performance gives hints at the acting ability and presence that he would go on to show later in his career. The other cast member that is worth noting is Timothy Dalton as legendary private security/detective agent Allan Pinkerton. Dalton's performance is very good, as he just oozes charisma - he is completely believable as the man who founded a legendary detective/private security organization.
Ultimately, American Outlaws is farily entertaining, even if it isn't a great movie. It's a good movie that moves along at a good clip and never gets boring. It's not a Western for genre purists (like Young Guns and Young Guns II), but it is a reasonably fun movie to watch.
Warner Brother again did a good job with the DVD as both the picture and sound are good. The picture is crisp, sharp, and clean. The sound is clear and has good frequency range.
Well worth a rental or a purchase if the price isn't much more than a rental.
3.5/5