Post by Erik Rupp on Oct 10, 2010 20:15:52 GMT -5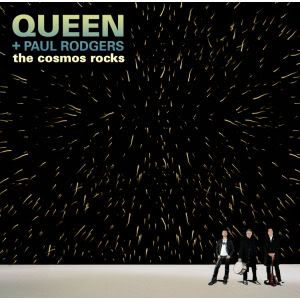 First question: Is this really a Queen album?
Second question (the more important question): Either way, is it any good?
The answer to the second question is easier to come up with than the answer to the first. The album is pretty good, even if not as good as the best work from either party (Queen or Paul Rodgers). But is this an album that belongs in the Queen catalog proper?
I'll leave that one up to you.
So let's focus on the more important issue - the quality of the music itself. On that score there are some really good songs on display on The Cosmos Rocks, along with some songs that are a bit on the lackluster side.
Opening up with a song that is a combination of The Game, The Works, and The Miracle in style things start off pretty well. "Cosmos Rockin," is a solid rocker with some catchy vocal melodies, and has a fun overall vibe. It's nothing to get real excited about, but it is fun and gets the album off to an energetic start.
Following that one with a song that isn't far removed from what Paul Rodgers did with The Firm (his brief band with Jimmy Page) was probably a good idea. "Time to Shine," is a very good track with some nice acoustic guitar texturing and some fantastic vocal melodies and harmonies. It's definitely an album highlight.
"Still Burnin," is another album highlight as it sounds like Bad Company in the verses and Innuendo era Queen in the pre-choruses and choruses. The combination works, and works well on this slower mid-tempo song. Paul Rodgers is in fine form throughout the album, and this song is no exception. (Toward the end they sample the beat of "We Will Rock You," which actually works pretty well as a tip of the hat to their past.)
Things get smaller, both literally and figuratively on the next track, "Small." This is a quieter, moodier, acoustic guitar driven song. It's a good track, and is almost Beatle-esque while also echoing some of U2's acoustic laced songs. It also works well as a setup to the next song, "Warboys," which starts off with a marching beat, but isn't particularly heavy until Brian May's guitars kick in for the chorus. "Warboys," isn't a great track, but it is fairly good. It's a solid album track and fits in with the album and is better in context of the album as a whole.
Things get a little overly preachy on the next song, "We Believe," which is a rather ordinary call for peace through understanding and acceptance. Musically this isn't very special, and lyrically it really is more than a bit heavy handed. It's a nice sentiment, but with all the cliche's and generic music the song is only fair at best, and it is one of the weaker tracks on the album.
"Call Me," is an acoustic driven Rockabilly song, not too far removed from, "Crazy Thing Called Love," only not as energetic, and, frankly, not as good. Beyond being a mediocre track, this one just seems so contrived as a follow up to their previous hit from 28 years earlier that it just doesn't work as intended.
They get moodier - and better - with, "Voodoo," a song with hints of the bayou blues along with a lot of mellower 70's Rock styles. The song features some nice bluesy lead work from Brian May, and is a big improvement over the previous two tracks.
The intro to, "Some Things That Glitter," with the cookie cutter mellow piano part and the lyrics, "Once I loved a butterfly," doesn't bode well for the rest of the song. Not all that far removed from Elton John's mellower 1970's material, this one just stops the album dead in it's tracks. It's not a horrible song, it's just horribly generic and boring. Ugh.
"C-Lebrity." Cute title. Or not. Either way, it's actually a good song that again combines Works and Miracle era Queen with the Firm and Bad Company in style, and defies it's silly lyrics to be one of the more fun and entertaining tracks on the album. Like, "Radio Ga Ga," before it it takes a silly lyrical premise and actually runs with it in the right direction and makes the whole concept work. It Rocks fairly well while still retaining strong dynamics and melodies. This is the direction they should have followed more on the album musically, but, unfortunately, they only did so on a few tracks.
As if on cue up next is a mellower song with some bluesy lead playing from May. Would it have killed these guys to write a couple more rockers? Or at least a few more inspired tracks? This album is so up and down, so hot and cold, it seems as if they're deliberately trying to run the musical gamut, regardless of how it affects the flow of the album, and regardless of how well written (or not) the mellower tracks were written. "Through the Night," is a snooze-fest. If not for May's lead playing the song would be a complete write-off.
Drummer Roger Taylor and Brian May share lead vocals with Paul Rodgers on the next track, "Say it's Not True." Well, I'd like to say it isn't true that this song isn't another attempt at writing a touching, mellow track with mediocre results at best, but it is. OK, they do turn it up into a bombastic power ballad a little more than halfway through, but that doesn't help. This is a song that should have been left at the demo stage and replaced with something better.
"Surf's Up, School's Out," is another slightly silly, slightly goofy, but fun songs that Queen is known for. Musically this one is really middling. It kind of, sort of rocks in a Miracle sort of way, and after the previous two songs it sounds nearly like Heavy Metal, but in truth it's merely a solid album cut with only a moderate amount of energy.
The album ends on a down note with a reprise of, "Small," that is even mellower and more atmospheric than the earlier version. The album ends with a whimper, not a bang.
For five songs The Cosmos Rocks threatens to meet expectations for what three legendary figures can do when put together, and then it kind of falls flat before falling apart. So where does that leave us on that second question? There are several good tracks here, but the way that the album loses steam (both energetically, and with the quality of the songwriting) it's hard to give this album a ringing endorsement.
With more good tracks than mediocre (or worse) tracks, the album can be viewed as a limited artistic success. A very limited success. It may be disappointing, but as there are some good songs on the album it's not a total loss.
3/5