Post by Erik Rupp on Dec 13, 2010 19:21:17 GMT -5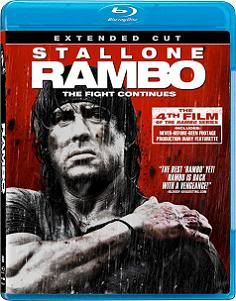 For the better part of a decade it seemed as if Sylvester Stallone's days as an Action Movie leading man were over. Going from big budget action classics to straight to video fare seemed to be the way Stallone's career would end.
And then Stallone finally got studio support for a new Rocky movie. Critics and fans were both surprised by how good that movie was. Stallone succeeded in following up the original movie with another that came close to matching it in tone and style. While it Rocky Balboa wasn't a huge hit, it did well enough at the box office to push his other new project into the limelight - a fourth Rambo movie.
This time rather than attempt to match the original movie's tone and style, Stallone decided to go with a more somber, realistic tone and amp up the violence even more than what had been seen in the first three Rambo movies. This would be a Rambo movie for 2008 - a movie that pulled no punches. While Stallone actually had something to say with this movie, it would be a brutal, honest film about the horrors of the Burmese cilvil war - honest as seen through the eyes of John Rambo.
And, believe me, this is a
brutal
, violent movie. It would be the landing sequence of Saving Private Ryan squared. Yet, despite the over the top, gonzo, insane violence Rambo was still, in Stallone's original vision, a movie that also had something to say, and would say it with some good dramatic character moments. Some of those moments were cut for the original theatrical release, which focused on the action and violence, but they have been restored in this Extended Cut.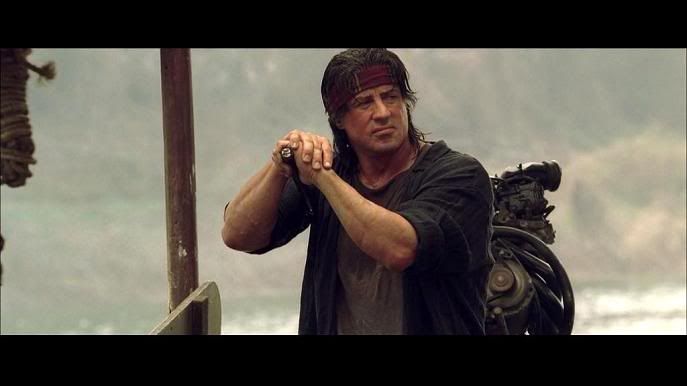 This version would seem to be Stallone's original edit as it actually uses the original working/production title of
John Rambo
rather than the shortened version that it ended up with upon it's theatrical release. There are moments in John Rambo that touch upon Rambo's personal demons and his cynicism towards humanity after a lifetime of violence.
Rambo, now a boatsman carrying passengers up and down a river in the border region of Burma and Thailand, is hired (although he is very reluctant to take the job) to take a group of Christian aid workers into Burma for the purpose of helping the Burmese Christians who are being slaughtered by members of the Burmese military. Julie Benz (from Buffy the Vampire Slayer, Angel, and Dexter) plays Sarah, the woman who convinces Rambo to take the group into Burma. Benz is well cast and gives a solid performance as a woman convinced that doing something incredibly dangerous is the right thing to do.
Along for the ride this time is a group of mercenaries who are hired by the Christain group's Pastor when they are captured by the Burmese army. Where this rescue mission is something personal for Rambo, for the mercenaries it's all about the money (with one exception). This makes for some good conflict among the, "Good guys," or, "Heroes," if you will. The contrast between Stallone's Rambo and the mercenaries is well played.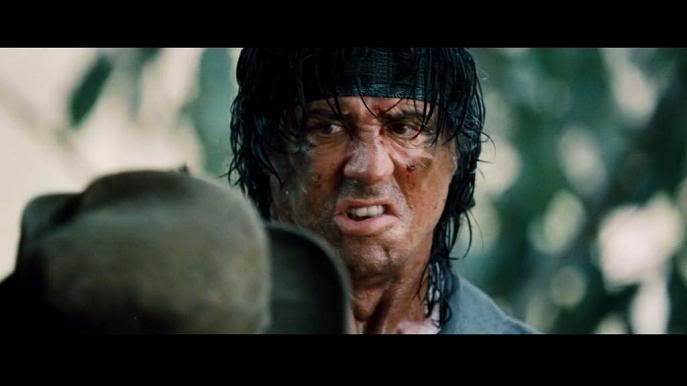 Stallone's direction is quite good - the dramatic moments are well written and played, and the scenery is beautiful (even in dangerous areas). But the focus for any Rambo movie is always going to be the action, and on that count Stallone really delivers. Of course, as noted before, he delivers action in an over the top, crazy violent method, but there are plenty of well staged action sequences to be found in Rambo. Once the action starts, there is very little let up in the movie.
John Rambo (the real title) is an exceptionally well made action movie that pulls no punches and has just enough character and drama to elevate it above most current action movies. Stallone has come up with yet another winner here.
Lionsgate's Blu Ray of the Extended Cut of John Rambo is outstanding in the picture quaity department, but lacks most of the extras put on the Blu Ray and DVD originally put out for the theatrical cut. It would seem that this was intended to be a companion piece to the other disc as the special feature ("Rambo: To Hell and Back") was not included on the other release.
This isn't a movie for the squeamish, so if your tolerance for bloody, dismembering violence is low you may want to skip it. However, if you can handle the gruesome, brutal violence then you may find (John) Rambo to be a rewarding viewing experience.
4.25/5