Post by Erik Rupp on Apr 10, 2011 2:22:41 GMT -5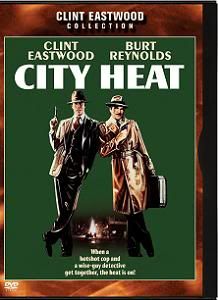 Pairing two of the biggest box office stars of the previous decade seemed like a no-brainer. The fact that it took until 1984 is what makes City Heat so interesting.
Never mind the fact that it is an entertaining movie (not a great movie, but an entertaining one), but the fact that Burt Reynolds' star was already on the wane by the time City Heat came out shows that this pairing would have been bigger finanically 3 or 4 years earlier. By the time smart Hollywood producers finally paired Burt up with Clint Eastwood it seemed like a bit of a Hail Mary on the part of Reynolds and his people. Reynolds' recent movies had seen a pattern of declining box office numbers, and pairing him up with the reliable Clint Eastwood must have seemed like a great way to shift his career back into high gear.
Reynolds certainly still had great visibility as a high profile movie star, but his choice of movies had been questionable over the previous two years. Sequels to Smokey and the Bandit and The Cannonball Run may have been almost required, but Best Friends, Stroker Ace, and The Man Who Loved Women were all either box office disappointments or flat out flops. Even Sharky's Machine from 1981 was a bit of a disappointment in that respect.
Eastwood, however, was riding his wave of consistently profitable movies. Eastwood had the better box office reputation by 1984, and as such he received top billing in City Heat - even though Reynolds' private detective Mike Murphy has more screen time and seems like more of the central character than does Eastwood's Lieutenant Speer.
But all of that is merely backdrop to the movie itself. While it makes the movie more interesting to watch from a historic standpoint, it certainly doesn't make the movie any
better
.
So does the movie need to be any better? Yes and no.
It
is
an entertaining movie, and it's an enjoyable way to spend 97 minutes. It could, however, have been a better movie.
The basic flaw with City Heat is the basic flaw with a lot of movies - the script. It isn't bad at all, but it does seem like an earlier draft that needs a little more work. Reynold's Murphy comes across at first like a bit of a wisecracking coward. Tough enough to hold his own, but a guy who would run away from a fight rather than face it head on (which is probably true of most people - just not in the movies). But then the character shifts and suddenly becomes tougher and more confident. Almost cocky. Then towards the end he becomes even more of a coward than he was at the beginning. Interestingly enough, both times that his courage seemed to take a vacation were when Eastwood was also on screeen.
When Eastwood's around Reynolds' character loses toughness and courage. It's hard to say without talking to the screenwriters whether that was intentional or not, but that's what ended up on screen. Reynolds becomes a jokester - a wiseguy - when Eastwood is in the scene, and actually asks Eastwood for help in handling the fights. That's the comedy part of this Action/Comedy. Well, a large percentage of the comedy, anyway.
City Heat is, in fact, almost a straight action movie. A lighthearted action movie, but an action movie all the same. Yes, there are comedic moments, but never in a slapstick style. The movie is (mostly) played straight as a 1930's Cop/Detective/Crime movie. It's actually at it's best when the jokes are either low key or left out, and, fortunately, that covers a majority of the movie's running time.
The supporting cast is very good, although some of the characters are written rather two dimensionally (especially the part of Reynolds' girlfriend, played by Madeline Kahn). Richard Roundtree (Shaft) is good as Reynolds' private detective partner, and Jane Alexander is
quite
good as Reynolds' secretary and personal assistant.
Comedic actor Richard Benjamin directed the movie, and actually did a good job overall. The look of the movie definitely captures the feel of the early 1930's, and the camerawork is above average. He had done a fantastic job with the dramatic comedy My Favorite Year just two years earlier, and that movie was also a period piece (in that case the mid 1950's). City Heat would be one of the most dramatic movies he would direct during his career as he spent most of his time directing comedies.
As far as the story itself goes City Heat is fairly solid. It's a story of backstabbing and double crossing, with two rival gang leaders attempting to obtain a set of ledgers that would criminally implicate one of them. And it isn't just the bad guys who are doing the backstabbing and double crossing in City Heat. There aren't any glaring plot holes or twists in the story that don't ring true, so from that standpoint the movie holds up pretty well.
The final grade assigned to City Heat reflects a solid, workmanlike movie that neither excels nor fails in any great way. It certianly could have been better - and probably should have given the star power involved. But it wasn't. Still, it is, as noted, an entertaining movie. Eastwood and Reynolds do have good chemistry together, and they work well as a team. It's just a shame that they were never paired up in another movie (either before or after this one).
The picture quality on the reissued DVD is above average, and it looks slightly better than some movies from that era. Warner Brothers again put out a solid transfer with a clean encoding that has good image detail.
3.5/5