Post by Erik Rupp on Apr 30, 2011 11:14:07 GMT -5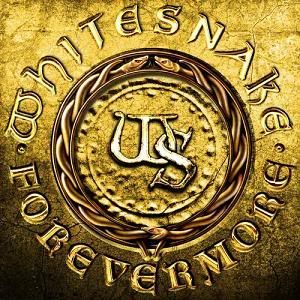 David Coverdale put a new version of Whitesnake together a few years back after more than a decade on hiatus, and the first album with the new line-up, Good to Be Bad, was a decent effort. Of course, it tended to run a little generic - Whitesnake by the numbers, but it was a fairly good album.
So expectations were a little higher for the second album from that line-up (or much of the same line-up, with Coverdale and guitarist Doug Aldrich being the key components).
Forevermore shows that Coverdale and Company have stepped up their game a bit for the new album. No, it's no Slide It In or Whitesnake (1987), but it is a good album and it is better than the last one.
The first thing that stands out on this album is that it is a little closer to Slide it In than the band's 1987 album, with a few traces of the final album from that classic era (Slip of the Tongue). Coverdale seems to have found a songwriting partner that he truly enjoys writing with in Aldrich (Dio, Lion), and their songwriting partnership seems to have matured a bit. The songs on Forevermore have more groove and, on occasion, have more of that early Whitesnake heavy Blues/Rock thing going on than Good to be Bad. There is more of a natural, almost earthy feel to some of these songs, and that's definitely a good thing.
There are plenty of the BIG riffy songs that Whitesnake became best known for in the mid to late 80's present on Forevermore ("Steal Your Heart Away," "All Out of Luck," and lead single, "Love Will Set You Free," lead off the album in patented Whitesnake BIG ROCK style), but there are a few new textures here as well.
"One of These Days," finds Whitesnake channeling mid 70's Eagles, acoustic guitars and all. Hell, this song wouldn't have been out of place on any of the Eagles mid 70's albums. The similarities in style to the mega-selling Eagles is eerie, but somehow Coverdale manages to put his own stamp on it vocally to fit the Whitesnake mold. This is a great song, and it's one of the album's highlights.
Later on, Coverdale brings the acoustic guitar based, slightly Country-tinged ballad in to play with, "Fare Thee Well," which is another change of pace song that works. It's not as good as, "One of These Days," but it is a decent track all the same.
Now, if you're craving more of that Coverdale/Whitesnake funky, blues based Hard Rock magic then, "Whipping Boy Blues," is a track for you. It's got a huge funky groove and some great riffing. Coverdale, of course, manages to put the patented Whitesnake vocal hooks into play to seal the deal. This is another great song.
New drummer Brian Tichy (Billy Idol, Stevie Salas, Vinnie Moore, among others) gets to start off, "My Evil Ways," with a big drum intro (when the album rocks it's always BIG), and the song that follows is yet another very good song in the BIG ROCK mode. The band sounds like a band throughout, but nowhere on the album is that more evident that on this track.
Also in the band are guitar player Reb Beach (Winger, Dokken), and bass player Michael Devilin. The only disappointment on the album is that Beach (a great player and solid songwriter) didn't get to contribute more. Beach's short tenure in Dokken resulted in one of that band's better albums (Erase the Slate), and that was due in large part to Beach's songwriting contributions.
Still, Coverdale and Aldrich did manage to come up with plenty of strong material on Forevermore, including the epic seven and a half minute title track. "Forevermore," starts out quiet and placid, with Coverdale singing over acoustic guitars and synth strings before shifting into Zeppelin/Kashmir territory about three minutes in. "Forevermore," while similar to, "Kashmir," in some respects, is clearly not a direct rip off or even creative borrowing. It's just in a similar style. It's a great way to end the album.
Unless you've got the special edition of the album, which features three bonus tracks (and a separate DVD).
The first bonus track is a remix of, "Love Will Set You Free." More often than not a remix won't sound all that different from the original version. It may be an improvement, but in most cases any given remix is still not that different from the original. In this case the guitar parts are reversed. The main guitar part is played a little differently. It's a different performance altogether from the main part in the original mix. Actually, upon further listening the two guitar parts may be in both songs, but the main guitar part from the remix is very low in the mix of the original (just there for texture and fullness). This gives the song a whole new feel. Instead of the BIG late 80's/early 90's kind of thing we get a 70's meets mid 80's kind of feel. It's more Slide it In than the Slip of the Tongue, making it a very worthwhile inclusion.
The acoustic remix of, "Forevermore," is similarly different from the original, but in this case it sounds a little more out of place, and a bit empty - as if something were missing. It still sounds
fairly
good, but not quite right.
The, "My Evil Drums," remix of, "My Evil Ways," is pretty pointless, though. The drums are a little more prominent in the mix, but overall the difference isn't very noticeable at all.
So is Forevermore up to the standards of the Slide it In - 1987 era? It's close,
very
close. Not quite there, but considering that we're now a quarter century removed from that era it's truly impressive that Coverdale could put together an album this good.
4.25/5