Post by Erik Rupp on Jun 25, 2011 20:44:24 GMT -5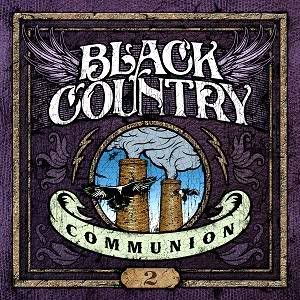 Hot on the heels of their 2010 debut album comes the second album from the latest Rock, "Supergroup," Black Country Communion. Rarely these days do we see any group put out two albums within twelve months of each other, but BCC has done just that. Actually, they've put out two albums only
nine months apart
! And even more than that, they've put out two phenomenal albums within that span.
I don't know what lit a fire under Glenn Hughes, but all of a sudded he's working his ass off to write and record new music. It's not like he's been sitting around for the last 20 years as he has put out several solo albums, but since getting together with Joe Bonamassa, Jason Bonham, and Derek Sherinian it seems like he's actually having a lot of fun and wants to work on new material as much as possible.
The first Black Country Communion album was a perfect distillation of various 70's Rock styles and vibes, including Deep Purple (of course, with Hughes spending a few years in that band), Led Zeppelin, and Bad Company. There was a slight updating to the new century for that style, but by and large it was a real retro album. And a great one at that.
So for the new album, 2, what we get is more of the same only this time it's a little more updated to the new century, taking in elements from the 80's, 90's, and 00's and adding them to the mix. And without exception it works. Because of the wide range of styles and elements from several decades Black Country Communion 2 is timeless.
Right out of the gate the band lets it rip with the riffy, "The Outsider," which almost sounds like something that New York band ZO2 would write and record for their next album. It's a burst of energy with it's ever so slightly bluesy riff. But the best riffs in the world can't save a song if the vocal melodies aren't any good. Fortunately, the vocal melodies here (as on the entire album) are great. Hughes has long been known as a great songwriter, especially when it comes to vocal melodies with strong hooks (and, at the same time, some substance to go with them). Nothing has changed in that regard - Hughes' songwriting is excellent on all counts, including this uptempo opening cut.
Following that the band gets ever so slightly funky (and moody) with, "Man in the Middle," a song that finds the middle ground between Deep Purple's funkier Burn/Stormbringer styles and Led Zeppelin's Physical Graffiti era style. Added to the mix is a real Steven Tyler-esque choppy/staccato vocal melody in the verse (and, hell, it's Tyler-esque throughout for that matter). This is more great stuff.
Then Joe Bonamassa starts strumming an acoustic guitar in a Page-esque style before being joined by Sherininan on his Hammond organ on, "The Battle for Hadrian's Wall." Bonamassa's vocals on this track are very Paul Rodgers-like, and the song's dynamic twists and turns are stunning. It is a truly great song. Jason Bonham really gets to shine on this one as well.
Then the spotlight gets turned on Jason Bonham. Not necessarily for his playing, but for his songwriting. "Save Me," is a track that Bonham started writing while he was working with Led Zeppelin for their recent reunion show (and rehearsals for their aborted, never announced, but should have happened tour). Hughes, Bonamassa, and producer Kevin Shirley helped Bonham complete the, "Kashmir," type song. This is yet another great song that is played with style and flair by a band that clicked from day one.
"Smokestack Woman," is another big, riffy song with some solid vocal melodies. Joe Bonamassa plays some fiery leads on this one (as he does on much of the album), elevating his game from the fine work he did on the debut. As with all the previous songs, this is a great song that sounds both retro and fresh at the same time. The chorus hook sounds fairly 80's in style, but in an 80's doing the retro 70's style kind of way. There's something here that is vaguely AC/DC-ish about the song without sounding like AC/DC.
And there's something vaguely Grand Funk Railroad-ish about, "Faithless," without the song really sounding like GFR. I think it's the riff that surrounds the vocals in the verse. It's very much like Red Album or E Pluribus Funk like in it's slower, near funk style. The rest of the song retains that vibe and feel, but not the style. This is the first song on the album that is merely good. If this is the weak link on the album then this is a phenomenal album.
"An Ordinary Son," is a moody track, and a well written one at that. But at eight minutes in length it does get just a little tedious. So maybe the last song wasn't the weak link. This one is slower and mellower while also being less dynamic. Still, it's not a bad song at all, just not as good as the rest of the album.
Deep Zeppelin returns on, "I Can See Your Spirit," a much livelier song than the previous two. Imagine John Paul Jones and Jimmy Page writing a riffy, fairly uptempo song with Jon Lord and Glenn Hughes and you pretty much get a good idea of what this one sounds like. Very 70's. And very, very good (pushing greatness, and maybe even getting there depending on your tastes).
At this point we get a Blues interlude in the form of, "Little Secret," but there is no secret here. Hughes sings in a more melodic (and fairly mellow) style in the verse than you'd hear on most Blues songs of this type. It's fairly effective, and musically this song really works well. Joe Bonamassa, being best known as a Blues/Rock guy really gets to show his bluesy playing here. Good song, but not great.
Now imagine Stevie Ray Vaughan taking Tommy Bolin's place in Deep Purple for the Come Taste the Band album, and you've got a starting place for, "Crossfire." But from there you've got some late 70's and early 80's Genesis influences, along with some straightforward 80's Hard Rock styling as well creating a pretty tasty sound. This is another very good track, one that showcases the classy style that Black Country Communion plays.
The album closes on a mellower, moodier note with, "Cold," a song that again dips into the Blues for influence, but less so for actual style. This is a fairly dark track with some decent dynamics, but more importantly it is well written. Of course, like the rest of the album it is played with utter conviction and it shows just how much this is a
band
as opposed to a group of fairly well known musicians who just happened to get together.
With Black Country Communion 2 the whole is greater than the sum of the parts. Yeah, a couple of the songs are merely good, but a majority of the songs are either very good or flat out great. The album starts off on a run for the first five songs like few albums ever have been, but it does fall just a bit from there (from great to very good). Still, this is an album of extremely high quality when it comes to the songwriting and performances. As far as the sound of the album goes the audio production is a little sharper than on the first album (there are more high mids in both the guitar and snare drum, making for a crisper sound overall).
If this is the kind of thing that Black Country Communion can put out just nine months after their debut album then I hope that the band cranks another album out for 2012.
4.5/5