Post by Erik Rupp on Jul 17, 2011 18:33:30 GMT -5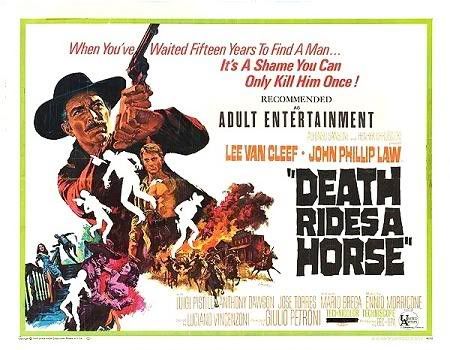 Good old Lee Van Cleef.
Some actors toil away in anonymity for their entire careers. Hell, most actors never get paying work! Lee Van Cleef was one of those actors who did get work, but never in a role that got any significant attention. Well, not until he went to Europe fifteen years into his career to make Sergio Leone's second Western,
For A Few Dollars More
.
That film finally got Van Cleef noticed. He had been in several movies and had guest appearances on several TV shows prior to that, but it was For A Few Dollars More that put Lee Van Cleef on the map. His next film cemented his reputation and made him something of a star -
The Good, The Bad, and the Ugly
. Lee Van Cleef had a presence on screen that was undeniable. Even though he looked ten years older than his real age Van Cleef had a commanding presence that could be captivating. He could command the screen - even while standing next to Clint Eastwood.
It's no small wonder, then, that after his success in those two Spaghetti Western classics that he continued to work in Italy and Spain making Westerns in between the work he found in Hollywood. One of the Westerns he made in Europe was
Death Rides A Horse
in 1967. It would come to be considered one of the better Spaghetti Westerns, but after lapsing into the public domain the owner of the best print of the film in North America (MGM) showed little interest in releasing an official DVD of the movie domestically. Dozens of cheap public domain DVD's (of rather poor quality) showed up - none of which had picture and sound quality worthy of the movie itself. They were all cheap, poorly mastered/authored, and barely watchable (and some were so bad that they weren't watchable at all).
Finally, in 2011, an independent company has released a fantastic DVD for
Death Rides A Horse
. Wild East Productions, known primarily for relasing high quality DVD's of Spaghetti Westerns, has released what is by far the best DVD version of this movie to date. The care put into this release is clear.
But just how good is the movie, really? Is it as good as it's reputation? Or did that reputation just grow due to the scarcity of watchable sources?
It's every bit as good as it's supposed to be.
Now,
The Searchers
, this is not. But what it
is
is a well above average Spaghetti Western with a solid story, a decent script, and another commanding performance by Lee Van Cleef. Joining him in this tale of revenge is John Philip Law, who gives a passable performance in the movie as the youngest member of a family attacked and murdered in their home by a group of four outlaws. He just managed to hide in time to avoid getting killed along with the rest of his family. While his house is burning down around him he is rescued by a mysterious stranger, leading to a lifetime of training for vengeance.
Fast forward fifteen years and a man named Ryan is released from prison. His first stop is the home of the young man who hasn't forgotten for one second what happened to his family. This would only be the beginning of their interesting relationship, as they would both be hunting down the same men, but for different reasons. Ryan was in prison for a crime committed by those men, and he wants payback - in cash. Bill, the young man out for vengeance, just wants those men dead, which puts him in conflict with Ryan who needs them alive to get the cash he feels he is owed for the fifteen years he spent in prison for their crime.
And that is the crux of the movie - both men want payback, but one wants them alive, while the other wants them dead.
It's a fairly simple premise, and there is nothing groundbreaking or revolutionary about the story, but it's well told both from a screenplay standpoint and from a directorial standpoint. The script has several witty or clever lines, and the story development is well handled. The direction by Giulio Petroni is better than average for a Spaghetti Western, and features several well shot scenes. Special mention should also be made for the score by Ennio Morricone, who had a long and illustrious career (starting with Sergio Leone's Dollars trilogy). While it can occasionally be heavy handed (there are moments that call for no score at all, but feature some noticeable music), Morricone's score is, more often than not, memorable and adds to the mood of the movie.
Spaghetti Westerns were best known for the level of violence in those movies, and
Death Rides A Horse
certainly has it's share. But while there is plenty of action and plenty of gunplay, this is a halfway restrained Spaghetti Western. The focus is on the story first, and then the action.
While not as good as Leone's Westerns, it is among the upper echelon of European made Westerns, and holds up very well against
most
Hollywood Westerns. And it's just a very entertaining movie.
As for Wild East's DVD, it is a thing of beauty. There are only a few moments of dust specs and print damage. For most of the movie the print is pristine. The clarity is excellent as well - there are almost no cases of compression artifacting, and almost no edge enhancement noticeable at all. This is a well mastered/authored anamorphic widescreen DVD of a very good print (most of it is excellent, but there is one brief period where there are specs and minor print damage). As far as the audio goes it is also crisp and clear, and sounds very good for a movie from 1967.
Add to all of that some nice extras - the theatrical trailer, two original TV spots (how they found those I'll never know), a picture gallery, and an audio interview with co-star John Philip Law (which is a hoot to listen to - he's got a lot of personality).
To say that this is far and away the best DVD release for
Death Rides A Horse
would be a huge understatement.
If the only Spaghetti Westerns you are familiar with are the Leone/Eastwood films then this would be a great second stop to make.
Death Rides A Horse
is well worth watching for any Western fan, and this DVD is the only release of the movie worth owning.
4.25/5