Post by Erik Rupp on Jul 23, 2011 19:26:34 GMT -5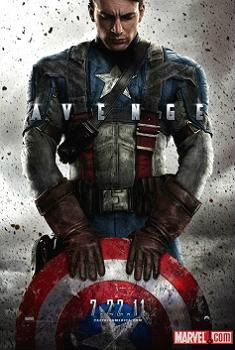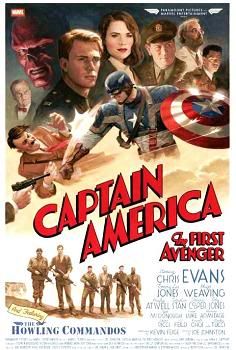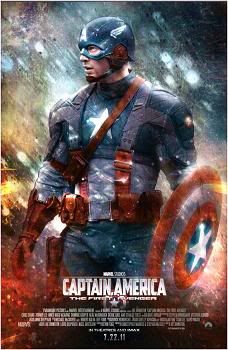 Is it too early to pick the best movie of the summer? Because even if it is I'm making that call now anyway, and that call goes to Captain America: The First Avenger.
In a summer filled with comic book superhero movies the best of the lot is easily this one. I don't know if it's the World War II setting, or the characters that are a little more human and bring more drama to the table, or if it's just a really well written script played out by a great cast and an experienced director, but whatever factors are involved Captain America: The First Avenger works, and it works very well.
Chris Evans, perhaps best known as Johnny Storm (the Human Torch), takes the role of Steve Rogers and makes it his own. Evans tones down the exuberant, playful humor he showed in The Fantastic Four, and turns up the pathos as a scrawny young man who just wants to help stop the bullies (the Nazis) who are rampaging through Europe. He knows a thing or two about being bullied, and he wants to stop the biggest bullies of them all. Even after successfully becoming a Super Soldier though an experimental treatment he is still the same person at heart - a good man who wants to do the right thing. Evans could easily have made it cheesy or tongue in cheek - there were a million possible missteps, but he rarely makes a single one of them.
Even with a mediocre cast supporting Evans this could have been a very good movie. Fortunately, the cast isn't mediocre at all - it's excellent. Hayley Atwill as agent Carter (and Steve Rogers' would be love interest) is outstanding (charming, attractive, and tough when necessary), and Tommy Lee Jones as Colonel Phillips (the man in charge of the Super Soldier program until it gets sabotaged) brings the needed humor to the movie without going overboard.
The Matrix' Hugo Weaving brings the appropriate menacing (and amoral) tone to the part of The Red Skull, a man working for the Nazis, but who has plans of his own. His performance is spot on for what the movie needs.
As for the direction, Joe Johnston (The Rocketeer, Jumanji, Jurassic Park 3) really did a fantastic job. The look of the movie fits the times - it looks and feels like the 1940s - without looking dated. It looks like a modern movie, but it also looks like something out of the World War II era (if they had this kind of technology to work with). Johnston gets the tone dead on, but he also helps create a pacing and an atmosphere that is exactly what the story needs. His eye for visuals is also quite good, and his experience in big budget movies shows.
The special effects are excellent as well - with only one exception. Digitally superimposing Chris Evans' face over a smaller actor works extremely well at times, but some of the shots look off. His jaw suddenly becomes more sunken, as if the proportions on his head and face shift. This bit of special effects is hit or miss (it either looks totally real or obviously fake), but other than that the effects in the movie are stunning. And the action sequences are played out very, very well.
So what we've got here is a drama, an action movie, a comic book superhero movie, and a World War II movie all rolled into one cohesive, well told story.
Well done. Very well done. This is one heck of an entertaining film. Don't miss it.
4.5/5