Post by Erik Rupp on Sept 3, 2011 11:37:12 GMT -5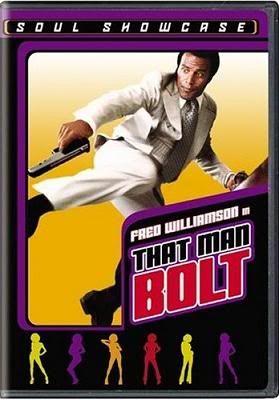 That Man Bolt was released in 1973, the height of the Blaxploitation movement/genre. Like any other movie genre, the Blaxploitation movies had their highs and lows. Most of them were made on the cheap, but some had bigger ambitions.
This is one of those movies with bigger ambitions. It's still a relatively low budget movie, but it's clear to see that the producers and director had a combination of a tough, street smart private detective and James Bond in mind when they made this one. Jefferson Bolt, played by Fred "The Hammer" Williamson, is that tough, street smart private detective (and a very cool dude). Actually, his job description is that of a courier - but he transports high value items as the best courier in the world. If you need to get something valuable somewhere he's the one who will make sure that it gets there.
But as he is double and triple crossed in this movie he takes on the role of a detective, trying to find out who set him up and why.
This isn't a great movie, but it is an entertaining one. And it's not bad, either - it's got a fairly decent script, and the movie is actually pretty well directed (with both Henry Levin and David Lowell Rich getting credit as the film's directors). There are some good fight scenes, and one hell of a car chase scene through the streets of Los Angeles.
The combination of Blaxploitation, Martial Arts, and James Bond type spy genres could have made for one big, convoluted mess, but instead the movie is actually fairly cohesive. The producers do some nice globetrotting as it opens in Hong Kong (with location shooting actually in Hong Kong), and it has locations is Los Angeles and Las Vegas as well.
The cast isn't exactly Oscar worthy, but they get the job done (Williamson is extremely charismatic, making up for some of the less than stellar performances from some of the other cast members). No one in the movie is all that bad, but no one is all that great, either. The movie's sense of cool makes up for that, though.
That Man Bolt isn't the
best
Blaxploitation movie, but it is one of the better examples of the genre/movement. It is a diverting and entertaining hour and forty-four minutes.
Like the movie itself, the DVD from Universal is solid, but not award worthy. The picture quality is fairly good, but a tad grainy and occasionally a little soft. Still, for a movie that's nearly forty years old it looks more than acceptable.
2.75/5