Post by Erik Rupp on Oct 9, 2011 21:14:04 GMT -5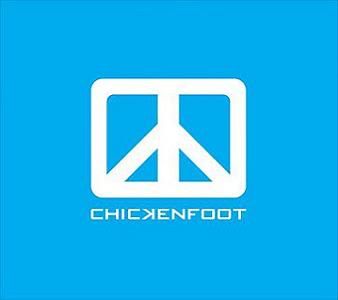 No, you haven't missed anything. Chickenfoot III is actually Chickenfoot's second studio album. It's all part of the wacky world of Chickenfoot.
I mean, with a name like Chickenfoot they have to do things differently, right?
Anyway, it would seem that the last couple of years have been really good for the Hard Rock supergroup. Both Chickenfoot and Black Country Communion have put out good albums (in BCC's case, really, really good albums), and they've put them out in short order.
So with the first Chickenfoot album being good, but slightly disappointing (with a line-up including Joe Satriani, Sammy Hagar, Michael Anthony, and Chad Smith expectations were, understandably, extremely high), would their second album live up to the talent involved?
Almost.
Which, actually, says a lot about how good Chickenfoot III is. At times.
They should be that good consistently, and maybe if they took a little more time in the songwriting and pre-production stages of making their albums they would be.
"Last Temptation," certainly starts the album off on the right foot. It's a very good song with some decent dynamics that build through the verse into the chorus. It's fairly memorable and rocks fairly hard, and that's certainly a good sign. Even so, it's a bit disconcerting that the lead track is merely good. OK, very good. Is this really the best song they could find to open the album? Really? I can't help but think that they have the talent to come up with something even better - something that jumps out and grabs you by the throat. This one doesn't quite do that. It's close, but not quite there.
They quickly take a bit of a left turn into Stones territory with the second song, "Alright Alright," which is another
good
song. It's interesting to hear Satriani playing some Keith Richards-like rhythm guitar parts in the verses. The song really is
alright
. Maybe even good if you want to press the point. But it isn't earth shattering, and it certainly isn't anything to write home about. It's just alright.
Which is more than can be said for the next track, "Different Devil." This one is just mediocre. It's not a ballad, per se, but it's a moody, laid back Rock track. Too laid back for it's own good. It's OK, and that's about it. From another band with lesser expectations this one might be acceptable, but on an album from a band with these credentials? When you're saying that a song is just, "OK," that's more than a bit of a disappointment.
"Up Next," is a lot more of what many people expected Chickenfoot to sound like in the first place. It's a lot like Roth era Van Halen, but it also has some Satriani-isms as well as some new elements. The basic feel of the thing really has that classic VH feel, though, and that's what a lot of people were hoping for, even though VH's main men have nothing to do with this band. Michael Anthony's backing vocals certainly help bring the VH sound to the fore, but Satriani's riffs and Smith's drumming are also just right for the song. This is a strong, strong song.
The last thing these guys need to do is, "Lighten Up." Fortunately, this song doesn't. It may not be Balls to the Wall, but it hits fairly hard all the same. It's also fairly well written and performed with authority and enthusiasm, making it one of the album's better songs. Two top notch songs in a row - things are looking up, right?
Unfortunately, the same cannot be said (top notch song) of the run of the mill, "Come Closer," which is a dynamic, mellow-ish, laid back 70's Rock kind of song. It's fair, but lacks a spark.
The term that comes to mind when listening to, "Three and a Half Letters," is heavy handed. Sammy reading letters supposedly from guys who have struggled to find work in the current state of the economy may have been intended to be thoughtful and caring, but the simplistic execution of the song ("I need a job!!!!") really is heavy handed - and somewhat uncomfortable. Maybe that was the intent, but it makes for less than entertaining listening. Musically the song is ok, but because of the structure of the the verses (no vocal melody, just Sammy reading the letters) it ends up lacking as a real song. Nice sentiment, poor execution.
"Big Foot," is another song that sounds exactly like what you'd expect this group to sound like from day one. A fairly staccato riff, a killer groove, and some good vocal melodies make this one one of the album's better songs. If there were more songs like this one, "Lighten Up," and, "Up Next," maybe this album would have met the rather high expectations that the band built up prior to it's release.
Middling as it is, "Dubai Blues," is another good track on a good album. It's a little bluesy, a little heavy, a little like OU812 era Van Halen, and probably one of the middle songs on the album. Better than some, not as good as others. It's a mid tempo track that has a decent chorus hook and some decent riffs, but it's not great. It's just a good song, which can (again) be considered underachieving from this group. Still, this one is worthy of inlcusion, even if just barely.
A little dobro comes in with, "Someting Going Wrong," which, again, is less than fantastic. It's a good ballad, but nothing terribly special, which explains the continued disappointment with Chickenfoot overall (and Chickenfoot III in particular). Good songs with a couple very good songs mixed in isn't what people are hoping for when a band like Chickenfoot is formed. They want something that stands up to each member's best material from the past, and on that count Chickenfoot and Chickenfoot III fall short.
The album again gets heavy handed politically with, "No Change," (a, "Hidden," track), but musically this one is really good, and a great way to end the album so the, "They lied about this, they lied about that," kind of lyrics aren't fatal for the song. This is a high octane, high energy song that brings the album to a close the way Rock albums should be closed - with a bang!
So what do we have with Chickenfoot III? A good album? Yes. A great album? No. It's inconsistent and really needed more time and care put into the songwriting. The audio production and mix are fantastic, but the songs themselves range from very good to mediocre. Fortunately more of them are very good than mediocre, with is what keeps this thing from being a total disappointment.
If you take the best 12 songs from both Chickenfoot albums you'd have a great album. There's no doubt about that. But like Metallica's Load/Unload albums those songs are spread over two albums making for two far less satisfying albums.
But in Chickenfoot's case the albums are still fairly satisfying on their own, even if less so than they should have been.
3.75/5