Post by Erik Rupp on Dec 30, 2011 0:15:09 GMT -5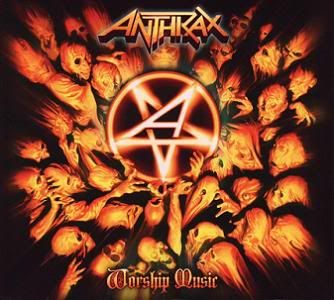 When lead singer Joey Belladonna left Anthrax (or was shown the door) following the tour in support of their 1990 album, Persistence Of Time, it didn't seem likely that he'd be back in the band any time soon. His first solo album was filled with several songs bashing his former bandmates, and for their part the remaining Anthrax guys took a few shots his way as well.
It was the typical Rock and Roll breakup.
But, still, a lot of people felt that Belladonna belonged in Anthrax, and that Anthrax needed Belladonna. A successful album with former Armored Saint lead vocalist John Bush was followed by a succession of albums that were ambitious, but not as accessible as the Belladonna era, and not even as much so as the first Bush era 'Thrax album, The Sound of White Noise.
A brief reunion tour several years ago promised the possibility of a new album with the classic line-up, but it was not to be as old conlficts resurfaced (again, the typical Rock and Roll interpersonal drama).
But after John Bush left the band for good, and his replacement was a complete washout, the band and Belladonna did an amazing thing - they worked out their differences and agreed to peacefully co-exist together.
The result? Worship Music. The first Anthrax album with Joey Belladonna in over twenty years. That makes for quite a build up and a lot of anticipation.
From the beginning it is clear - this is old school Anthrax. Drummer Charlie Benante shows that he hasn't lost a thing with his lightning fast, almost mechanically precise double bass drumming and Belladonna sounds almost as strong vocally as he did back in 1990. The band's chant/shout backing vocals are back (and fairly prominently on some songs), making for a great case of nostalgia.
But Worship Music isn't just about nostalgia. It's also about cranking it up, and playing some of the heaviest Metal around (well, some of the heaviest Metal with solid melodies and non death metal vocals). Worship music is filled with good, occasionally great, riffing, great drumming, and memorable vocal melodies and hooks. No, this isn't as good as Spreading The Disease, nor is it quite as frantic and heavy as Among The Living, but the album is heavier than Disease, and has better melodies and hooks than Living.
So where does this album fit in among the pantheon of Anthrax classics? Somewhere in between Among The Living and State Of Euphoriz. Stylistically, quality wise - everything - right in between the Disease/Living duo and the Euphoria/POT duo, which makes this thing as comfortable as a well worn pair of Levis 501's. Beyond the comfort and familiarity there are some really good songs on display.
"The Devil You Know," is a great, great song that fits in with the very best of Anthrax's classic material, and, "Fight 'Em 'Til You Can't," is darned near as good. "I'm Alive," has a bit of a bounce to it (kind of like Master of Reality era Black Sabbath), and it's a solid song, while, "In The End," sounds a little closer to some of the Bush era material when the band got more melodic (and while End is good it's not exceptional in any way).
"The Giant," is midtempo for Anthrax, which is to say it's uptempo for standard Heavy Metal bands. It's OK. Nothing special, but it works in the context of the album and makes for a fairly solid album cut. "Judas Priest," doesn't sound much like the band of the same name, but it does have a very good pre-chorus and chorus (even if the rest of the song is just fair).
"Crawl," is a dynamic piece, much like a MetalliBallad, but with a serious Anthrax spin. There are bits of King's X showing in spots on this one, and it's another solid, if unspectacular, song. "The Constant," starts with a great riff which leads into a song that brings the album closer to the quality of the first few tracks. This is a legitimate mid-tempo song with the usual Anthrax changing of tempos midway through.
The album closes with a (somewhat) thrashy piece in, "Revolution Screams," which is another above average track that doesn't quite hit the high end of the band's catalog.
Well, the album almost closes on that one, there is an unlisted bonus track tagged on after a couple minutes of dead space. This track is a little riskier, and more modern sounding in some ways, than the rest of the album. The band almost sounds like they had been listening to Rage Against The Machine prior to writing this track. It still sounds like Anthrax, but Anthrax with some newer, more modern elements. It's one of the better songs on the album, actually.
The production on the album is impeccable. It's edgy, fairly crisp, but still fat and fairly warm sounding. In other words, it sounds really good. It is a job well done when it comes to the recording and mixing.
Overall you've got to hand it to these guys. They've come up with a solid, occasionally inspired album that fits nicely into their back catalog. And they sound young and energetic, which makes the whole thing worthwhile. (Some bands can grow and expand their horizons - and Anthrax can too up to a point - but this is a band that is all about energy and heavy musical firepower, and on that count they batted about .800 on Worship Music.)
4/5