Post by Erik Rupp on Sept 20, 2012 14:06:56 GMT -5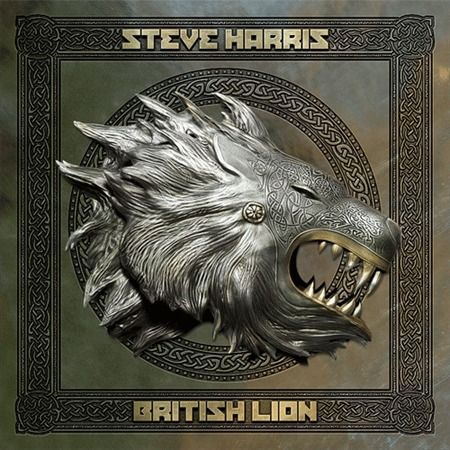 Steve Harris, mainman in the mighty Iron Maiden, thirty-two years into his recording career, has just released his first ever solo album.
Considering the fact that his fingerprints are all over most of Iron Maiden's catalog of songs was there really a need for a Steve Harris solo album? How different could a Steve Harris solo album really be from any of Iron Maiden's albums?
Pretty different, as it turns out, although not in the ways some expected.
Harris is a big fan of 70's Prog Rock bands like Yes, Jethro Tull, and (early) Genesis. Would those influences come more to the font and center on British Lion? Would this be an album where Harris lets loose and writes and records a full blown British Prog Rock album?
No.
On British Lion Steve Harris does his darndest to combine 70's and 80's Hard Rock with modern Hard and Heavy Rock styles. Nowhere on the album is there anything flat out bad. Nothing on the album sucks.
But almost everything is kind of, sort of, middling and halfway bland. It's safe. At times, almost boring (
almost
, but not quite). The only time the album really elevates itself above the average and the ordinary is on a couple tracks where Steve lets his more commercial side loose. He shows that he does actually have some Pop sensibilities, something people previously only attributed to Adrian Smith in Maiden.
Joining Harris (bass, of course) for this album were Rchard Taylor - lead vocals, David Hawkins - guitar & keyboards, Grahame Leslie - guitar, and Simon Dawson - drums. These guys are all very good, solid musicians. Well, with the exception of Taylor, who is barely passable. Taylor's vocals always head towards the smooth, fairly restrained, and melodic style - which would be fine, but he never really goes outside of that comfort zone. He doesn't show the ability that the great Rock singers have to be able to push the vocal harder and to add some growl and some bite to his performances. His voice sounds fairly weak and timid. That's probably because his voice
is
fairly weak, making him timid in his performances. He can give solid melodic performances, but he doesn't seem to be able to really let loose and
command
a song.
As for the songs themselves, well, the album starts out with five straight songs that find a middle ground surrounded by Iron Maiden, 70's Hard Rock, 80's Hard Rock, and Heavy Rock styles from the last fifteen or twenty years. The modern styles seem to get heavier weight in the stylistic mix on these tracks, making this seem less like a Steve Harris album than a new band trying to fit in and please everyone in the Hard Rock community. By trying to please everyone sometimes you end up pleasing
no one
.
"This Is My God," "Lost Worlds," "Karma Killer," "Us Against The World," and, "The Chosen Ones," may differ slightly in tempos and feel, but only slightly. The, "Heavy opening with a moody/mellow dynamic verse, bulding into a heavier verse and then the heavy chorus," thing abounds. None of these tracks have much identity to them, which is odd given Harris' clear signature sound that is so easily identifiable as his when he writes for Iron Maiden. "Lost Worlds," and, "The Chosen Ones," are the closest to consistently rocking of these tracks, but even those still have a middling, safe style. Part of the problem with those songs is that Taylor's vocals sound like they belong in much mellower songs. "The Chosen Ones," for example, could have been a flat out great song, but the vocal melodies are weak. Bland, and lacking in hooks. The first half of the album isn't a failure, but it isn't a success, either.
But then things get interesting.
"A World Without Heaven," is a seven minute song that has the structure of some of Harris' epic length pieces with Iron Maiden, but instead of that heavier style these feature more commercial music and vocal melodies. This one sounds like Harris trying to re-write Ozzy Osbourne's, "Shot In The Dark." (There is even a riff similar to the main riff in that song - very similar.) This is the best song on the album, largely due to the Pop sensibilities that give the song a greater sense of melody. Ironically, this is the closest the album gets to Iron Maiden style-wise, and Harris even plays in more of his signature bass style here (some of the bass licks sound like they could come off a new Maiden album). This song is an unqualified, unquestionable success.
Then comes, "Judas," which sounds like something Steve could have written in 1985 with Bono and The Edge. Seriously, it sounds like an Iron Maiden U2 hybrid. Part of that is the music - a big part, but another part is Taylor's vocal, which is very Bono-esque. He sounds more natural here as the music actually fits his voice, and this is the kind of song that he would be better suited to sing. And it's pretty good, too.
Then comes what sounds like a Steve Harris/Bryan Adams collaboration (circa 1983) in the form of, "Eyes Of The Young," which is one of the best songs on the album in no small part due to the stronger vocal melodies (actual hooks) than most of the more modern sounding songs.
Then things get back to the Godsmack inspired stuff with, "These Are The Hands," which goes back to the, "Heavy intro, mellow-ish verse, heavier bridge, and heavy chorus," formula. Like the first five songs there is nothing terribly wrong here, nothing bad, but there isn't anything particularly outstanding, either.
The album closes out with a mellow, acoustic song complete with strings and piano; "The Lesson." I'd like to say that this is a fine way to end the album; a poignant, touching ending. I'd like to say that, but I can't. It, like most of the album, is just OK for what it is.
Even Kevin Shirley's mix is middling - but that's been his M.O. over the last decade plus, hasn't it? The snare lacks snap on most (but not all) of the songs, and the guitars are overly dry and slightly muddy (again, on most of the songs - except for the two commercial standouts). Nothing new here from Shirley - this is his standard operating procedure. It's like he's been on auto pilot for the last ten years.
Ultimately, British Lion is disappointing in its mediocrity. Not one song on the album is bad. Two of the songs are very good, and a couple are slightly better than average. It's not a failure, but it isn't a musical or artistic success, either.
This one gets an unenthusiastic
3/5