Post by Erik Rupp on Oct 7, 2012 14:38:45 GMT -5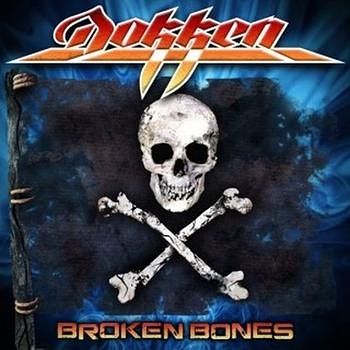 Four years after Dokken's, "Return to form," album, Lightning Strikes Again, they have finally released it's follow up, Broken Bones. Lightning Strikes Again was one of Dokken's best albums, and considering how strong some of their albums are that's saying a lot. The question was, "Can they do that two albums in a row?"
The short answer is, "No," but that doesn't mean that Broken Bones isn't a good album, because it is. It's just not as good as it's predecessor.
Like Lightning Strikes Again (and Hell To Pay before that), Broken Bones features Jon Levin on guitar, and that's a good thing. Levin is every bit as good as original Dokken guitar player George Lynch, and Levin has co-written some fantastic songs just like Lynch did.
Broken Bones starts out with an uptempo Metal song in, "Empire," which is a good, solid Heavy Dokken song. Don's vocals sound a little weak (thankfully aided by strong high harmonies provided by both other band members and former Yngwie Malmsteen vocalist Mark Boals), but the song works very well overall. As usual, Dokken combines heavy music with a very strong sense of melody. This is Heavy Melodic Metal.
Then we get to the title track, which is every bit as good as the opening cut. "Broken Bones," starts off moody with Don singing along with a lightly distorted guitar (no drums or bass), before the band kicks in for the second half of the verse. The dynamics continue as the band heads into the chorus which ramps up the intensity a little further. This isn't a super heavy song, but it is a great example of what Dokken (the band) does so well. "Broken Bones," could easily have fit on their excellent 1994 album, Dysfunctional.
Then Don and Company get into a good, almost funky, groove with, "Best Of Me." Again, there are dynamics at play here, as the verse isn't as heavy as the intro (which is repeated post chorus), but this is a damned good song, just like the two that precede it. The chorus itself has the kind of melodic sophistication that set Dokken apart from the average 80's, "Hair band," out of Los Angeles.
All of the first four songs on the album were co-written by Don Dokken and Jon Levin. The fourth being, "Blind," a mid tempo Heavy Melodic song - and another that would have fit nicely on Dysfunctional. By this point in the album it's clear that Don isn't trying to do what he (successfuly) set out to do with Lightning Strikes Again - recreate the classic 1980's era Dokken sound. This is the darker, moodier, earthier version of Dokken that emerged in the 1990's. And that's a good thing, as each Dokken album from Dysfunctional forward had several great songs (well, excluding Shadowlife, which was a failed attempt to reinvent the band as one of the many from Seattle, at least musically).
"Waterfall," is the first Don Dokken solo-penned song, and it touches on that Shadowlife type 1990's Seattle-ness, but guess what? It works. It isn't the same 4/4 (snare on 2 & 4) beat. The riff is written to be played differently, and the whole thing is beautifully dark. The melodies are beautiful, but fairly dark. This is a great song, and one for which Don should legitimately feel some pride.
Mid tempo seems to be the rule for most of the album once you get past the opening cut, and, "The Victim Of the Crime," is no exception. This one starts with a slight Middle Eastern flavor, and remains moody and dark throughout. It is also dynamic and melodic, like most of the album. This isn't quite as good as the five songs that came before it, but it is still a very worthy album cut. And it is yet another Dysfunctional-esque song.
"Burning Tears," is, basically, a Power Ballad (and a decent one), but as a song it isn't up to the standard set by the first six tracks on Broken Bones. It almost seems obligatory. Not bad, but not an album highlight by any stretch of the imagination.
Now to follow up a Power Ballad with a full blown acoustic ballad is pretty ballsy for a Hard Rock or Heavy Metal band, but that's just what Dokken does here as they follow up, "Burning Tears," with a cover of Jefferson Airplane's, "Today." Interestingly, the Dokken version sounds a little more melodic. Of course, having been recorded over forty years later the Dokken version sounds bigger and fuller (not just because of the technology, but because of the emphasis on the 2nd acoustic guitar part playing full chords to fill out the sound). This is a good song, but just a little out of place on the album.
And then, "For the Last Time," starts out mellow, with a clean guitar part. But quickly Dokken rips into a more traditional song, this one being the second uptempo song on the album. Being Dokken, however, things don't remain static as the second verse starts off like the beginning of the song, only with a mid tempo drum beat behind it. This is another strong song as Don and Jon Levin collaborate on yet another song that marries heavy music with pleasing melodies.
Even further back to classic Dokken styling is, "Fade Away," which starts out with a riff that sounds like something George Lynch would have written in the mid 80's. The song is (surprise) dynamic with a mellow-ish verse, and a heavier chorus. This one is good, but not as good as the first six songs.
For the final song on the album Dokken lets it rip like they did on, "Empire," to open the album. "Tonight," is an uptempo song with a lot of energy and melody to match the energy level. It's a very good song and brings the album to a close in fine style.
Not only are the musical stylings of Broken Bones different from Lightning Strikes Again, but the production and engineering style of the album is different as well. The guitar tones are warmer and earthier, and the mix is smoother than the crisp 1980's style mix of Lightning Strikes Again. Long time studio collaborator Wyn Davis (who also worked extensively with Dio over the last 15 or so years prior to Ronnie's death) only worked on the acoustic song, "Today," and in his place Don brought in Darian Rundall to record the album and Bob St. John to mix it. The difference shows. Both albums sound good, and both mixes suit the songs extremely well.
So is Broken Bones worthy of the Dokken legacy? Absolutely. This is a very good Dokken album, one that holds up well against anything in their catalog. Broken Bones falls squarely in the middle of the Dokken catalog quality wise, and considering that they only have one dud out of all their studio albums that's saying a lot.
4/5