Post by Erik Rupp on Oct 20, 2012 3:39:36 GMT -5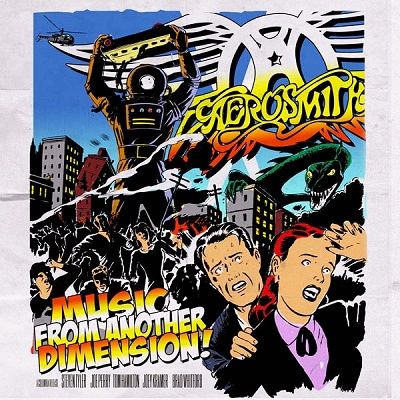 Dimension, a true team effort "hammered out with everyone in the room," recalls 1976's landmark Rocks, Joe Perry says.
Ummmm....
No.
Not even close.
In reality Music From Another Dimension actually recalls two more recent Aerosmith albums, Get A Grip and Nine Lives. Both have some good songs (a couple are
very
good, bordering on great). But both also have more than their share of crap and utterly sappy, saccharine sweetened ballads.
Music From Another Dimension has a couple good songs, a couple decent songs, and a bunch of Pop/Rock or sappy ballad crap. For an album that was supposed to see Aerosmith moving closer to their mid 70's heyday in terms of musical style this is an amazing, gargantuan letdown. The air wasn't let out of the balloon slowly. No, Aerosmith instead pumped it up and overinflated it so much that it would explode as soon as Aerofans heard it. But this isn't a good explosion (like an explosion of excitement). No this is a bad explosion, like having all your hopes and dreams dashed by the most ruthless Lucy holding that football that Charlie Brown never gets to kick. This is an overinflated balloon that popped (loudly) in our faces.
At this point it seems clear, even with classic Aeroproducer Jack Douglas on board Aerosmith is no longer
that
band. They are no longer the gritty, nasty, hard rocking band that took no prisoners musically. Nope. They are now just a bunch of senior citizens who only
occasionally
work up the effort and energy to actually,
you know
- ROCK!
With a whopping six ballads Music From Another Dimension is a crushing blow to those (myself included) who had hoped that we'd hear something along the lines of Pump or Get A Grip meets Rocks & Toys In The Attic. Getting Get A Grip meets Nine Lives, instead, is a huge disappointment given the buildup and the hype leading up to the album's release.
But is it really that bad? Sort of.
The Rock songs that were supposed to be in the vein of Rocks and Toys In The Attic aren't. They're very much like the rockier songs that Aerosmith has written over the last twenty years. Only maybe not as good.
And the (many) ballads? Some are OK, with more of a mellow Rock vibe, while others are just Pop ballads played by a Rock band. Hell, there's even a duet between Steven Tyler and Carrie Underwood on this album! That's the kind of thing you'd expect from a Steven Tyler solo album, not an Aerosmith album.
OK, let's be fair about the album. Are the songs really that bad for what they are? Or is it really a case where long time Aerosmith fans will view the album as a failure solely because it isn't Rocks In The Attic? Giving the album another listen I honestly believe that it's more of the former than the latter, but let's go over some of the songs in detail to find out...
"Luv XXX," which is sung in the song as, "Love three times," isn't a bad song at all. It starts out with a, "Detroit Rock City," - esque intro, sort of. It's a take-off on the opening to The Outer Limits TV series, and is actually pretty cool. The song itself is actually pretty good. It sounds like something they may have written in between Pump and Get A Grip if they were trying to write something similar to the Toys In The Attic/Rocks style. It's more Pump/Get A Grip than Rocks or Toys, but it does show the band trying to get back into that old state of mind musically. It's not a great song, but on first listen it is pretty good. On subsequent listens the songs turns out to be a grower, becoming more enjoyable the more you listen to it.
Now, hearing this song on the heels of the pre-release hype a fan of Aerosmith's 70's albums would have to feel pretty optimistic about the rest of the album.
The second song, "Oh Yeah," definitely keeps those spirits and optimism up. While it's more 70's Rolling Stones than 70's Aerosmith it is a good song, and it is gritty Rock and Roll, matching the attitude they said that they brought to the album. Two songs, two winners. (Not overwhelming winners, but winners all the same.)
And then 1990's era Aerosmith rears it's ugly head and doubts start to creep in. "Beautiful," has a very dischordant riff in the verse (if that can be called a riff, it's more strumming dischordant notes as a chords than an actual riff), and the chorus is pure 90's Aerosmith - the kind of stuff that has been alienating fans of their 1970's albums for years. It's not horrible, it's just not very good. The chorus is actually the best part of the song, even though it is the exact kind of thing that has gotten the band a lot of criticism over the last twenty years. Call this one a draw, a tie. It's not a winner, but it's not a loser, either.
Do they redeem themselves on the next song?
No. "Tell Me," is the first of many ballads on the album. Yes, the first of many. It's OK for what it is, but is it good enough to include on the album over a more energetic (and fun) rocker? No. It pretty much stops the album dead in it's tracks.
"Out Go The Lights," is up next, and this is a Pump leftover (the riff is, anyway). Musically, this one straddles the stylistic line between Classic Aerosmith and, "New," Aerosmith. It's got a good slow-ish funky groove and the riff itself is pretty cool. The vocal melodies that Steven came up with fit in more with the newer Aerosmith stuff than the classics, but it's still a fairly solid song and rocks with some decent intensity. It's above average, but on this album it sounds better than it really is thanks to the song that came before.
Two legitimate
Rock
songs in a row? That truly is, "Amazing." Up next comes the second of those two, "Legendary Child," which was the first single previewed several months before the album's release. With, "Out Go The Lights," and this song they seem to be making an attempt to re-start the stalled engine that Music From Another Dimension has become. This one does have the vibe and style of 70's Aerosmith in spades. This isn't a great song but in the context of the album as a whole it does sound really, really good. Especially after, "Tell Me," just two songs earlier. This is another one of those songs that sounds better after repeated plays/listens. It grows on you. If there had been more songs on the album like this one and the first two they may have succeeded in resurrecting their reputation as a Hard Rock band.
And whatever momentum and good will they may have generated with the last two songs goes out the window as soon as, "What Could Have Been Love," starts. This is another sappy, syrupy, saccharine bittersweet love song/ballad. This is the exact kind of thing that Steven Tyler has been repeatedly criticized for producing on album after album for the last twenty years. Is it good for this kind of thing? Maybe, but it's certainly not a bright shining star among Pop/Rock ballads. This isn't the song that's going to reignite interest in Pop/Rock ballads. Truth is, it's just another ballad - it's mediocre even for what it is, so why put it on the album when their fans want the harder edged Rock of classic Aerosmith albums? Does Steven Tyler really think he's going to sell millions of copies to middle aged women in 2012? Based on the number of ballads on this album he just might, but more on that as the album progresses.
Joe Perry roars back on the next track, "Street Jesus," which sounds a lot like a blending of Rocks, Draw The Line, and Night In The Ruts. Some have compared it to, "Train Kept A Rollin," and with good reason. The only thing is that this song, while perfect style-wise, is merely good. This isn't a great song, and this album, by this point, is in desperate need of a great song - a new classic. However, it is a high energy song and is fun, so it's got that going for it.
And once again they fail to create any kind of momentum on the album as it comes to another screeching halt with, "Can't Stop Loving You," the duet with Tyler and Carrie Underwood. It's a Modern Country/Pop/Rock ballad. Another ballad. Really? It's OK, and if they were going to have two or even three ballads on the album this one would have been a fairly good choice, but with seven or so ballads on the album this song becomes extra annoying in it's cash grabbiness. This is commerce, not art. Odd, then, that Steven Tyler just recently criticized KISS for being more about commerce than art when he's doing the exact same thing, just in a different way.
Now some Aerosmith fans like Draw The Line a lot. I'm not one of them. "Lover Alot," is very much like the songs on that album - noisy, rowdy, but lacking in good riffs, hooks, or melodies. It's a bit of a mess. Again, it's not a bad song (not really), but it sounds like Aerosmith trying to force a song into an old style when the inspiration just isn't there (much like most of Draw The Line was forced when they had to come up with a new album, but were in no shape to make one). Truth be told, even though this song is a bit of a noisy mess it's still halfway catchy and halfway enjoyable in spite of itself. This would be a solid album cut, but they pushed it as a radio track a couple months ago. (Trying to convince the Rock crowd that Aerosmith can still rock, maybe?)
And yet again Tyler and company destroy any momentum they may have built up by throwing in yet another ballad. This one is called, "We All Fall Down," which is one of the sappier ballads on the album. It's kind of disturbing, really, to see how far this band has fallen. This is kind of like when Rex Smith went from hard rocker in his mid 70's band, Rex, and then turned into an Adult Contemporary ballad crooner with, "You Take My Breath Away," only worse as Aerosmith was one of the all time great Hard Rock bands, and Rex was merely a fairly good band that never hit it big. Rex didn't have millions of fans to disappoint - Aerosmith did. The sad thing is that as disappointing as Music From Another Dimension is, it should be a much bigger disappointment for Rock fans. Why isn't it? Because we've been here and done that before with this band. Despite the promises that this time would be different most Aerosmith fans were halfway skeptical. That skepticism was well founded, as we now know.
After Joe Perry's, "Freedom Fighter," we get something that is a true Rock Ballad in, "Closer." Actually, this is less of a ballad and more of a laid back, halfway mellow, moody Rock song up until the chorus. And then the wimpy, Pop artist in Steven Tyler is let loose again. The chorus sounds, "Amazing," and many Aerofans will be, "Crying," when they hear this one. Ugh. Enough already. (Actually, two ballads would have been enough.)
The album closes out with, "Another Last Goodbye," perhaps the sappiest song on the album complete with piano, strings (including a violin solo), and an overwrought Steven Tyler vocal. This song is bad. Really bad - and that's how they want to end the album? What a slap in the face to their long time fans who were told this was going to be a Rock album.
Jack Douglas was brought on board to help recapture their classic vibe. On two or three of the songs he succeeded, but on the rest of it all involved failed miserably because not only does it not recaptue classic Aerosmith, but the songs aren't all that good for what they are.
"The Last Goodbye," might just be the perfect song to close out the album after all. It may just sum up many long time fans' feelings about Aerosmith after hearing Music From Another Dimension.
2.25/5