Post by Erik Rupp on Mar 10, 2013 2:43:05 GMT -5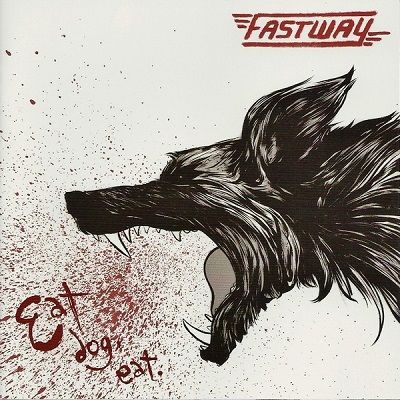 Based on the bargain basement album cover and the last couple of studio albums released under the Fastway band name you wouldn't be unreasonable to think that this album, Eat Dog Eat, isn't very good. It certainly doesn't look like much worth listening to, let alone buying.
But this is one of those occasions where the old cliche, "Looks can be deceiving," turns out to be true.
Eat Dog Eat is good. It's
really
good. Surprisingly,
amazingly
good considering the fact that Fast Eddie Clarke hasn't been particularly busy for the last 20 or so years, and when he has released something (like his solo album from 1993) it hasn't exactly been of the caliber of the music he wrote and performed with Motorhead and early Fastway. Maybe he was saving all his best riffs for this album because it is
loaded
.
This time out Eddie found a singer worthy of the Fastway name. Lea Hart, the singer on 1988's On Target and 1990's Bad Bad Girls, just didn't fit the bluesier Hard Rock style that we came to expect from Fastway. Indeed, those two albums leaned towards AOR and Pop Metal in spots. While that might have been OK if the songs were top notch, the fact that not only did Eddie depart from his expected style, but that did so in a rather weak fashion really rubbed his fans the wrong way.
So no one expected a new Fastway album in 2011 (released in the U.S. in 2012), or ever again for that matter, which makes this album all that much more remarkable.
No, this album isn't an all time classic, but what it
is
is good, solid, enjoyable music that kicks some serious ass. This is an album that sounds like something that someone in his early 30's wrote, not a guy in his early 60's. It has some serious vitality and energy.
The album varies in tempo and mood somewhat, opening with a slowish, but still grooving entry in, "Deliver Me," which is somewhat dark and is somewhat reminiscent of the first Fastway albums, "Heft." New singer/bass player Toby Jepson has a great, soulful voice and while he is worlds apart from the Robert Plant-esque vocals of the great Dave King he still fits the Fastway sound like a glove.
The slowish tempo continues on the next song, "Fade Out, which has a bass intro that sounds like Steve Harris trying to play something a little simpler than he usually does for one of his bass intros. "Fade Out," manages to take the classic Fastway sound and update it for a new era. It doesn't exactly sound like a modern band, but it doesn't exactly sound like old school Fastway, either. It sits right in between both, and does so successfully.
From there we get the classic Fastway style with, "Leave The Light On," which has a bit of a shuffle in the beat and some classic style riffing from Eddie. Jepson's vocals are excellent. Soulful and passionate, Jepson was a great find by Clarke.
The tempo slows back down just a bit for, "Loving Fool," but this is another song that sounds like what you would expect from the Fastway of 1984 if they were transported to 2012. What do you get here? Good riffs, good vocal melodies, and a great vibe.
Eddie then breaks out the acoustic guitar for, "Dead and Gone," a song that sounds more like something out of the 70's than from the 80's. (But wasn't that Fastway's M.O. on their first two albums, anyway?) Again, Jepson comes up with some excellent vocal melodies and delivers them with conviction. Echoes of Led Zeppelin, Heart, and Bad Company can be heard on this one. And like songs from the 70's, it has serious dynamics as the full band kicks in for the second half of the song taking it to someplace different from the first half. The two halves complement each other effectively even as each could work independently of the other. There is some serious depth here, and it is clear that the collaboration between Eddie and Toby Jepson has resulted in some first rate material.
And then we get back to an upper mid-tempo classic Fasway song in the form of, "Sick As A Dog," a track with some riffs that sound like the stuff Eddie wrote for Motorhead in the late 70's and early 80's. This is a fun track that would have sounded great on either of Fastway's first two albums.
"Freedom Song," is another song with riffs that straddle Eddie's tenure in both Fastway and Motorhead. A lot of people forget just how tasteful some of that Motorhead stuff really was, and a lot of that had to do with Eddie's bluesy riff writing and playing style. That somes into play on this one big time, and with Jepson's soulful vocals thrown into the mix you get yet another winner.
With, "Who Do You Believe," Eddie and Toby find some modern elements that fit in well with that classic Fastway style, and they add those elements in subtle ways. In essence, this doesn't sound like a recreation of Fastway circa 1984, but more like what that band may have sounded like if they were back together today. It's a little moodier and more groove oriented than classic Fastway, but not by a whole lot. Ultimately, it's the bottom line that counts - this is good stuff. Period.
That slow, pulsing beat comes up again on, "Love I Need," which somehow sounds fresh despite the well worn musical territory. That's true of most of the album, actually. Clarke and Jepson have not only exceeded expectations with songs like this, they've exceeded those expectations by a mile.
They close out the album with the tandem of, "On and On," and, "Only If You Want It." "On and On," is another slowish song with a ton of melody that doesn't lose a bit of the power and energy that Fastway was known for in the first place, while, "Only If You Want It," is something that sounds almost like the early 70's Rolling Stones transported to 2012 and trying to cope with the music of a new millennium. And, yes, this is yet another good song. Very good if you like this kind of music.
There isn't anything new or groundbreaking on Eat Dog Eat. There isn't anything that is going to set the world on fire and create a new era of success for Fastway. No, what you get here is a very good, very enjoyable blues based Hard Rock album written and performed with both class and conviction. Most importantly, there isn't one weak song on the album. Not one song is bad, or even mediocre. The weakest tracks on Eat Dog Eat are still good.
Is there anything full-on great on the album? Probably not, but I'll take an album of good to very good songs from top to bottom any day.
An interesting fact about the album is that it was produced by Jepson with Clarke taking an, "Executive Producer," credit. There are no songwriting credits listed, but all the songs were published by Eddie's publishing account, so it's likely that they were all written by Clarke and Jepson. Secondarily regarding the production of the album is that even though it is obviously a low budget affair it sounds good sonically. Very good. Not great, but very good, and the audio production fits the songs nearly perfectly.
A Fastway album this good in 2011/2012? Who would have thought?
4.5/5