Post by Erik Rupp on Mar 13, 2013 13:21:24 GMT -5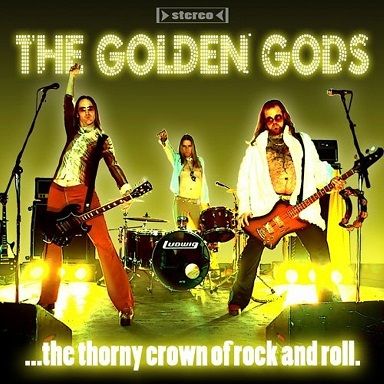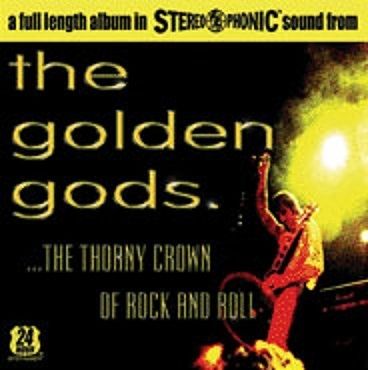 Are these guys for real?
Damned right they are! While the presentation of the band and their music could reasonably lead one to think that this is another Darkness (a band making fun of a genre as much as they are
having
fun with it), once you listen to the full album it's clear that these guys mean it.
Yes, the image and the presentation of the band is clearly tongue-in-cheek, but the music is too good and played with too much conviction to be even partially a joke. This is a modern band going retro and having fun with it. Their 1970's pimp outfits fit the music to a, "T," and the music itself manages to capture that 1970's vibe while adding some 1980's sensibilities, along with just a few post-millennium sounds & styles have been subtly added to the mix as well.
The audio production on The Thorny Crown of Rock and Roll is straight out of the 70's with just a hint of the early 80's thrown into the mix as well (Riot's Restless Breed being a good comparison, as well as Y&T's Earthshaker). This sonic decision helps give the album a solid retro feel, while the improved clarity of 2005 (when the album was recorded) makes it sound like the best of the 1970's and early 80's, and this fits the music absolutely perfectly.
Speaking of the music, let's go rapid fire through the songs just like the album does (once it starts it just flies by)...
"Even I Don't Know" - Uptempo. Almost punky in it's attitude, but there's too much early 70's Hard Rock melody for it to really be punk. Good, meaty riffing and some solid, catchy vocal melodies as well as big gang backing vocals. Great song.
"Dynamite Lady" - Ever know what a song is going to sound like just based on the title alone? This is one of those cases. Vaguely Badlands-esque (think, "Dreams In The Dark"), but also bits of 70's KISS and Aerosmith are thrown into the mix as well. Groovy, catchy, almost funky, this is a great song with some nice Hammond organ (which features on some of the other songs, too). This may be the best song on the album.
"Funny Looking Man" - Hints of Budgie can be heard here, as well as a ton of early 70's Hard Rock. Back when Hard Rock was fairly funky and groovy this kind of thing was much more common, but these days this kind of thing comes across as a breath of fresh air. The overly repetitive, "I can feel it in the air," gets to be a bit much after a while, but it's the only flaw in the song and it's not a deal breaker. Good, but not great.
"Rock and Roll Salvation Pt. 2" - More Budgie style riffing can be heard here on this uptempo burst of energy. Damned good. This is the kind of thing that makes this album so good and as much fun as it is. The groove and tempo is infectious.
"Midas Touch" - This one opens with some bluesy guitar and Hammond organ before building into a Deep Purple-esque rocker in the, "Stormbringer," vein. The main riff is actually eerily similar to, "Stormbringer," intentionally or otherwise. The one drawback to this song is a mellow section 2/3 of the way through the song where the female backing singers continue their part ad nauseum and slightly off key ("He's the man, y'all," I think). Take that part out of the song and it's a total winner. Even with this flaw the song is still good.
"Un-LTD Baby" - And it's back to the uptempo burst of energy. This one even more frantic than the rest. Unfortunately, the added energy and speed isn't met with equal quality riffing as the previous uptempo tracks, nor does it have equal quality when it comes to the vocal melodies or hooks. Still, this isn't a bad song, just a faceless uptempo rocker that lives and dies by that energy and not much else.
"Stone Fox" - Who let Foghat in the studio with these guys? Seriously, the intro sounds exactly like something from a lost 1975 Foghat song. The rest of the song isn't that far removed from those fools for the city, but it is a little different. The chorus brings the intro back and the whole thing comes full circle. Foghat is in the house! Funky, grooving, and infectious - this is a great song.
"Trouble & Bad Women" - Live by the riff, that's what these guys often do. Since most of their riffs are very good at the very least that's not a bad thing. When they thrown in some solid vocal melodies and a halfway decent hook you've got yet another winner. This isn't a great song, nor does it seem to have any pretentions of being a great song - just a good one, and an entertaining one at that!
"Liver's On Fire" - With a song title like that you get that the band isn't taking themselves all that seriously, at least lyrically. But they aren't making fun of themselves or the genre, either. This is a case of that tongue-in-cheek humor. BIG riffs (think, "The Stroke," era Billy Squier), and big vocal melodies make this one yet another winner. The Hammond organ is a nice touch here, too, as it adds a texture that was so often present in the early to mid 70's (and with good reason). BIG fun.
"Test The Fire" - Frantic drums crash into the song as the band's final uptempo song is almost out of control - almost tripping over itself because it's so fast for this kind of thing. The riffs are, like the last uptempo track, just OK, and the vocal melodies are just barked out in a rapid fire style that isn't particularly catchy. The cadence of the vocals is halfway catchy, but the melody just isn't there. This one barely gets by on the energy. Barely.
"I Feel The Earth Move" - Yep, it's a cover version of
that
song. Carole King, 1971. The piano part transposed to guitar, and the mood changed to a more raw, funky Rock and Roll piece. It's a great song, either way, and a bold track for them to cover (and to pull off so successfully, too). This one was a hidden track on the original version of the CD (not listed on the packaging/artwork), but it went over so well that when the album was re-released a year later they included it on the official tracklisting.
And that's it. Eleven tracks of raw, old school Hard Rock born in the 70's and only vaguely aware of anything since then. The Golden Gods have done a better job of recapturing the sound and style of the early to mid 1970's better than most of the bands from that era when they've done new albums over the last decade.
The Thorny Crown of Rock and Roll isn't without flaws, but the flaws are relatively minor and the album itself is so entertaining overall that those flaws can be easily forgiven. If you're a fan of early to mid 70's Hard Rock then this is an album that definitely belongs in your collection.
4.5/5