Post by Erik Rupp on Apr 6, 2013 20:26:24 GMT -5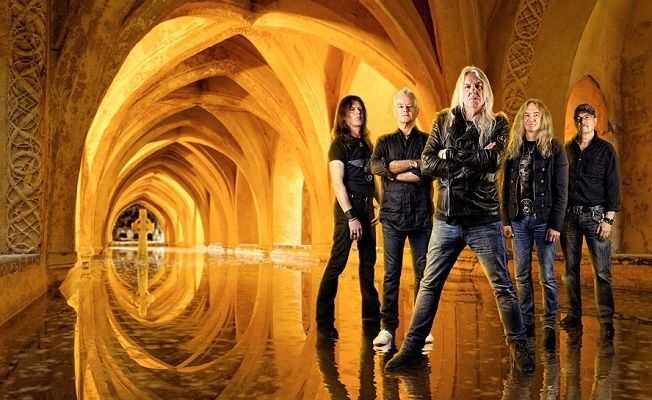 1990. Solid Ball Of Rock. The first Saxon album featuring then, "New," bass player Nibbs Carter.
From that point forward Saxon has released eleven studio albums without a clunker in the bunch. Not one.
Sure, prior to that they had some iffy albums (Innocence Is No Excuse, Rock The Nations, and Destiny). None of them were particularly bad, but none were particularly great, either.
But with the release of Sacrifice Saxon has made it eleven studio albums in a row with the weakest of the bunch being very good, and Sacrifice definitely isn't the weakest of this rather strong bunch.
Damn
.
Most bands would love a four or five album run like that. Saxon's extended it to eleven. That says a lot about the dedication that these guys have to their craft. And make no mistake, with Saxon it
is
a craft. It
is
work - just work they love.
Sacrifice was produced by one Peter "Biff" Byford, and from the sound of things he's played a significant role in co-producing most of those eleven albums over the last twenty-three years. Sacrifice is merely a continuation of the early 90's Metal style that Saxon has nearly perfected.
After a brief introductory piece called, "Procession," with the sounds of a jungle, an Aztec type ritual, and some mood music, the band kicks it in to high gear with the title track. They go from zero to 90 in no time flat. "Sacrifice," is a burst of high octane power and energy from a band sounding 25 years younger than they have any right to sound. Blending power, energy, and melody, "Sacrifice," makes it's case as the best song on the album - and it's a strong case as it really is a great track (one of the band's best over the last 23 years).
"Made In Belfast," isn't particularly fast, and it starts out with some nice acoustic instruments, but it isn't really any less heavy - just more melodic and restrained when it comes to tempo. This is the kind of song that no one does as well as Saxon does. This is
classy
Heavy Metal.
And then Saxon pushes the pedal
through
the metal with, "Warriors Of The Road," another high tempo song loaded with power and melody. The main riff sounds vaguely reminiscent of their early 80's heyday, but the presentation is full-on modern era Saxon, and that's a good thing. Byford, as on the previous track, shows an adept ability to write strong vocal melodies that are truly melodic without being overpowered by the fast, heavy music (which itself shows a strong sense of melody). This song is definitely no letdown in quality as Saxon maintains that high level here.
"Guardians of the Tomb," finds the band settling in to a tempo that hits a happy middle ground between the previous two tracks. Biff and company (the band having settled on this line-up on 1997's Unleash the Beast - Paul Quinn on guitar, Nigel Glockler on drums, Doug Scarrat on guitar, along with Biff and Nibbs) up the ante when it comes to melody on, "Guardians," but (not surprisingly) they don't back off on the heaviness factor one bit. The result is another great, classy straightforward Heavy Metal song.
Yes, "Stand Up and Fight," is a total cliche. Yep, no question. 100% cliche. And you know what? It's a damned good song anyway. This is the kind of song that Saxon does so well, with so much honesty and enthusiasm that it's easy to forgive the cliche. They've lived it (it's a song about being in a band and sticking to your guns, more or less), and there is so much honesty and integrity here that the quality of the music and the vocal melodies combined with that honesty and enthusiasm makes the song work. And in context of the album as a whole the song sounds even better. It would sound good as a stand alone song, but as a part of Sacrifice, the album, it sounds exponentially better.
From there the band backs off the tempo a bit, again without backing off on the heavy side of things. "Walking the Steel," actually covers a topic that is anti-cliche as I can't recall anyone ever writing a Metal song about it. About what? The men who work construction building skyscrapers. It's a dangerous job, and the song alludes to that along with (subtle) allusions to 9/11 and the Twin Towers coming down. Fantastic stuff, both musically and lyrically.
The band finally breaks into the kind of dynamics that they've been known to use for their entire career on, "Night of the Wolf," a song that starts out with some crushingly heavy melodic riffs, before settling in to a slightly mellower, melodic verse, and then moving into a heavy chorus. An acoustic solo section is very nicely done, morphing into a heavier solo section. Another winner for sure. Maybe not one of the 3 or 4 best songs on the album, but it would have been above average on their previous album, Call To Arms (which was a very good album).
With a title like, "Wheels of Terror," you could be forgiven for thinking that this is a Judas Priest song, and musically it isn't far removed from a heavy, mid-tempo song from the Priest. It's another song about war (something Saxon has written about many times before - not surprising from a British Metal band), and it is effective, just not as much as most of the other songs on the album.
The final track on Sacrifice is, "Standing in a Queue," another grinding mid-tempo track with some solid melodies. The chorus actually sounds like a heavier, more metallic version of AC/DC, while the rest of the song just grinds along with a nasty attitude. Good song. Very good.
Biff sounds slightly raspier than in the past, but his voice is as strong as ever and that subtle rasp actually works with the slightly heavier direction the band has taken with Sacrifice. The rest of the band, Nibbs Carter, Doug Scarrat, Paul Quinn, and Nigel Glockler, sounds like a group that has been playing together for the better part of a quarter century. They are tight and it's as if they
instinctively
know what the other guys in the band are going to play. They're tight without sounding mechanical.
As for the audio production, the current Metal mainman behind the mixing console, Andy Sneap, handles the mix here. He does a
very
good job (yet again). The album is crisp, loud, and powerful without being overly distorted. Does it sound better than an album like Killing Ground or Call to Arms? Not really, those albums breathed a little more sonically (there was a little more sonic space between the instruments), but Sneap's mix is more appropriate given the material here. (The one knock on Sneap could be that the all the mixes he does basically sound the same, but that's a relatively minor quibble as the sound he gets is fantastic.)
The bottom line when it comes to Sacrifice is this - it's a very, very, VERY good album. Is it great? Well, as a straightforward, old school Heavy Metal album, yes it is. Absolutely.
And if you've ever been a Saxon fan this album definitely should be in your collection. Even if you've never been a big Saxon album, but you like Heavy Metal this would be a great place to start with the, "Modern," era of Saxon.
Buy it.
4.5/5