Post by Erik Rupp on Apr 9, 2013 14:07:34 GMT -5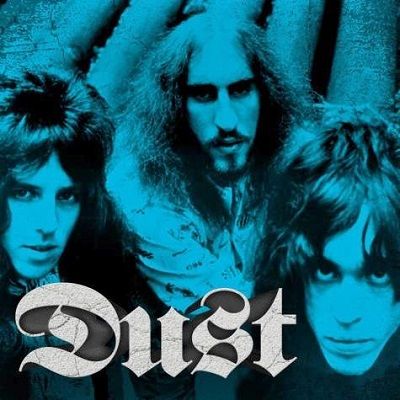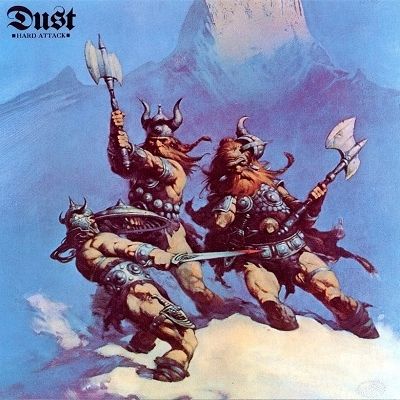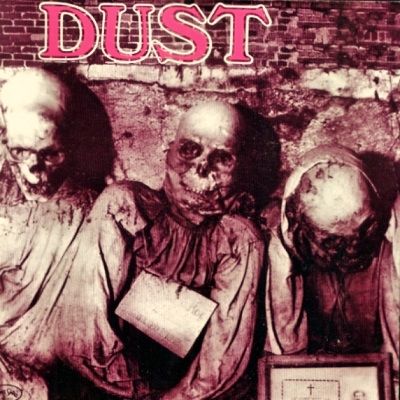 What's that? You've never heard of Dust before?
If that's the case, then you're not alone.
If, however, you are familiar with this Hard Rock power trio from the early 70's you are in an exclusive group.
Dust consisted of Richie Wise on guitar and vocals, Kenny Aaronson on bass, and Marc Bell on drums. Some of you may be familiar with Aaronson due to the album he did with Sammy Hagar and Neal Schon (HSAS, Through The Fire), or from his tenure playing for artists such as Rick Derringer, Joan Jett, Billy Idol, Billy Squier, and Brian Setzer. Many of you will be familiar with Marc Bell under the name Marky Ramone (yep, he was the longtime Ramones drummer). And some of you will be familiar with Richie Wise as part of a studio production due with Kenny Kerner, particularly as the guys who produced the first two KISS studio albums.
And speaking of Kerner, he and Wise co-produced both of the albums contained on this CD reissue as well. Kerner and Wise went on to a very successful career as album producers after their time working with KISS.
So there is no doubt that the albums re-released here are historically significant. All four of the people who contributed to the album (and Kerner got involved in the songwriting, too) went on to noteworthy careers in Rock and Roll. But are these albums (the self titled debut album and it's follow up, Hard Attack) as good as the talent involved would lead you to expect?
Yes and no.
Hard Attack gets an emphatic yes, while the debut album gets a, "Not quite, but really close."
Not surprisingly, then, when Sony Legacy put this package together they placed the Hard Attack album first in the running order. And, what do you know? Dust (the album) sounds a little better in context when following it's follow up. (Do you follow?)
Hard Attack opens up with a song firmly rooted in 1972, but like the best songs of that era it still sounds good today. VERY good. "Pull Away/So Many Times," features prominent use of acoustic guitars, but make no mistake - this song rocks hard. It's got a ton of energy. It's just also got a lot of dynamics and musical texture. And it's a very, very good song, and a great album opener (both for the original Hard Attack album, and for this re-release with both Dust albums).
"Walk In The Soft Rain," was clearly influenced by Led Zeppelin, but more than that, it echoes many of the same influences that impacted the unreleased pre-KISS album from Gene Simmons and Paul Stanley (Wicked Lester), which is interesting as they would work together a little more than a year later. More acoustic guitars, more dynamics, and less flat out Hard Rock are heard here than on the first song, and the song
is
a little more dated, but in the context of the album as a whole this is a solid track and very enjoyable to listen to.
A string quartet, a piano, an acoustic guitar, a Hammond organ, and some restrained drumming are all featured on the Beatle-esque, "Thusly Spoken." This one is flat out mellow and moody, showing that these guys really were interested in more than just letting it rip. It's a fairly good song, but it is extremely dated. That's not necessarily a bad thing, though.
"Learning To Die," lets it rip. This is a frantic, high energy, rip roaring proto-Punk song. It's more musically sophisticated than the Punk Rock that would follow a half decade later (there is a moody, mellower section in the middle, and has stronger musical and melodic points), but it has all the attitude and musical anger that was the cornerstone of Punk. Oh, yeah - it's a good song, too.
And then you've got, "All In All," another hard rocking song featuring some frantic drumming from Marc Bell. Listening to this track it's easy to understand how Dust made their reputation as a fierce live band that attacked their songs with a fury. More good stuff, to be sure.
From there the band takes it down (WAY down) to the mellow, acoustic, "I Been Thinkin," a song that even features a pedal steel guitar, giving it a bit of a Country feel(!). It's not a great track, but the big fat acoustic guitar (VERY well recorded) sounds really good and the vocal melody is fairly good. And they keep it short, making it more effective.
More effective because it makes the next song sound even heavier than it is by comparison to the mellow acoustic track that precedes it. "Ivory," opens with more frantic, hard hitting drumming from Bell, and it is an instrumental that just kicks all kinds of ass. It doesn't sound all that dissimilar some of the stuff on the first Iron Maiden album, just a little more dated (in this case, in a good way). "Ivory," is actually one of the highlights of the album.
Then the band goes full on Country with, "How Many Horses." Yeah, I'm sure that some people who bought the album back in '72 must have been a little confused, too. While, "I Been Thinkin," leaned Country a little, this one crosses way over that line and only keeps one big toe on the Rock side. It's a decent song, but it does sound a little out of place (not a lot, though, as Bell keeps a certain energy level present).
Not to worry, though, as the band gets back to their proto-Metal, proto-Punk sound on, "Suicide." This one may be the heaviest and angriest song on the album, and it's also one of the best. It's a tour-de-force for Bell, despite it's middling tempo. This was the final song on the original Hard Attack album, and the final song from the band. They certainly left their mark!
From there we go back in time to 1971's Dust.
And that album opened with something of a Spanish Guitar intro, simply called, "Entrance." It is brief, and leads into the rocking, "Stone Woman," which features some prominent slide guitar (much like the guitar work on the Rolling Stones albums of that era). This is a great track, and it actually benefits from having the Hard Attack album come before it on this reissue.
"Chasin Ladies," is obviously influenced by Mountain's, "Mississippi Queen," and no amount of echo on the vocals is going to hide that fact. Having said that, while it is inferior (and more dated) than Mountain's song it is still a good track, and it does go in some directions that the, "Mississippi Queen," never did.
"Goin' Easy," is another mellow-ish song featuring acoustic and slide guitars, this one a little bluesier than the others (not a lot, but a little bit). Not bad.
"Love Me Hard," is another of the hard rocking Dust songs featuring some very busy drumming from Marc Bell. It is another of the album's highlights and shows off Richie Wise's vocals well. Wise wasn't a great singer, but for this kind of material he was effective.
Then you get a song with the odd title, "From A Dry Camel." The song opens up sounding like Paranoid era Black Sabbath, before moving into debut album era Black Sabbath territory (like the song, "Black Sabbath," itself). This is a nine minute epic track that goes from the moody, slow, doomy Sabbath kind of thing to a frantic track without warning about three and a half minutes in. That part sounds a lot like Call Of The Wild era Ted Nugent (including liberal use of the wah wah pedal). Finally, about six and a half minutes in the song downshifts a couple times before returning to the Sabbathy part. Like I said, it's an epic track. And, yes, it is quite good.
"Often Shadows Felt," returns the band to the acoustic guitar driven material, with Bell's frantic drumming kicking in from time to time. It's a decent track. One that works fairly well in context of the album as a whole, but wouldn't work quite as well on it's own.
The final song on the original Dust album (and the reissue) is the rocking, "Loose Goose," which almost sounds like a precursor to Stevie Ray Vaughan's, "Rude Mood." Like, "Rude Mood," this one is an instrumental, and kind of acts like Dust's own, "Wipe Out," the way Bell played the drums on it.
Musically, Dust could really be heard as a combination of early Grand Funk Railroad (up through E Pluribus Funk) and pre 1976 Budgie. It is a dated sound, but the songs are well written and still sound good today.
Sonically, the albums were obviously recorded quickly on low budgets, but aside from the drums being a little thin (and the guitars lacking enough distortion to be as effective as possible in the heavier songs), the albums both sound fairly good for the era.
If you enjoy bands like Budgie, Grand Funk Railroad, early Alice Cooper, etc, then chances are you'll enjoy Dust.
4/5